A Town Uncovered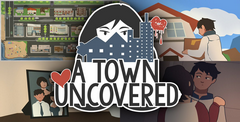 Click the "Install Game" button to initiate the free file download and get compact download launcher. Locate the executable file in your local folder and begin the launcher to install your desired game.
A Town Uncovered is an NSFW erotic visual novel game that is currently still in development. I spent a fair bit of time with the game recently and wanted to share my thoughts on it. It is already pretty impressive with the amount of content that is here. There may be a few bugs here and there, but to be fair that is to be expected with a game that is still in what is best classed as "early access". It is also worth noting that this game is currently available via Patron, but an official STEAM version is said to be coming out at some point.
Myself Am Strange And Unusual
The premise of the game is what actually grabbed my attention first of all. You are a new transfer student who has moved to this rather strange town. You want to fit in of course, but you soon discover that this town is very odd and people just bang like it is no big deal. It does have some great twists and turns and the story even for some reason has a few horror type elements in it as well.
The over-arching story was interesting, but it was the different characters (of which there are a ton) that really grabbed my attention in A Town Uncovered. You are free to chat with who you want and while everyone who plays this will find a connection with different characters, by the way, my favorites have to be Jane and Luna. I never came across a single character that I thought was boring, unless that was the way their character was intentionally designed.
Like An Independent Movie
The style and presentation of the game is one that I really liked. It is a cell-shaded/comic book kind of art style and what I liked about it is that it fits the tone of A Town Uncovered perfectly. There are some times when I feel the facial details are a tad lacking, but for the most part, I really dig the art style that they have gone for here.
The whole game has a real independent movie vibe with its presentation and I mean that as a compliment. The soundtrack is very fitting too. Far too many visual novels have odd choices when it comes to music, but this game actually has many original tracks and they were clearly chosen because they fit in with the game.
Day By Day
The gameplay of A Town Uncovered is very easy to figure out. It is a visual novel style game, but it also has adventure game elements and dating sim elements too. There are a ton of different locations for you to go to as well as people to talk to. As well as progressing the various conversations along. You also need to get certain items, complete various objectives, and so on. You will be spending a lot of time reading, but the game also makes sure to give you plenty to do as well.
The game does have a few bugs. The game has a day system in place, but sometimes I would get stuck on a certain day and it would not move forward. Restarting my save would fix this, but I do hope this is something that is fixed as the game moves along development.
6.5
I was very impressed with A Town Uncovered. While this is a game that has a lot of sex in it, I must say that was not the reason why I enjoyed the game. It was the story and more importantly the characters that grabbed my attention and made me want to keep on playing. I even liked how it had dating sim elements and even some jump scare type moments thrown in there too. It is a fun experience and I am legit excited to keep up with the development f this one.
Pros:
The game has a ton of characters for you to interact with
Most of the characters are interesting to talk to
It also has dating sim elements that are fun
Cons:
I was surprised the game had some scares in it too
The whole presentation fits the story/setting of the game very well
Download A Town Uncovered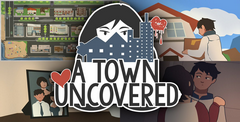 Minimal System Requirements:
OS: Windows XP
CPU: 1.8GHz Dual-Core CPU
RAM: 4 GB
Graphics: Integrated
HDD: 2 GB free
System Requirements:
OS: Windows 7, 8
CPU: 1.8GHz Dual-Core CPU
RAM: 6 GB
Graphics: Integrated
HDD: 2 GB free
See Also
Viewing games 1 to 8