Captain Silver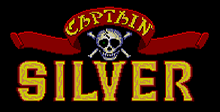 Number of Levels: 4 Theme: Action Difficulty: Average Number of Players: 1 Available: 1990
Shiver Me Timbers, Matey!
Captain Silver is the latest in Sega's post-RPG thrust to incorporate play mechanics and themes that are closer to arcade titles. This title was licensed from Data East and it does a fair job of duplicating the game play found in most of your horizontally-scrolling arcade favorites.
You control a young lad named Jack Avery, on a quest to find a fabulous treasure that has been left behind by the infamous Captain Silver. The only trouble is that while the Cap'n may be dead, his evil spirit isn't about to let you walk away with his booty without a fight! You can battle the ghoulies that appear to stop your progress, as well as the Captain himself, with your trusty sword. Along the way you can also increase your blade's effectiveness by recovering a variety of power-ups. Other power-up items enable you to perform other functions (such as limited invincibility) that also add to the overall play value of the game.
People say:
4
Captain Silver is a decent attempt at a Castlevania game for the Master System, but there isn't enough challenge to hold your interest. All contents of a good action game are there, you just don't have a lot to interact with.
4
An easy game for younger players. Nicely animated action that is not too difficult. Definitely not for a serious game player, with average graphics, simple sounds, and rudimentary play, Captain Silver is great for beginners but won't present much challenge for anyone else.
6
This is a good diversion from the normal selection RPGs that Sega has been offering up recently. It's a bit stow in parts, but for the most part it represents a good addition to the slim library of Master System action/adventures. It's not difficult, but it does have some good qualities.
4
Captain Silver is a good game, but it's just too easy for me. I finished this one after only a couple of plays. If Sega had made Captain Silver harder, and made the entire adventure longer, then it would have been more fun than it currently is.
Sega Master System Screenshots