Casino Funpak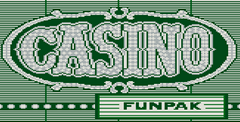 For thos who can't get to Vegas often enough comes a game that is sure to satisfy the gambler in all of us! Casino unpack has six different games including craps, video poker, and video slots. You can play each game by itself or participate in the Tournament Mode where you play all of the games in order. With $10,000 to spend, you're sure to have plenty of fun. Try your luck at all of the games or try to cash in at your favorite.
THE GOOD
This is a great game for the Game Boy--it's really addictive!
THE BAD
When you win S100.000 and wish you were really in Vegas.
THE UGLY
When you lose S100.000 and you're glad you're still at home!
Game Reviews
Roulette, Video Poker. Slots, Blackjack, and Craps are "games of chance," but the "chance" is minimal when there's no money at stake. At least, Casino FunPak has the "games" aspect down.
Video gamblers gel solid, full-fledged versions of these five casino games packed into one meg. If you aren't familiar with these classic games, you're probably too young to gamble, but FunPak's easy-to-master controls simplify learning. If you've put your money on the line before, FunPak offers ways to hone your mental skills (or fantasize about big payoffs). The detailed manual even explains the betting patterns of each game.
If you think gambling is fun and you don't have money to bum, place your bets with Casino FunPak.
ProTips:
In Blackjack and Craps, the odds are In your favor. In Roulette and Slots, they aren't.
In Blackjack, the cart kills you If your hand Is 14 or less and you don't hit
Other games by
Beam Software