Command & Conquer: Generals - Zero Hour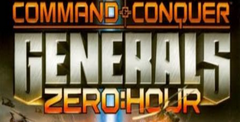 It is crazy to think that Command & Conquer: Generals Zero Hour which is the seventh game in the series was released 15 years ago! Strategy fans love this series and this one here is regarded by many people as one of the best in the entire series. This expansion pack actually added some cool stuff to the series.
Three Sides Of A War
The story of Command & Conquer: Generals Zero Hour is something I really got into. The game is set in 2020 and during this time the terrorist organization, The Global Liberation Army is causing all kinds of trouble. The USA and China as the worlds two big superpowers are trying to put a stop to them. The campaign is actually really good and you get to experience the war from all three sides. If you like war and action movies then I am sure you will get a real kick out of the story that is told here. You can play the campaign in any order you want, but if you want to really experience the story properly, you need to play it in the right order. Each faction gets around 7 missions each to play through so you get a nice amount of time to experience each one.
Your War Your Way
For this game, many changes were made to how it played. So much so that many people actually say that it has more in common with a game like Warcraft than it does the previous Command & Conquer games.
What really makes it stand out though is not having your "workers" build something. It is the sheer might of the army you can build. You have so much variety to the types of artillery you can wield in this game that it is almost daunting! You can use a sniper, a powerful jet, huge tanks and of course a ton of ground troops too! You can really develop some clever strategies with this game. Of course, the vast amount of choice also means that it is very easy to get things wrong!
Added to this expansion was a cool mode all about generals. Each of the three factions has three generals and you get to pick one of them. Each one has something that makes them special as well as their own strengths and weaknesses. It is a cool mode and one you can easily waste many hours with.
Play With Friends
I have played Command & Conquer: Generals Zero Hour with a friend of mine and it has been a great experience. There are still servers out there, so you can find a game quite easily. However, playing against someone you actually know and having the ability to do a little "trash talking" really makes the multiplayer a very fun experience.
You can play with via LAN too so that is always an option. While I had fun playing with my friend, playing with a random who takes the game super serious I must admit is not as much fun as you would think.
Like the previous games in the series, Command & Conquer: Generals Zero Hour is not a game for every gamer out there. However, if you like strategy games and especially if you like this series. I am certain that once you get the hang of the UI, you will be having a rocking good time with this one.
8.5/10
Pros:
The story is very strong
Three different armies to command
Plenty of things to wage war with
The gameplay is rather fast-paced
The Generals Mode is actually really cool
Cons:
It can take a while to get to grips with how the game plays
Some folks take this game way too seriously online!
Download Command & Conquer: Generals - Zero Hour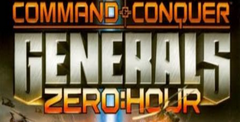 System requirements:
PC compatible
Operating systems: Windows 10/Windows 8/Windows 7/2000/Vista/WinXP
Similar Games
Viewing games 1 to 9