Doom Troopers - The Mutant Chronicles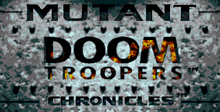 Based on the popular RPG and card games, this feeble attempt at a side scroller sends you out to rid the galaxy of alien scum. With only two weapons and one punch, you don't have much on your side.
This game doesn't break new ground with its simplistic action and repetitive enemies. The rudimentary controls handle the shooting, but the skittish jumps interfere.
ProTips:
To pass this lake in Stage 1, shoot the enemies, and then stand on their corpses.
In Stage 2, run as fast as you can and shoot to decapitate, not kill.
Gory graphics erupt with exploding heads and vomiting bosses, but the backgrounds and characters lack color and detail. Funny death screams stand out from the other lame sounds.
Games like this will push 16-bit gaming into an early grave. Only the most loyal Chronicles fans will find fun here.
Download Doom Troopers - The Mutant Chronicles
Sega Genesis/Mega Drive Screenshots
SNES/Super Nintendo/Super Famicom Screenshots
This is a great side scrolling shooter with great graphics, There is alot of fun to be had with this!.