Doraemon Yume Dorobouto 7 Nin No Gozansu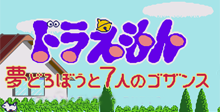 Doraemon, a blue cat without ears from the 21st century is probably the most recognized Japanese anime character of all time. Since first appearing in the '70s, the series has almost continued without interruption. There are many movies and manga comics about this blue furball, and now he's in his own games.
This time he's in a world of toys to rescue a kidnapped girl. Doraemon and his five friends (including his sister Dorami) have to fight toys gone bad. A real treat for anime fans.
Download Doraemon Yume Dorobouto 7 Nin No Gozansu
Sega Genesis/Mega Drive Screenshots