Dynamite Dux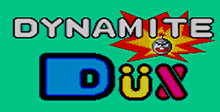 Based on a little-seen arcade effort released to limited areas last year, Dynamite Dux provides a twist on the standard scrolling action theme by taking a comical approach to the scenery and characters. You control a punked-out Duck out to save a girl in distress. Along the way you'll face all types of surreal opponents, leading up to confrontations with some of the strangest enemies you've ever seen!
People say:
3.0
Aside-scrolling shooter starring a blue duck and a cast of bizarre enemies may sound exciting and different, but it isn't. Dynamite Dux is slow, looks bad, and is way too easy, even for beginning players. It's a new twist on an old theme that fails to excite, astound, or even be fun. Bad choice Sega.
4.0
This is a game that Sega should have forgotten about. It's a stupid concept, the characters are lame, and the game play is too simple. If you're old enough to read this review, then you're too old to play this game.
3.0
This game doesn't have much going for it. The characters are too cartoony, and the game play is boring. There's not enough in the way of power-ups or shops to enhance the action either. The premise is kind of cool, but it didn't come off well at all.
4.0
This is a very bad game. It doesn't move well, it isn't interesting, and it isn't even any fun! The game play is also painfully frustrating instead of challenging and offers absolutely nothing to praise. Games like this can give a system a bad name.
Sega Master System Screenshots