Edgar Torronteras' eXtreme Biker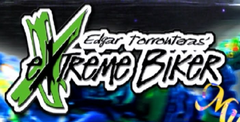 Click the "Install Game" button to initiate the free file download and get compact download launcher. Locate the executable file in your local folder and begin the launcher to install your desired game.
a game by
Deibus Studios Ltd.
Platform:
PC
User Rating:

8.0

/

10

-

2

votes
Rate this game:
See also:
Bike Games
For all the difference it makes, they might as well have called it Terry Berry's Extreme Biker. Torrenteras may be a big noise in a small part of Barcelona, but in any well-ordered society, having the name of an up-and-coming Spanish stunt rider on the box wouldn't help this game sell another copy. If Michael Owen's World League Soccer can't even trouble the charts, what hope is there for the boy Edgar? However, the success of Extreme Biker should depend solely on the quality of the game. It is therefore with regret that we have to report that the licence is the best thing it has going for it.
Extreme Madness
Yep, it's a stinker. And if that weren't enough, it's a stinker in a genre dominated by one title that is head and shoulders above the rest. We speak of course of the majestic Motocross Madness, a game that was largely responsible for bringing the delights of the noble art of motocross to the great unwashed. In less enlightened times, motocross was called scrambling and involved tearing round a farmer's field while being caked in agricultural produce. Nowadays it falls firmly under the banner of Extreme Sports, and is the pastime of bleach-haired pot smokers, along with BMX, snowboarding, skateboarding and surfing. Extreme Biker wears these influences firmly on its dayglo sleeve, from the obligatory Pepsi Max endorsement to the numerous clips of Edgar in action.
Watching a man fly through the air on a motorbike is undeniably an impressive sight. Attempting to replicate it yourself on a monitor is an altogether different bag, and Extreme Biker singularly fails to capture any of the thrill of the sport. Whereas Motocross Madness feels like riding a motocross bike (and yes, I have), Extreme Biker feels like playing a game, and a mediocre one at that. The bike never really feels like it's in contact with the ground, the overall impression not helped by the fact that it casts no shadow.
Edinho Tori Amos
Track design is also a major bugbear, with an over-gimmicky approach proving tiresome. Racing through volcanoes and across the rooftops of Paris might make for a good press release, but in reality it is less fun than you can imagine, proving wholly disorientating and nearimpossible to remain on the track. The stadium-based Supercross sections are mildly acceptable, but marred by the fact that if you inadvertently leave the track, you are left to find your way back with only the aid of a vague arrow. As for the stunts, the simple ones are pulled off via a single button press, with more complicated efforts executed by keeping a puck between two markers. Crashes are commonplace and seem to flout the laws of not only physics but biology, with limbs bent backwards at macabre angles.
Not a resounding success, then. If you're interested in this type of game you should seek out Motocross Madness, and if you already own that, you don't need this.
Download Edgar Torronteras' eXtreme Biker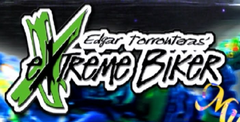 System requirements:
PC compatible
Operating systems: Windows 10/Windows 8/Windows 7/2000/Vista/WinXP
Game Reviews
You've probably never heard of him, but Spain's Edgar Torrenteras is currently the big noise in the adrenaline-fuelled world of motocross. He had his first motorbike at the tender age of three, and entered his first race at seven. He hasn't looked back since and has picked up a slew of trophies in the process, including last year's inaugural Vans Big Air Festival in Paris. To top it all, he's now also got a game endorsement under his belt, courtesy of Havas Interactive. Not bad for a 19 year old.
Torrenteras' speciality is freestyle, a discipline which lies firmly in the realms of Extreme Sports, and rightly so. You might have thought you were pretty cool on your BMX, but this is a world away from pulling a wheelie in the school playground, and some of the stunts he performs are quite literally death-defying. He perfects them at his private track on the outskirts of Barcelona, and a recent media demonstration of his talents was met with whoops of amazement and spontaneous applause, even from terminally cynical games chimps, despite the fact that at least one of them thought he was called Edmundo Tarantino. A man flying 30 feet into the air on a motorbike is certainly an impressive sight. Watching him hang off the back in a Superman pose is enough to make you question his sanity. Essentially, it's like watching a real-life version of Motocross Madness, with the key difference being that if it all goes horribly wrong you can't just press 'Start' and resume proceedings as if nothing had happened.
He's M-M-M-Mad Sir
As for the game, Extreme Biker encompasses traditional outdoor motocross, stadium-based supercross, long-distance baja racing and freestyle stunt action. Much like Motocross Madness. However, while the Microsoft classic stuck to more orthodox locations, Extreme Biker will be far more stylised - the 25 environments encompassing dense forests, active volcanoes, and even the streets of London and Paris, not to mention the rooftops. There will also be a host of bizarre obstacles to overcome, including Evel Knievel-style canyon and river jumps. You can even ride your bike along the top of an airship, something you certainly shouldn't try at home.
The stunts are equally outlandish, with all manner of gymnastics possible thanks to the game's unique Gyroscopic Air-Stunt Stabilisation system. Some of the tricks have been created by Edgar Torrenteras himself, including the ultra-difficult El Cordobes, whereby the rider keeps hold of the handlebars, flips both feet under them and thmsts his pelvis into the air as if his arse were on fire. Other stunts in the game have never been performed in real life, although Edgar was so impressed by one of them that he went out and successfully pulled it off.
Raggy Dolls
Being tossed around like a rag doll is always a high priority in bike games, and Extreme Biker shouldn't disappoint, thanks to so-called Dynamic Inverse Kinematic riders. We've absolutely no idea what that means either, but instead of animations the game engine calculates what would happen, something that usually involves limbs being bent at macabre angles. The bike and rider can be controlled separately, offering far greater freedom of movement, making it possible to rotate the bike through 360 degrees in all three axes. It can also be ridden parallel to the ground, enabling you to perform the old 'wall of death' circus trick.
We've had a bit of a dabble and Extreme Biker looks to be shaping up nicely, with some of the landscapes looking particularly impressive. Microsoft have set a very high benchmark though and, with Motocross Madness 2 on the way, along with EA's Supercross 2000, it's a competitive market. Extreme Biker's Executive Producer, Daniel Bobroff, is optimistic though, and reckons that "EA had better do a better job than what they were showing at E3. It was awful. Motocross Madness 2 will be cool, I'm sure, but they now have a lot to live up to in my opinion because of Extreme Biker. With their deadline next Spring, this Christmas we want them to feel like we did when we first saw Motocross Madness at E3 last year. We were absolutely spewing."
The battle lines have been well and truly been drawn then, and you can rest assured that PC will be awarding gold, silver and bronze medals accordingly. You lucky people.
Similar Games
Viewing games 1 to 7