Motocross Madness 2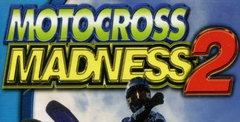 Click the "Install Game" button to initiate the free file download and get compact download launcher. Locate the executable file in your local folder and begin the launcher to install your desired game.
Riding in on the coattails of the original, Motocross Madness 2 already had an extremely high bar to shoot for—and it more than surmounted it. With improvements across the board from graphics, to sound effects, gameplay variety, maps, customization, and an exciting online element—the game not only matched the original, but exceeded it.
Ahead of its Time
Motocross Madness surprised everyone with its release in 1998 and Motocross Madness 2 didn't have the underdog mentality in 2000 to lean against any longer. With games to compete against like Excitebike 64 and Supercross, Motocross Madness 2 had to bring something new to the table.
In that regard, it doubled-down on its balancing act of simulation to arcade and brought a multitude of new options. With over 40 new tracks, six event types, a brand-new career mode and online functionality—it offered a lot of bang for its buck. While the modes weren't all competitive with each other, Enduro and Stunts became quick fan-favorites—offering a lot of replayability with both friends and solo. With that in mind, perhaps the weakest addition to Motocross Madness 2 came from its Pro-Circuit mode, which functioned as a campaign but offered the most repetitive (and long) races.
Balancing Simulation and Arcade
The difficulty for most racing games is in balancing the 'simulator' feel, with the 'arcade' feel. While more simulation can lead to more realism, more arcade-style can lead to more fun. Some sports games have managed to give a little of both and still remain enjoyable—for example, Slugfest is a great example of a baseball video game that toed-the-line between a simulator like The Show and an arcade game like Mario Superstar Baseball.
That being said, Motorcross Madness 2 does well to give the enjoyment of an arcade racer, while not taking itself too seriously in the implementation—offering great graphics, with flexible realism. In that vein of racing games, it doesn't feel quite as arcadey as Burnout, or on the simulation level of Gran Turismo—but it resides happily somewhere in between (like Need for Speed).
Is It Worth Dropping in for a Race or Two?
With popular racing games of the modern era like MXGP and MX vs ATV bringing with them graphics and sound that Motorcross Madness 2 couldn't dream of competing with, it's hard to not acknowledge the game as a relic of time gone by. That being said, what it lacks it graphics is does make up for in gameplay. With a ton of modes, online functionality, and, even after all these years, hilarious crashes from AI riders—there's still a lot of fun to be had in this game.
6
Not to mention, the creation of your own tracks for other players to enjoy, alongside truly expansive maps that people are still working to discover the limits of—there's a lot still left to be uncovered in this hidden gem.
Pros:
Tons of exciting courses
Online competitions bringing LAN nostalgia
Tons of rider options and map customizations
Hilarious rider crashes and pile-ups
Cons:
Graphics haven't aged well
Sound can be jarring (sometimes appearing 'canned')
Lackluster Pro-Circuit mode
Download Motocross Madness 2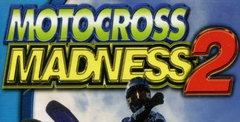 System requirements:
PC compatible
Operating systems: Windows 10/Windows 8/Windows 7/2000/Vista/WinXP
Game Reviews
Overview
So you think you're a pretty good dirt bike rider, do you? Think you can handle even the most extreme air? Is there nothing you won't use as a ramp to launch yourself? I answered all those questions with a "NO" but still couldn't resist taking a look at Microsoft's follow up to Motocross Madness. The only thing I recommend is that you bring along a steel cup, kneepads and a very good back brace because you will need it after a heavy game session.
Motocross Madness 2 (MCM2) comes with five different race types: supercross, nationals, baja, stunt quarry, and the all-new enduro type of race. Another really cool feature is the Pro-Circuit racing where you get to start out as a no-name rider without experience, but as each race progresses you might get better. Watch out, though, because you only have a limited budget to pay for race fees, hospital bills, and bike repair. If you win races you just might get a sponsorship and make some money. If all that is not enough, then just head on over to the MSN Gaming Zone where you can race against other human opponents and get your butt kicked.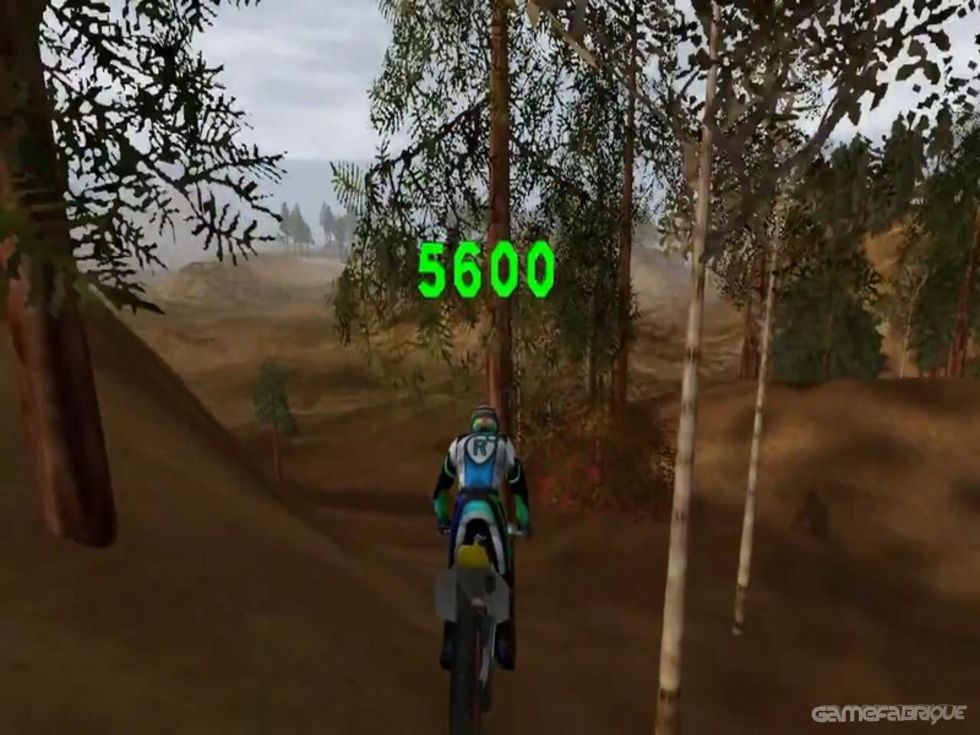 Gameplay, Controls, Interface
First off, this game really needs to be played with a joystick to get the full experience of MCM2, gamepads also work well, but I just can't imagine having that same gaming experience using the keyboard. One of the first things I noticed when I started playing was how much tougher the tracks seemed to be. Which is great because it will take you awhile to get the feel of each track; I know it made me stay up each night one or two hours longer than I should have. I think the single best thing about MCM2 is the addition of Enduro racing, which has you driving over some crazy terrain. You'll get the chance to race on a ski slope, over and around a trailer park, and my favorite which is riding through the Amazon Jungle. There are way too many awesome tracks to list them all, but whether you enjoy supercross, baja, or stunt tracks, it's all here.
Graphics
I have one major beef with the game designers concerning the graphics. Why the heck did you have too put so many trees everywhere for me to run into??? I fell in love with the graphics from the moment I ran into my first rusty trailer. The game seems much more wide open than the first Motocross Madness and I think that has a lot to do with putting trees, buildings, and vehicles into the game. Another thing that stands out is the better use of shadows this time around, it gave the game a much crisper feel to the racing environments. When you get to the indoor tracks you will notice another thing that is different this time around: the use of ruts in the track. It makes picking your racing line a whole lot tougher. Okay, I'm going to quit babbling and just say this: "The graphics are very nice."
Audio
The audio remains virtually the same as in the first Motocross Madness, with the exception of the new sounds found in Enduro racing. Because of the type of racing involved in Enduro, you will encounter everyday objects like dump trucks, speeding trains, police cars, and even a very cool "humming" power line section. Other than that it sounded like the same old motocross madness that we have come to love.
System Requirements
Minimum: Pentium II 233MHz, 32 MB RAM, Windows 98, 6X CD-ROM, 190 MB hard disk space, DirectSound API compatible 3-D sound card for 3-D audio, and a 28.8Kbps modem for internet play.
Bottom Line
If you are a first timer to Motocross Madness then you will fall in love with the game and be playing until the wee hours of the morning. If you're a return customer you will be overcome with joy with all the new little tweaks to the graphics and tracks. But you will bow down and thank the Moto gods when you see the new Enduro section that has you racing in some very interesting places and using some cool objects to get major air. All in all it is a strong second showing for the Motocross Madness family, so we will give it a score of 86/100. It would have scored higher but I was a little disappointed with uniforms for the riders and the bike tweak section seemed a little flat to me. So what are you waiting for? Grab some cash, get the game, and come home and get muddy.
Similar Games
Viewing games 1 to 5