Fatal Fury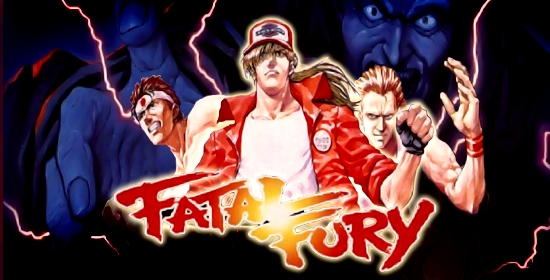 a game by
Takara, and Saurus
Genre:
Fighting Games
Platforms:
Genesis, SNES
Editor Rating:

7.9

/

10

, based on

10

reviews,

11

reviews are shown
User Rating:

6.4

/

10

-

5

votes
Rate this game:
See also:
Fatal Fury Games
Fight fans, prepare yourself for a fatal fist fest! The Neo∙Geo classic Fatal Fury is now available for your Genesis by Takara, and it packs a fairly hefty punch. This new conversion preserves most of the original edition's action and adds a great new feature: the ability to play as the boss characters.
Fight Makes Right
Fatal Fury is a solid one- or two-player, side-scrolling beat-em-up. Joe Higashi, Andy Brogard, and Terry Brogard are after Geese Howard, who murdered the Brogards' father. Now, Howard sponsors a King of Fighters tournament, the perfect arena for revenge!
ProTip: The easiest move with the highest success rate is the Throw. Pick Terry Brogard and toss your opponents until they're gone.
You can select two types of game play. In Champion Battle, you fight against six opponents, plus the two other fighters you thought were on your side. The Vs. Game enables you to fight the computer or a second player. You can even sit back and watch the computer fight itself. In this mode, you can also select any player in the game, including the bosses.
There are six colorful stages, one for each opponent. You fight in a cafe, on the beach, in an amusement park, in an arena, and more. Among your opponents is an incredibly strong boxer, a very deceptive-looking old man, and an ex-pro wrestler. Each of your foes has his own fighting techniques.
Use flying leg kicks to take down Michael Max. He punches too much to make the Throw effective against him.
Fatal Blurry
Although the Genesis is no match for the graphic capabilities of the Neo∙Geo, this game throws some weight around when it comes to graphics. The backgrounds are colorful, if a little under-detailed. The character sprites are well-drawn, and they move quickly. However, some sprites disappear during Throw moves.
The sounds in Fatal Fury will make you punchy. There's precious little to hear, and voice effects are garbled and unclear.
When Richard Meyer pulls his Handstand Kick, sweep low to take him out.
Hard Knocks
Fatal Fury's challenge is adjustable. Most gamers won't break a gym sweat on the Easy setting, but the Hard setting will floor even veteran fighters.
Split Decision
If you like your fighting games fast and furious, you may want to wait for the Genesis version of Street Fighter II: Champion Edition. If you can't wait that long to take out your problems pugilistically, go ahead and get them out of your system with Fatal Fury.
Download Fatal Fury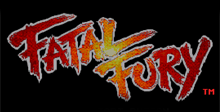 System requirements:
PC compatible
Operating systems: Windows 10/Windows 8/Windows 7/2000/Vista/WinXP
Game modes: Single game mode
Player controls:
Up, Down, Left, Right - Arrow keys
Start - Enter (Pause, Menu select, Skip intro, Inventory)
"A" Gamepad button - Ctrl (usually Jump or Change weapon)
"B" button - Space (Jump, Fire, Menu select)
"C" button - Left Shift (Item select)
Use the F12 key to toggle mouse capture / release when using the mouse as a controller.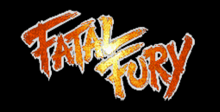 System requirements:
PC compatible
Operating systems: Windows 10/Windows 8/Windows 7/2000/Vista/WinXP
Pentium II (or equivalent) 266MHz (500MHz recommended), RAM: 64MB (128MB recommended), DirectX v8.0a or later must be installed
Game Reviews
There's a new fighting game in Japan that's hit the Super Famicom with a fury. It's Fatal Fury by Takara. It's a pretty good beat-em-up that runs along some well-travelled game play lines, but adds gorgeous backgrounds and smooth fighting action.
Kings of Pain
Fatal Fury is a one- or two-player, side-scrolling, punch-out that's a lean and mean clone of Street Fighter II. You can pick either Terry Bogard, his brother Andy Bogard, or Joe Higashi in an all-out competition for the King of Fighters crown. You can play against a friend. However, in a curious options twist, the first fighter can only choose to play one out of three fighters, while the second fighter can control any one of the 11 fighters, including the bosses. Each fighter comes with his compliment of super moves, including Fire Tricks, Spin Kicks, and Mini-Tomado licks. You can practice your moves on an array of opponents, such as a boxer, a wrestler, a martial arts master, and more. Each opponent has their own special moves. Hmmm... sounds familiar...
The sprites are fairly large, well-animated, and fast. The action doesn't slow down a bit, and the backgrounds are great-looking. Take your pick of scenery: a day at the beach, a pirate punch-fest, the subway, an amusement park, or other fighting frontiers.
Furious Fun
If you like your games to be brutal, Fatal Fury is for you. The Super Famicom version (a remake of the Neo∙Geo version) is done with great attention to detail and faithful fighting game play. Hopefully, you won't have to wait long before this is ported over for your SNES. Until then, keep those thumbs loose, 'cuz you never know when you're going to run into someone with a Fatal attraction for you.
Terry and Andy Bogard are on a mission of revenge. Geese Howard killed their father so now they have entered the King of Fighters Tournament to seek the revenge they desperately want.
Choose from Andy, Terry, or their friend, Joe Higashi in a series of matches to become the champ. Many special techniques and killer combos bring the excitement and challenge of tournament fighting alive!
The Bogard boys are furious! They are in search of Geese Howard, the "King of the Fighters," to avenge their father's death. Joined by Joe Higashi, the three will track the merciless Geese to the King of the Fighters tournament for a final showdown of revenge. You will pick your first opponent and destination. Each of the three men has four special moves. Use these to unload your Fatal Fury!
People say:
4.0
I liked the Super NES version of the game and really expected the Genesis copy to be equally as good Unfortunately, the moves were very difficult to do and in this type of game split second timing is very important. It just wasn't there. The graphics are excellent but without control there just isn't a game.
5.0
Learning to execute the moves in this game was a very difficult experience. It isn't that the control was bad, just that the timing has to be perfect and in the heat of battle, it was very difficult to have to concentrate on how to do the moves just so. Great backgrounds and good animations but needed more control.
3.0
Sad to say but the Genesis version is not as good as I would have hoped it to be. The game play suffers from slow response and the special moves are quite difficult to activate. Even in the two-player mode the game is difficult. You end up in a throw-fest because the other moves are too hard to do.
4.0
Fatal Fury on the Genesis just doesn't come across, to me. as a good fighting game. One of the keys to make this game work is to have a good joystick. Forget about using a pad as the control just isn't there. The new boss moves are cool though and the best part of the game. The two player mode is decent.
SNK has combined the one-on-one martial arts action of Street Fighter II with the down-and-dirty street tactics of Final Fight to create a game better than either in Fatal Fury. You can choose from three unique fighters and journey from city to city, defeating the top warriors in the world en route to Geese Howard, the "King of Fighters." Along the way, you'll encounter bonus stages where you arm wrestle a hulkster for bonus points. In the two-player mode, you and a friend first take on the computer and then each other in a fight to see who gets to continue playing. The characters are huge, and the special attacks awesome-like Burning Knuckles and the Hurricane Uppercut. Fatal Fury is head-to-head fighting at it's best!
Theme: Fighting
Release: 1994
People say:
9
Being a Fatal Fury fan I was impressed by the addition of the Bosses and three of the original enemies (so what, Billy Kane was in FF2!) So some reason it doesn't control as well as Fatal Fury 2, but the background details have been slightly improved. Duck King's background has to be seen to be believed. With a special secret for the best players, I can say this is one of the best fighting games.
9
When it comes to fighting games Neo-Geo definitely knows what the game players are looking for. Fatal Fury Special is one of the best tournament fighting games out there. It has everything: awesome graphics, superb game play, decent sound and lots of characters with plenty of moves. The only problem is, if you want to be playing a game with arcade quality, you have to be willing to pay the arcade prices.
8
Fatal Fury 2 Special is among the best fighting games out there! There's no argument that getting to play as the Bosses along with other new characters is a real plus. The speed of the game is a bonus while the ability the combos are a ton easier to do. The game play took a slight drop, but really isn't noticeable. The graphics are much better, but the music hasn't changed, but who cares? They were cool in the first place!
8
This sequel is even better than the last one. Faster moves and animations of characters make this one of the best fighting games ever. Awesome new character and combos to learn makes this cart more challenge for the fighting fans. Great sounds and background brings out the game. It's going to be one of those lost weekends again. For all those people who really like fighting games this a must-buy.
Check this out, you Super NES owners! Now you can have all the fun of Fatal Fury on your system!
Terry Bogard, Joe Higashi and Andy Bogard are back and ready to take on Geese Howard!
Select your starting area and take on the bosses! Head to the Pao Pao Cafe and face the incredibly acrobatic Richard Myer. Tanning himself on Sound Beach is Michael Max. Tung Fu Rue is waiting for you at Howard Area! Raiden is waiting to pounce on you at the Amusement Park.
If you can make it past these thugs (and many others) you will have to contend with Geese Howard!
While the game may differ in character size and sound effects from the Neo-Geo version, Fatal Fury is still a great translation for those with the S-NES.
Ten years ago, Geese Howard murdered reigning "King of Fighters" champion, Jeff Bogard, in his sleep. In doing so, Geese gained control of almost all South Town. Jeff's two sons took to the streets, and were never heard from again. The oldest of the pair, Terry, hid in the alleyways of South Town, learning how to survive in a city gone bad. Andy Bogard went off to Japan, where he mastered the most deadly of the martial arts. Before the sudden merciless death of Jeff Bogard, Joe Higashi became a good friend to Terry and Andy. After the murder, Joe went his own way, and became a feared kick boxer, always looking for a challenge. These three strong fighters quickly learned about the King of Fighters tournament, and knew it was the only way to reach Geese.
Fatal Fury is an intense fighting game utilizing several of the play mechanics that have made this genre the success story of the nineties. Loaded with special moves and numerous characters with different techniques, Fatal Fury demands a high level of technique and strategy. This isn't your typical beat-em-up-til-they-drop fighting title! The difficulty level select adjusts for beginners as well. Fulfill your destiny and unleash your Fatal Fury!
FATAL FURY is here, and only Takara brings home all the power of the smash coin-op arcade mega-hit to the SEGA GENESIS System. Blazing fast animation and realistic moves make this game the one to beat! Choose from among three fighting heroes - each with his own unique style of fighting - and take on nine enemies, each possessing his own fighting skills and hidden powers that defy the force of Nature itself. Witness their terrible might as they hurl energy blasts, unleash tornadoes, even turning their entire bodies into human torches! And just when victory is in sight - along comes Tung Fu Rue, who can transform himself info a Giant of lethal, flying force.
The battle is joined on a journey through the mean streets of South town. Fight hard as day turns to night on the Beach or Amusement Park, or as driving rain clouds your sight at the Chinese Temple. Superb animation and horizontal scrolling reveal new areas of the challenge, as attack after attack is met and mastered. Eight locations in all, each with unique background animation, music and sound effects.
Huge characters leap right off the screen. Special skills, magical powers and multiple attack moves combine with lightning speed to create the perfect fighting action game. Take on the computer or another player head-to-head. Are you tough enough to handle the challenge of FATAL FURY and become the KING OF FIGHTERS?
Fatal Fury is a game released in 1991 by SNK for Neo Geo arcade and home platforms and it was a head-to-head fighting game. The release was followed up by other sequels over the time, but Fatal Fury was the game from where everything started. Several characters which can be found in SNK's games made their debut in Fatal Fury. Terry and Andy, but also their rival Geese Howard appeared for the first time in this game.
The story focuses on a martial arts tournament called the "King of Fighters", held in South Town, a fictional American location. The tournament is sponsored by Geese Howard, a local crime boss. After murdering their dad years ago (a former martial artist), Terry and Andy want to take revenge and ask for the help of Joe Higashi, one of their friends.
The player has to choose between Andy, Terry and Joe in the beginning of the game. They will have to stick with the respective character for the whole tournament. They will also choose their rival for the first round. After going through, there are three other opponents to encounter. After the first three, there are three more, Hwa Jai, Raiden and Billy Kane, all before Geese Howard, the crime boss.
Terry is an American martial arts expert, while Andy is his younger brother, who learned a Japanese style of fighting in Asia. Both want to avenge their father's death. Their friend, Joe Higashi, is a May Thai expert. There are eight characters controlled by the computer, with Geese Howard being the last one to fight. Besides the four already mentioned, Duck King, Richard Meyer, Michael Max and Tung Fue Rue are also CPU-controlled characters.
The game was later on released for Super NES in North America (1992), Sega Mega Drive/Genesis in North America (1993, with two removed characters), Wii, PlayStation 2, PlayStation Portable and PlayStation Network.
The gameplay is simple and was appreciated when the game was released. The player has to fight his opponent in a best two-out-of-three matcher by using an eight directional joystick and three attack buttons. Each of the playershas their own special techniques, which can be performed by inputting specific combinations with the buttons and the joystick.
The game introduces two-line battles, which was new for that period. If a friend fighter comes in for help, the game will make both of the players team-up and will let them fight against the CPU.
7
The game was fairly popular back when released, and users on GameSpot voted it with an average rating of 7.2 out of 10.IGN users considered the game decent, offering it an average of 6.6 out of 10, while the press and the critics offered 6.7 out of 10.
As newcomer Takara earns a reputation for converting Neo-Geo titles to the lesser-priced home game systems, it's time we all sat down to figure out why no one thought of this before. Recent NeoGeo games--particularly the Street Fighter II clones that SNK has been trotting out one after another--have been surprisingly successful in the arcades, and it only makes sense that gamers who enjoy the coin-op NeoGeo titles would be interested in playing scaled-down versions on the Super NES or Genesis.
Fatal Fury is one of the most eagerly anticipated of these translations. Everyone's been looking for the "next wave" of fighting games--the appeal of Capcom's powerhouse is bound to wear thin some day--and I had expected the Super NES version of Fatal Fury to be quite the contender in this regard.
The game is often dismissed as a "clone" upon first glance; in fact, many players never got past the fact that it only offers a choice of three characters to control. But the Neo-Geo's Fatal Fury has plenty of features that are nowhere to be found in Street Fighter II (or in SNK's own dynamic duo of World Heroes and Art of Fighting, for that matter). The two most significant advances were the ability to jump toward the background and fight on a different "plane" and the two-player mode that allowed a pair of gamers to gang up on a single computer-controlled foe. Other minor advances included digitized audience noises, a unique arm wrestling bonus stage and the modification of the background graphics between rounds to reflect changes in the time of day or inclement weather.
So how does the Super NES version compare? Surprisingly, most of these innovations are gone--not just abbreviated or reduced, but gone completely. All player movements are confined to a single plane, the bonus stage has been replaced by a ludicrous round of kicking automobile tires on a beach and the only two-player mode in evidence is a competitive, one-on-one "Street Fight" option that is completely removed from the game's plot. (Incidentally, the story line involves two brothers who set out to avenge the death of their father, who had been killed by the game's "big boss" character. Not essential to your understanding of Fatal Fury, but worth mentioning.) Fortunately, the game is good enough to hold up after all of these alterations.
The graphics are fairly well detailed, and, though the fighting sounds and digitized voice effects are nothing to write home about, the music is not bad, making good use of the SNES's stereo capabilities. I love the fact that it starts to rain in the second round of your battle with Tung Fu Rue--but wouldn't it be great if the rain actually affected the outcome of the fight by causing the characters to slip and fall down?
If you're a Street Fighter II fanatic who doesn't know the Neo-Geo from a Bally Astrocade, you should enjoy Fatal Fury--it's a fun fighting game. The only people who would be seriously disappointed by this cartridge are those who foolishly expected it to be an exact duplicate of the 55-megabit original--but even they would have to admit that it's pretty darn close.
Sega Genesis/Mega Drive Screenshots
SNES/Super Nintendo/Super Famicom Screenshots
Similar Games
Viewing games 1 to 2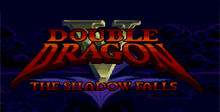 Double Dragon 5
Double Dragon V: The Shadow Falls! Featuring 12 big lightning-fast characters! Four to six special moves for each fighter! Set your own strength, defense and more. Three different fighting modes. Secret moves and codes! Customizable controls. Unique final moves. Hot rock music tracks and 130+ sound effects!