Hometopia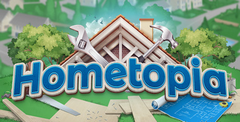 Download Hometopia and build your dream home in this immersive life simulation game! Design your perfect space, decorate with style, and enjoy a world of endless possibilities. Create your ideal sanctuary and play now!
Manage your budget and build the house of your dreams in Hometopia: a game where you can live out all your architectural dreams – and also deal with your home renovation nightmares. The game lets you build a house from scratch or flip homes that are in dire need of a makeover, so if that's the kind of game you like, Hometopia surely won't disappoint.
Homebuilding simulators are surprisingly scarce, and some of the most popular titles in the genre simply don't offer enough variety to keep veteran designers invested for prolonged gaming sessions. Let's take a quick look at what we might expect from Hometopia.
Design and Create
For years, fans of architecture had to resort to playing The Sims in build mode to experience a game that let them create whatever building they wanted. However, since The Sims and all of its sequels are mostly life simulation games, some of their building features can be somewhat limited in more minute detail.
Hometopia is being created as a home building simulator first and foremost: this means that we can expect a much more solid experience when designing floor plans and placing furniture. There are two key areas that we have to keep in mind for this game: building and decorating.
Before we place any furniture, we have to make a floor plan that works best with the space we're working with. This process is much more detailed than it was in The Sims, and even though that means that it might appeal more to professional architects, it takes away from some of the simplicity that casual players might appreciate.
When it comes to decoration, Hometopia shines with the amount of freedom it leaves to the player. Furniture can be placed in almost any position you can imagine, and there's even a color picker tool similar to what we saw in The Sims 3 that will let you match the colors of the furniture and the walls in any room.
Renovate With Friends
The game's career mode consists of you escalating your way to home renovation royalty by buying the most rundown properties in the neighborhood and fixing them to sell them at a profit. This part of the game works similar to the popular House Flipper, although Hometopia focuses more on material renovations rather than cleaning and maintaining the property.
There are plans to add weather and seasons into the base game but there's little chance of seeing those features implemented at launch. What will be released at launch, however, is the ability to play the game in sandbox mode, giving players unlimited resources to design their dream homes free from budgetary constraints.
It's also worth mentioning that the game will have a multiplayer component that will let players interact with other builders and see what sort of houses they're constructing in the same neighborhood. This is a great feature that is unlike anything we've ever seen in the past from any homebuilding game and could be the defining factor that turns Hometopia into an active online community.
8.5
Hometopia is every interior designer's dream. Even though the UI is somewhat bland, the game offers a robust homebuilding experience that you won't find elsewhere.
Pros
Impressively detailed customization options
Great multiplayer modes
Satisfying building and decorating mechanics
Cons
The UI could be more streamlined
Visuals lack a bit of vibrance
Download Hometopia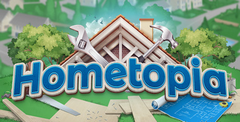 System requirements:
PC compatible
Operating systems: Windows 10/Windows 8/Windows 7/2000/Vista/WinXP
See Also
Viewing games 1 to 8