Legend of Galahad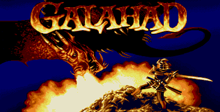 a game by
Traveller's Tales
Genres:
Arcade Classics, Platformer
Platform:
Genesis
Editor Rating:

6

/

10

, based on

1

review
Rate this game:
Slip into your suit of armor and grab your sword! You're gonna need both during your search to find a kidnapped princess and the stolen treasures of Camelot. Galahad is the latest fruit of Electronic Arts' growing tree of action/adventure games.
You play the honorable son of Sir Lancelot from King Arthur's fabled Round Table. EA has written its own chapter in the legend of Galahad posing you against your long-time foe, the evil wizard Miragorn, who you'll eventually meet in a fight to the death.
Tough Tin
The concept behind this game is about as old as the Arthurian legend. You visit three Worlds where you run, jump, and chop your way through 21 fast-paced, side-view, horizontally-scrolling levels of medieval mayhem. At the start of each stage, you receive a specific task, like "Head West to the cave and recover the magical crystal." You must achieve this goal to continue your search.
ProTips:
On World 1's first level, the portal to the next level is to your extreme right, but you need a key. Travel left to the cave. Once inside, jump over the pendulum to find the chest containing the key.
Since all of the passages within the caves look similar, draw maps to keep track of where you've been, or retrace your steps to locate the exit.
Galahad will test your Genesis valor. Bats and birds try to sink their teeth and talons into you. Archers, snakes, and giant bugs all seek to bring a premature end to your quest. Most of the enemies are hard to kill, and new foes quickly reappear in their place. Fledgling knights should adjust the game Options to Training Level.
When you drop underground in the third stage of World 1, you encounter a giant monster with a retractable neck. To defeat him, stay to the left (near the wall). When the monster's neck is fully extended, hit its head several times with your sword. You'll also earn an Extra Life icon.
Bargain Hunter and Gatherer
To give yourself a fighting chance, collect coins and jewels to purchase better weapons and armor from the Weapons. Masters. You'll find coins by slicing through treasure chests, or your adversaries. To enrich your adventure further, some chests hold valuable items, such as health power-ups.
In World Vs second level, head left and find the Weapons Master's house on a diff. You'll need to hop on a carriage to get your initial boost up the cliff.
On the first level of World 1, use your sword to hit the spears that spring from the ground. Sometimes extra coins appear.
Royal Graphics, Common Sounds
The impressive detail, color, and animation of Galahad's graphics help breathe life into a weathered game concept. Sound-wise, everything's great except for the annoying score that plagues the game.
A Knight in Shining Armor
Galahad is a quality quest. Great graphics, prolific levels, and tough villains will occupy your adventurous spirit for many moons. Be a gallant lad and face the challenge of Galahad.
Download Legend of Galahad
Sega Genesis/Mega Drive Screenshots
Other games by
Traveller's Tales