Looney Tunes Cosmic Capers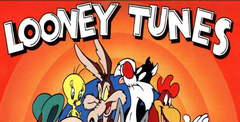 Click the "Install Game" button to initiate the free file download and get compact download launcher. Locate the executable file in your local folder and begin the launcher to install your desired game.
Overview
Okay. Today I REALLY am going to review this game! No, really, I am! I am NOT going to play this game again until I get it reviewed. Well, maybe just one puzzle ... or two ... or three ... ugh, it's getting late, maybe I'll review it tomorrow. Get the picture? This is an incredibly entertaining game for all ages. Every time I got into the game to check a menu setting or get a screenshot, I ended up staying for a Puzzle or two. I am not a computer game enthusiast (though I am married to one), and I loved it! Put together a puzzle of a scene from a classic Warner Brothers cartoon and see it come to life in an animated segment and you've got a simple, yet elegant piece of entertainment. Make those cartoons such classics as Marvin the Martian, Bugs Bunny and Michigan J. Frog, and you've got yourself a title that will appeal to young and old alike. Pick from five difficulty levels and you have a game which is challenging enough for the most sophisticated puzzler or easy enough for the youngest computer user.
Gameplay, Controls, Interface
The controls are very intuitive and easy to manipulate. My 5-year-old, who is not yet reading, was able to navigate them, even without using the special kids' picture menus (which you activate by letting the Tasmanian Devil out of his box). Puzzle pieces are moved into place with the mouse; it couldn't be much simpler than that! But throw in pieces that need to be rotated and flipped, five difficulty levels, a dizzying array of piece shapes, and the ability to have an image on both sides of the pieces, and this interactive jigsaw puzzle is tough enough for adults. You are rewarded at the end of each puzzle with a short animated segment from the classic WB cartoon. I especially liked the Marvin the Martian and Michigan J. Frog segments. You can print the puzzles and also collect and print certificates for completing the puzzle without any hints.
But if you need hints they are available. You can have the computer display a ghost image of the completed image, show a small version of the completed puzzle in the upper corner, place a piece for you, and even solve the puzzle for you. For children, I recommend playing with the Lock Piece Rotation option turned on. My 5-year-old had a difficult time getting the pieces to rotate with the mouse (so did I, for that matter).
Graphics
The graphics are very good, very smooth, even when the puzzle pieces are not completely straight. The animated segment that plays at the end of each solved puzzle is very smooth. You can also save an image as your wallpaper.
Audio
The audio is also very smooth and the sound on the animated segments is good. I was using Alltec Lansing multimedia speakers on my system, but they sound pretty decent even without external speakers. The background music can be annoying, but is easily turned off.
System Requirements
I had to search to find them (they were on the bottom of the box, and I would have liked to see them more prominently featured in the CD liner): Pentium 133, Windows 95/98, 16 MB RAM (32 recommended), 2X CD-ROM drive (4X recommended), 16-bit Windows-compatible sound card, 16-bit SVGA graphics adapter, 2 MB VRAM (strongly recommended), mouse, 30 MB free temporary disk space. You must use the CD to play.
Documentation
Documentation? I don't think so. The CD liner had only the briefest "Getting Started" instructions, which began with "Insert the CD Ya Pesky Varmint!", instructions for reaching technical support, and the license agreement. The back of the box was your standard marketing blurb. But with a game as uncomplicated as this one, no further documentation was needed.
Bottom Line
We saw this title at OfficeMax for around $15.00. For the money, this is one of the very best titles around and I wholeheartedly recommend it for all ages, those who loved the classic Looney Tunes cartoons as a kid, and those who are just now discovering them. The only reason this game did not get 100 points is that I would like to see it offer some different add-on theme packs, like maybe a Roadrunner and Coyote pack, and a Bugs Bunny and Elmer Fudd pack (which would have to include "The Barber of Seville"). The options are limitless. If SouthPeak stops here with this concept, they will be selling themselves way short because they have a real winner.
Download Looney Tunes Cosmic Capers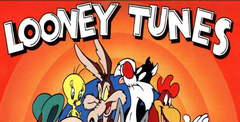 System requirements:
PC compatible
Operating systems: Windows 10/Windows 8/Windows 7/2000/Vista/WinXP
Similar Games
Viewing games 1 to 10