Luna's Fall From Grace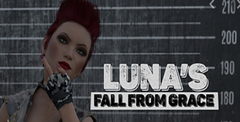 Download Luna's Fall From Grace and experience a truly mature lewd visual novel. This game may have a lot of sex and a very sexy main character. However, it is the very interesting gangland style of story that makes this one of the best XXX visual novels around!
a game by
Frozen Synapse
Platform:
PC
Editor Rating:

8

/

10

, based on

2

reviews,

1

review is shown
User Rating:

9.1

/

10

-

21

votes
Rate this game:
See also:
Eroge Games, f95 Trending
Ok, so a friend was telling me that I had to play Luna's Fall From Grace for a while now and I finally gave in. I will admit I thought this was going to be just another lewd visual novel and that I would play it, get through it and not really think of it again. Well, I was sucked pretty quickly and found the plot to be engaging and a great deal of fun and a game that I now find myself recommending to other people!
The Mob Of The Future
By a mile, the best thing about Luna's Fall From Grace is the story. The game has a very interesting setting. It is set in a dystopian future where the governments of the world have pretty much lost their power. Now, mobs, gangs, and vicious people rule different parts of the world any way they see fit.
Luna, finds out that her dad was dealing with some very shady people and these people hold a real grudge against her dad. As her dad is dead, they are going to take their pound of flesh from Luna instead, unless she can get out of the city and to safety. I love how there is a mixture of story styles here the whole gangster and dystopian future thing is not a story that I think I have experienced before.
I Love Me Some Luna
I have to say that the main character is smoking hot and that alone at first was what got me to finally give Luna's Fall From Grace the time of day. The male characters in the game can have some really weird and off-putting faces, but the female characters are great and in general, I think this is a very good-looking games. To be fair, the male character models more look like real dudes and they are supposed to be rough gangster-looking guys so I get that does make sense.
There is plenty of sex in the game too. The level of animation here was far better than I thought it would be. Granted it is basic, but it gets the job done and makes the various sex scenes look even better. In all, this is a great-looking game and I think that the visuals are not just good, they compliment the story and the world that was created here very well.
Simple, But That Is Good
The gameplay on offer here in Luna's Fall From Grace is right around what you would expect from a visual novel game. The gameplay is not exactly deep, but you do get to make various choices in the game. You can choose how you want the main character to go, you can have her be tough or a bit more submissive. It is all down to the choices that you make.
Even though I will admit that there is nothing super special here about the gameplay on offer. I do think that the story and the choices they give you do make it so you get pretty invested and want to see it through to the end. Maybe even having a second playthrough so that you can see the other routes the game has.
9
I had a great time with Luna's Fall From Grace and have to admit that my buddy was right. The real star here has to be the story, the mixing of different genres sounds like it would be a mess, and in places, it can be hard to follow. However, I was fully invested in what was going on here and as a result, this is one of the better visual novels I have played this year.
Pros:
I loved how hot the MC was
The story is great and very well written
There are animated sex scenes
It gives you a reason to play through it more than once
Cons:
Some of the male characters are pretty damn ugly
I wish there was some voice acting in the game
Download Luna's Fall From Grace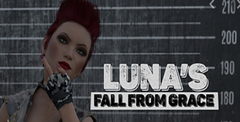 Minimal System Requirements:
OS: Windows 7 (64-Bit)
CPU: INTEL Core i3
RAM: 2 GB
VRAM: 1 GB
DirectX: 11
HDD: 40 GB free
System Requirements:
OS: Windows 8, 8.1, 10 (64-Bit)
CPU: INTEL Core i5
RAM: 4 GB
VRAM: 2 GB
DirectX: 11
HDD: 40 GB free
See Also
Viewing games 1 to 8