Magicka 2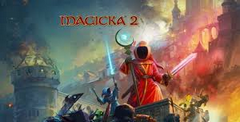 From Pieces Interactive comes the second instalment in the Magicka series, aptly titled Magicka 2. The second game in the series, it can be played on the PS4 or Mac, Windows or Linux operating systems.
The Low Down
Carrying on from its predecessor, the game's events begin after the player leaves the ruins of Alderheim to witness a Midgård that has almost been wiped entirely clean of wizards after the Wizard Wars. Any who remain are either mad or just rather unfriendly! To save your world, you'll have to team up with several other wizards and your guide Vlad to rid the realm of evil once more. So begins your spell casting adventure, as you journey through all kinds of environments and terrain, banishing creatures and fighting monsters while restoring balance to Midgård. Given that this game is a sequel, there are obviously a few changes to how it is played.
The Positives
Lets start with what I liked. Most noticeably, the mechanics and animations of the spell and magic casting are a lot less clunky and much faster, allowing for smoother game play. The controller casting system, which is the main function, allowing you to control and cast your spells has also been improved and redesigned to great effect. In general the whole game is a lot smoother to play than the first, while still retaining all the features and characters that made it great to begin with.
The Negatives
This brings us to some of the changes that are not so impressive. In my opinion the game has been significantly downscaled and decreased in many aspects compared to the first. There are less magicks, less enemies, less levels, items and downloadable content to enjoy. You also can't spam (repeatedly use) magick spells anymore to breeze your way through the story (even if you remember the command, there's still a 3 second limit between casting spells. Boo)! While the game still has a relatively high level of difficulty, all these decreased or missing features really hamper its replay value.
The Bottom Line
With all of the above said, you'll notice little of these changes if this is your introduction into the franchise. All the new positive changes will be taken for granted and to be honest, the negative ones aren't impactful enough for it to be a deal breaker. Luckily, the game still retains its magic (pardon the pun) from the last instalment. The soundtrack is compelling and well suited to the game you're playing, the graphics are quite impressive and the variation in different environments and settings you find yourself in really keeps the game compelling. This, combined with the huge variety in items and spells, makes Magicka 2 a game that is loaded with excitement, fun mechanics and great storytelling. If fantasy or magic based games are up your street, this is definitely one to get in to.
Pros
Great variation in spells and items
Characters and story is compelling
Graphics, soundtrack and animations all work in unison to provide smoother gameplay
Cons
Some of the more limiting changes may put off fans of the first game
The scaling down of the game as a whole is a real shame
7/10
Download Magicka 2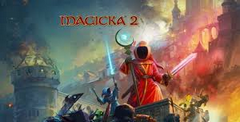 System requirements:
PC compatible
Operating systems: Windows 10/Windows 8/Windows 7/2000/Vista/WinXP
Similar Games
Viewing games 1 to 10