Mario Teaches Typing 2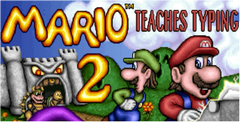 Download Mario Teaches Typing 2 and improve your typing skills with the help of everyone's favorite plumber! Navigate through engaging lessons, practice your accuracy, and master the keyboard. Start your educational adventure and play now!
The Mario series is one that has way more hits than misses, but games like Mario Teaches Typing 2 show that there are some strange entries in the series too. This was released at a time when Nintendo allowed a couple of companies to have a go at making games with their characters. The NES and SNES already had educational Mario games and someone thought that Mario was the guy to teach kids about typing.
Who Wrote This?
One of the things that takes many people by surprise the first time they play Mario Teaches Typing 2 is just how story driven it is. The basics are Mario and Luigi are walking along when a magic typewritten appears in front of them. It types out a scroll that has what can be best described as a prophecy! And It gives out a warning, but Mario tries to type anyway causing it to blow up and land in different parts of the Mushroom Kingdom. Mario and Luigi decide to go and track down the pieces of the magic typewriter to not only do what the scroll says but also help Mario be a better typist. It is actually pretty cinematic, features a lot of writing, voice acting and cut scenes. They are of the so bad they are good variety. The Mario head that is at the start of Mario 64 actually got its start in this game here so that is pretty cool.
Does Mario Actually Teach You To Type?
I think calling Mario Teaches Typing 2 an actual game is a bit of a stretch. However, I will say that this is actually a pretty solid typing tool. You can either jump in and just take one of the lessons any way that you want it. Or you can actually follow what the game tells you to do and do things in order where the lessons get more advanced as you go. It really is quite a good typing tool and the fact that Mario is there does make it something that would keep interested.
It is not just the different typing exercises that make Mario Teaches Typing 2 such a good typing teacher. It actually gives very impressive feedback. After each "level" you will be given a report on how you did. This is actually pretty in depth and it will let you know how many mistakes you made, but it will also tell you the letters that you had a bit of trouble with too. The fact that you have to type in order to make Mario progress through the level is something I am sure kids would love. It is also something that will probably make them learn to type without them even actually realizing they are.
While this is one of the weirdest entries in the Super Mario series. The first Mario Teaches Typing game is pretty lame. Yet, I will say that when you actually dig into it, Mario Teaches Typing 2 is actually a very well made typing teacher that will actually help you become better at typing. Plus this is a really cool collectible piece to have in your collection as it is so odd.
7.5.10
Pros:
It actually has a story
The voice acting is so bad it is good
It is a solid typing teacher
Great if you collect odd Mario stuff
It is a million times better than its predecessor
Cons:
Let's face it, it is weird
People think it is as bad as the first one
Download Mario Teaches Typing 2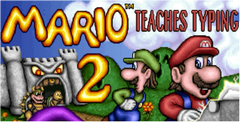 System requirements:
PC compatible
Operating systems: Windows 10/Windows 8/Windows 7/2000/Vista/WinXP
See Also
Viewing games 1 to 14