Mario's Time Machine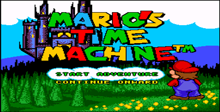 Click the "Install Game" button to initiate the free file download and get compact download launcher. Locate the executable file in your local folder and begin the launcher to install your desired game.
It's time to face the facts: First-generation video gamers now have children old enough to play games. Now parental gamers are eager to find not only games they can play with their children, but also games that will help their kids grow and learn. Mario's Time Machine is a great place to start.
ProTip: Spiked mines make you lose all your Mushrooms when you Time Surf.
Bowser Stays after School!
Bowser's back, but he's not kidnapping the Princess or holding the kingdom for ransom. This time he's stolen artifacts from famous historical figures in order to alter the course of history... in his favor! Mario has to use the Time Machine to restore the artifacts to their rightful owners.
Make History No Mystery
The game design is simple, but little kids will need someone with good reading skills and reading comprehension to make this time trip. You sneak into Bowser's museum, snatch the artifacts, and then display a History Sheet, which is a fill-in-the-blanks reading lesson about the owner of the item. The Sheet reveals a year and a location, which you program into the Timulator, Mario's time machine. Next, you take Mario Time Surfing.
The Time Surfing sequence is simple Mode 7 thumb candy. You glide across an ocean, snatch ten mushrooms, drop into a whirlpool, and land at the correct location. Fall in the pool without the 'shrooms, and you're really into ancient history as you hop through a Donkey Kong remake -- a prehistoric obstacle course of rolling boulders.
If the Whirlpool hurls you back to the Donkey Kong prehistoric world, use those classic DK strategies! Climb ropes to avoid boulders. Don't jump up into boulders on the ramps above you. Hold down Y to move more quickly.
When he reaches his destination, Mario talks with characters to find the answers for the History Sheet. You can help out 15 historical figures, including Abraham Lincoln, Marco Polo, Cleopatra, and many others.
The dialogues with historical figures are original and witty, and the scenarios make flesh- and-blood human beings out of people who are usually just static pictures in textbook.
Mario's Time Machine has its flaws. The historical backgrounds feature some imagination, but only Mario adds personality to the graphics. The confusing button sequences needed to set the Timulator are too clunky for little kids, and Time Surfing gets repetitious fast.
Conversations hold all the answers you need.
It's about Time
Make no mistake about it -- this game is meant for kids under 12. Mario's Time Machine is an engaging way for little kids to learn history while having fun.
Scan over the answer list when you first display the History Sheet. Maybe you know more than you think!
Time Surfing takes time, so to help you remember key facts, jot down notes when you arrive at a destination and begin your research.
Download Mario's Time Machine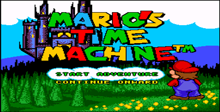 System requirements:
PC compatible
Operating systems: Windows 10/Windows 8/Windows 7/2000/Vista/WinXP
Pentium II (or equivalent) 266MHz (500MHz recommended), RAM: 64MB (128MB recommended), DirectX v8.0a or later must be installed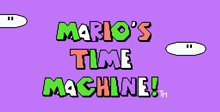 System requirements:
PC compatible
Operating systems: Windows 10/Windows 8/Windows 7/2000/Vista/WinXP
P-200, 32 MB RAM
Game Reviews
Manufacturer: Mindscape
# of players: 1
Difficulty: Easy
Available: December 1993
Theme: Educational
Alright class! It's time for history lesson with everyone's favoriteplumber, Mario! He's not your ordinary teacher! Mario's Time Machine is a challenging and thought-provoking trip through the continuum of time. Mario's mission is to help the various historical figures through some pivotal times in their lives. By collecting certain important items, Mario can literally make history. However, to access the time machine, Mario must first answer questions related to the famous person whose time he must travel to.
Sounds easy enough, right? Well, hold your horses, because it's not a cakewalk! The questions are challenging and often require some heavy duty synapse-straining. Whoa! Young and old will have fun playing Mario's Time Machine. It's a real trip! Who knows, you might even learn a thing or two!
Machine: SNES;
Manufacturer: The Software Toolworks;
Where in Time Is Bowser might have been a more appropriate title for this new game: When the diabolical King Koopa decides to amass the ultimate collection of historic artifacts by traveling through time to steal them, it's Mario to the rescue once again!
Mario's Time Machine, the sequel to the hit Mario Is Missing, marks the second licensed Mario title from The Software Toolworks, and it offers roughly the same type of game play - with facts about history hidden beneath a layer of action-adventure.
Manufacturer: Mindscape
Machine: Super NES
Theme: Infotainment
Release: December 1993
People say:
7
Just like Mario is Missing, this cart is aimed at a much younger audience and is based around the edutainment idea. This cart tests your skills at recalling historical places and trivia while giving you a pseudo-Mario adventure. Those players who want a lot of action will not find it here, but if you like to learn about history plus really liked the previous MIM, then this will be your ticket to fun, otherwise - forget it!
7
I actually enjoyed Mario is Missing and I expected this one to be the same. Luckily, it is and it offers challenging quests than the first. Kiddies may have a tougher with this one. For all you experienced gamers, the game will seem like a cake-walk, especially the Donkey Kong-type scenes and the surf boarding, but once you start reading those questions, you'd better break out the history books.
6
The concept behind this cart is very good. The game basically uses Mario's character to get kids to learn important facts and trivia about history. The format proves to be much more effective than Mario is Missing, since most kids will just cycle through the multiple choice answers until they get the correct one. The game has little to offer in terms of action, but will actually force kids who are determined to win to learn something.
7
This is another of those 'infotainment' (I hate that term) games in the spirit of Mario is Missing. For those of you who like a more deliberately paced game that tests your intellectual skills and recall of historical events, then this is for you. For others, don't think this is in the same vein as Super Mario All-Stars - far from it! The graphics and music are good with some sequences (like surfing) especially well done.
Published and developed by Software Toolworks, Inc., the video game was released in 1993. Bowser now keeps in possession a time machine. He has been to the past time in order to steal lots of artifacts. And has put them to the places that he considers to be the greatest museum of all time. If sooner all the things are not returned, the history will be changed forever. So now it is Mario's mission not to let Bowser completing his collection.
In the Nintendo Entertainment System version Mario is accompanies by Yoshi that goes too far ahead and Bowser manages to capture Yoshi. The version includes Bowser's statue, a whole body part and pictures (or paintings) statues of Yoshi and Donkey Kong Junior, and also a statue of a star. The machine looks like an ordinary pipe with a tube inside. Mario has all the important items back to their time, in the end, and after defeating Bowser saves Yoshi.
SNES/Super Nintendo/Super Famicom Screenshots
NES/Famicom/Dendy Screenshots
See Also
Viewing games 1 to 2