Masters of Orion 2: Battle at Antares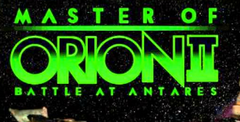 Click the "Install Game" button to initiate the free file download and get compact download launcher. Locate the executable file in your local folder and begin the launcher to install your desired game.
Humour me now and cast your minds back to issue 32, and you may remember my rumblings and ruminations over a game called Ascendancy. I passed comment on its addictive nature, its all-encompassing strategy elements and playability that was surpassed by none. Well, it's about to be surpassed now, by Masters Of Orion 2. A sequel yes, but a sequel to the only game that could perhaps be said to have been a direct influenced on the design of Ascendancy - after all, it shared very similar themes of space exploration and colonising and was released some 19 months earlier.
But don't get me wrong. I'm not suggesting that Ascendancy borrowed certain elements from Orion 1. Far from it: Ascendancy was far superior, much deeper and infinitely more intelligent and playable. All in all, space colonisation is space colonisation - as with golfing games, there are only so many ways you can simulate it and so there will inevitably be some crossovers. Anyway, what I'm trying to say is that while Masters Of Orion 2 is in many ways similar to Ascendancy in its themes and practices, it actually promises much more in terms of strategic gameplay anc the actual execution of said themes. Is that safe?
Improvements
Anyone who remembers the original Masters Of Orion must have a very good memory. The sequel has been revamped reshaped, restructured, reassembled, revitalised, reversed, reanimated and reprogrammed in order to create a game that has all of the elements that won the first title numerous awards (including Strategy Game Of The Year 1993 in America), but in an altogether more attractive and challenging environment. By which I mean the graphics have improved - which is as we would have hoped really, since the original has already celebrated its third birthday. Now we have majestic svga screens depicting alien races, breathtaking animations, fully detailed space combat and planet development scenes and... well, you get the idea.
But it's not just the look of the game that's been overhauled, the whole thing has been upgraded, through from the strategic element to the control system. You now have more than a dozen alien races to deal with, full land resource problems to overcome, a raft of new technology to research and, perhaps the most intriguingly bit of all, a race of utter xenophobes that make the Borg's attempts at assimilation look like a local jumble sale since they have about as much interest in the affairs of other races as the French.
Better? You bet!
All of these improvements alone would combine to make a pretty good game, but developers SimTex haven't stopped there. After all, why just program in a load of different alien artificial intelligence routines when you can throw in a network option and allow the infinite variety of human minds to control your enemies' actions as well? Yup, there's no reason at all, which is why Masters Of Orion 2 has both a modem head-to-head version and a networkable eight-player version, allowing for an unparalleled level of challenge in a strategy game (but one that I reckon you can be sure is going to be included in just about every other forthcoming strategy title from here to eternity).
Another new feature is the inclusion of Leaders, talented freelancers that hire their services out to players. You can sign them up to lead your spacecraft, head up battles, take care of planets and so on, adding all sorts of variables into the strategic mix.
It's an odds-on favourite that Masters Of Orion 2 will snatch the space strategy crown away from Ascendancy. At the time of writing, the manual space combat sections had yet to be implemented, so we'll just have to wait and see how this most crucial of aspects affects things. If the rest is anything to go by though, it should be pretty smart.
Download Masters of Orion 2: Battle at Antares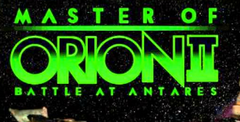 System requirements:
PC compatible
Operating systems: Windows 10/Windows 8/Windows 7/2000/Vista/WinXP
Game Reviews
Lengthy sessions on Masters Of Orion 2 don't hold the same kind of fulfilment as other turn-based strategy games like Alpha Centauri, or the ancient Ascendancy (also available on budget), but that's not through any serious flaw - graphically, technically or otherwise. In fairness, all standard strategic elements are well intact, with the research tree in particular showing surprising variety by incorporating not only new ships and new buildings, but also biological functions such as telepathy, spies and mutation. Sadly, all innovation ceases there, meaning that we're left with a nicely shaped skeleton that's somewhat devoid of flesh. Shame.
See Also
Viewing games 1 to 6