Metal Gear Solid 3 Subsistence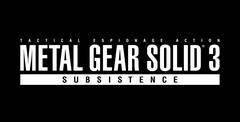 Download Metal Gear Solid 3 Subsistence and experience the definitive edition of this stealth action classic! Navigate treacherous terrain, outwit cunning enemies, and survive the harsh wilderness. The legend of Big Boss begins – play now!
Carrying on the franchise's traditions, Metal Gear Solid 3: Subsistence expands on its initial offerings to feature a wealth of new material. It's safe to say that the first release won over plenty of critical acclaim with its captivating storyline, innovative stealth gameplay, and beautifully rendered Siberian jungle environments.
So how does one make a game that's already pleased so many better? Well, add even more content, apparently. The success of doing this with the franchise two previous games has naturally led to a third reincarnation. There's only one thing left to do, really - judge the new additions and features of Metal Gear Solid 3: Subsistence.
There's a Snake in My Boots
What new features does Metal Gear Solid 3: Subsistence have then? Games usually add a few more features to keep an audience content; this game goes the whole hog. It includes localizations of the original Metal Gear games (Metal Gear + Metal Gear 2: Solid Snake). Not to mention a new 3D user-controlled camera to enhance gameplay and new game modes.
There was so much new content that the game had to be split into two discs - one with the main game and the other with extras. That would feel quite the value to anybody that already owned the game. However, sometimes this stuff can be just bloated features to appeal to a player and not deliver.
This is not the case. Metal Gear Solid 3: Subsistence has delivered new content that offers hours of unique gameplay. The online modes feature engaging and competitive tournament modes, deathmatches, capture the flag, and skill battles. Apart from the multiplayer experience, extra side-story missions and skill challenges are all well-designed and entertaining in parallel with the main game.
It's a rarity when a 'special edition' gets such a significant upgrade. It's even rare to see the third game in the franchise faithful to the player base after years of success. Any Metal Gear fan would not fret at paying for this game again with all the jam-packed features it offers. It's almost a standalone game in itself.
Just Subsisting
Metal Gear Solid 3: Subsistence sets the standard for special editions across the board. The game isn't only filled with new content; it's all very playable. It puts special editions like Call of Duty: World At War to shame, considering the severe lack of range of extras and the plethora of promises behind it.
9
The game is definitely tailored for those who want more out of their Snake Eater experience. Hardcore fans can pit their skills in some of the most challenging content yet, or casual players can sit back and enjoy a run-through of the cinematics. It all just works, and we're thankful that some developers are still dedicated to their players.
Round-Up - Pros & Cons
Pros:
Some of the most content you'll ever see in a special edition
Multiplayer modes are diverse and fun
Many challenging missions for seasoned players
Cons:
Multiplayer needs some time to get your head around
Download Metal Gear Solid 3 Subsistence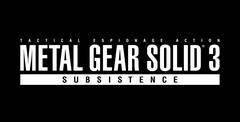 System requirements:
PC compatible
Operating systems: Windows 10/Windows 8/Windows 7/2000/Vista/WinXP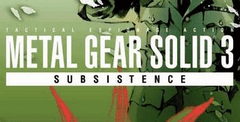 System requirements:
PC compatible
Operating systems: Windows 10/Windows 8/Windows 7/2000/Vista/WinXP
Playstation 2 Screenshots
See Also
Viewing games 1 to 8