Metroid Prime 3: Corruption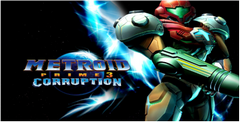 Click the "Install Game" button to initiate the file download and get compact download launcher. Locate the executable file in your local folder and begin the launcher to install your desired game.
Following the adventures of Samus Aran and the Space Pirates, Metroid Prime 3: Corruption is the third main installment of the beloved Metroid Prime series as part of the larger science fiction Metroid series. If you are someone who is into space, robots, and pirates, look no further than to Metroid Prime for your daily dose of serotonin. Samus, the space pirates, and their adventures will keep you on your toes and taking in every bit of the game for every step of the way.
Visuals
Metroid Prime 3 was originally designed to be a Wii exclusive game from Nintendo. This means that while the graphics, rendering, and pixel quality are not going to be the greatest, it is undeniable that nobody does a better job at making a pixelated world interesting that does Nintendo.
The world of Metroid Prime will have the nostalgic design feel of early games, while also having a timeless story that anyone could enjoy. The visual enjoyment of the game is still nothing to scoff at, however, as the details one will find within make the game that much more enjoyable. Being able to use certain visual cues that a more highly rendered game might opt out of allows for a different playing experience often no longer offered.
Gameplay
Metroid Prime 3: Corruption is set to take place six months after the events in Metroid Prime 2: Echoes. Being so close in time and in the same series, one will find that Metroid Prime 3 is very similar to the four Metroid installments that come before it, and the six that come after it. This is fantastic news to fans, because if it's broke, don't fix it, right? Playing as Samus, the player is hired alongside of three other bounty hunters to clear a computer virus from organic supercomputers spread across the galaxy. The meeting is called short, however, when Space Pirates attack the ship and Samus's job changes. Being sent to the planet Norion, Samus and the player are then tasked with protecting the Federation base on the planet that it is rumored Space Pirates are set to attack.
With the fate of the Federation and corruption of the galaxy in Samus's hands, the player is now ready to finish their business with the Space Pirates.
Personal Rating
Metroid Prime 3 is a lovely game for fans who wish to continue the story of Samus and the Space Pirates. Offering a long, detailed, and interesting story line with action packed gameplay, something like Metroid Prime is just hard to beat, especially when there are over ten games for one to enjoy, never getting bored of a repetitive story or play through.
9
For this, I give Metroid Prime 3: Corruption a rating of 9/10.
Pros:
Series game, can love multiple just like it
From already established story line
Nostalgic with loved, retro characters
Cons:
Made for Wii, no new adaptations (other than emulators)
Not a game to start with, better as part of the series
Download Metroid Prime 3: Corruption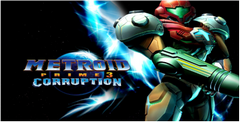 System requirements:
PC compatible
Operating systems: Windows 10/Windows 8/Windows 7/2000/Vista/WinXP
Game Reviews
If Hollywood director John Woo ever gets around to bringing Metroid to the silver screen, the open casting call for Samus Aran will now list a few more prerequisites. First-person adventure Corruption introduces some impressive Wii-specific moves to the bounty hunter's repertoire, such as unlocking doors with a twist of the Wii Remote and knocking away an enemy's shield with a flick of the Nunchuk. The actress also better be able to memorize her lines; this will be the first Metroid game to have spoken dialogue (well, at least the kind that wasn't some incomprehensible alien babble). And lastly, she should forget Echoes' (GC) multiplayer because 1) it really sucked, and 2) the developers recently mentioned such a feature would be very different here...if they do multiplayer.
Metroid heroine Samus has been helping close the gender gap in gaming ever since her seminal NES adventure. In Corruption, she'll be manhanc aliens and space pirates on the Wii, with players using the system's controller to open doors and launch grapple beams with hand motions.
Still, the biggest draw here remains the series' addicting action-adventure"formula and memorable boss battles. We can't help but wonder if ultimate toughie Master Chief could pull off a boss battle as sweet as Samus' versus the dragonlike Ridley: The two combatants plummet down a seei ingly bottomless shaft while exchanging fireballs and energy shots.
Other Games by Retro Studios Inc.