Michael Jordan in Chaos in the Windy City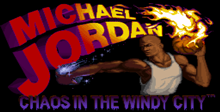 Click the "Install Game" button to initiate the free file download and get compact download launcher. Locate the executable file in your local folder and begin the launcher to install your desired game.
Manufacturer: Electronic Arts
Machine: SNES
The guy who thought this game up must have been kidding! MJ runs around in a nightmare landscape, killing mutants with basketballs. If this cart had more humor, it might have been better. This is OK for young Jackson fans: otherwise, shine it.
Download Michael Jordan in Chaos in the Windy City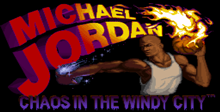 System requirements:
PC compatible
Operating systems: Windows 10/Windows 8/Windows 7/2000/Vista/WinXP
Pentium II (or equivalent) 266MHz (500MHz recommended), RAM: 64MB (128MB recommended), DirectX v8.0a or later must be installed
Game Reviews
Although some gamers may find excessive commercialization of Michael Jordan an annoyingly bad idea for an action/ adventure video game, real platform players will like the variety of game play and intense, complex levels.
Wanna Be Like Mike
Chaos in The Windy City starts off on a bad foot. The power- ups are Gatorade bottles, Wheaties boxes, and high-top tennis shoes (wonder which brand they are?). This game makes Cool Spot look tame with its blatant action/advertisement style. Once you look past all that, though, you find a very playable and fun game.
ProTip: Try not to position Michael too close to the edge. He can't throw when he's trying to maintain his balance.
The story line is pretty hokey. Mike shows up to practice for a charity all-star basketball game and discovers that his teammates have disappeared (perhaps they've gone to do their own video endorsements). He finds out that Dr. Max Cranium has kidnapped the team and hidden them in various areas around Chicago. It's up to Master Mike to step in and lobotomize Dr. Cranium.
Almost every wall is destructible.
Each team member has clues and hints for Michael, so he goes through haunted houses, the el train, a mad scientist's lab, and more to find his friends. Dr. Cranium also has fans for Mike to meet, including zombies with basketballs for heads, steroid- enhanced point guards, bats, and mech spiders. At the end of each stage, the good doctor throws a boss at you.
When you reach the first bonus area in the first Lab (on the far-right side), go to the top and open the left door for an extra man.
To plow through this menagerie, Mike gets basketballs as weapons. His standard ball is enhanced by other super balls that he must find throughout the levels, including flaming basketballs, ice balls, homing balls, and earthquake balls. There are also a number of locked doors, traps, and hidden areas. Mike must locate the keys to doors and solve puzzles to progress.
Strewn throughout the levels are baskets. Yes, baskets, like the ones used in a regular NBA game. If Mike slams home a basket, a power-up is released. Sometimes the baskets perform other functions, like clearing out an enemy, stopping all enemies onscreen, or acting as a save point in the game.
Some balls have dual roles. The gold homing ball, for instance, tracks down an enemy, but if you spike it, it becomes three balls.
The iron ball is a good, heavy ball, but it can't be thrown far. Spike it, and it explodes.
Only white knuckleballs can get rid of these out-of-control point guards.
Is It the Shoes?
The graphics in Chaos are decent. From Mike's mug in the corner (which changes expression with every hit) to the detailed and imaginative backgrounds, the game rebounds at every turn. Even Mike's animations, which include two great slam-dunk moves, are wonderful. With such fluid illustration, it's a shame this game wasn't a sports title.
A generic soundtrack scores the game. The dull hero-with-a-ball music is positively accentuated by a number of good sound effects, including the dribbling ball, creaking doors, shattering backboards, and even voice clips from Air Jordan himself.
The control is certainly a lot tougher than fielding questions from a room full of reporters. Mike doesn't always slam baskets on the first couple of attempts, which is doubly frustrating if an enemy is harassing you. The control problems are further compounded by the two-button- press layup that's required to shoot small enemies (like baby spiders) on the ground.
Heir Jordan
All in all, though, fans of the great MJ will have a ball with this game. Serious action/adventure game players will also like the long and involved levels (four stages with about 20 levels total, and three linear train levels), but young gamers (the bulk of Michael's fans) may find the challenge as hard as signing for under $3 million in the NBA.
If you want to be like Mike, try Chaos in The Windy City. The long and windy levels will guarantee that you'll want to stay for a while as a guest of Michael Jordan.
The flame ball is strong, but when spiked, it also spreads a river of flames.
The ice ball freezes enemies, but it also freezes the floor when you spike it, which slows down the enemy.
Boy, when Michael Jordan decided to get out of basketball, he really decided to get out of basketball! Chaos in the Windy City is a new eight-meg Genesis game from Electronic Arts that stars His Airness in an action/adventure game that's not a round-ball sports game.
Players in Peril
The story will have Michael on his way to practice for a charity game when the evil Professor Max Cranium kidnaps his teammates. Mr. Jordan will search out his friends throughout actual Chicago (the Windy City) locales. There will be five locations with five massive levels per location.
This time, MJ shoots basketballs to take out freakoid monsters. He'll use I eight types of balls, which he powers up by slam dunking b them through hoops Scattered throughout the levels.
Basketball Madness
Anticipation for this game should have sports fans and action gamers in Chaos. But they must still be scrapin' the guys at EA Sports off the wall.
SNES/Super Nintendo/Super Famicom Screenshots
Other Games by Electronic Arts