MTV Music Generator 2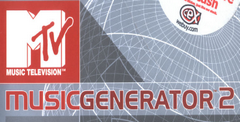 a game by
Codemasters
Platform:

Playstation 2

Editor Rating:

8

/

10

, based on

1

review
User Rating:

4.0

/

10

-

2

votes
Rate this game:
See also:
Dancing Games
Overview
Ever dreamt of owning your own production studio? Making music from the comfort of your own home? Ripping a phat beat to the instruction of Funkmaster Flex?
Whoa' getting a little over the top there. Sorry, won't do it again.
You've entered the review for MTV Music Generator 2, sequel to the PSX title of the same name. Updated for the technology of the PS2, and capable of so much more than its predecessor, the Music Generator hopes to bring you a slice of the life of real musicians and all the work they go through to make their music sound so good. A mildly powerful layout tool, MTV Music Generator 2 allows you to lay out your music precisely, constructing your songs exactly the way you'd like.
Armed with some of the same powerful tools used by music producers in a studio, and with the right understanding of this software, you may indeed be able to make nearly professional quality music.
Gameplay, Controls, Interface
If any of you remember the old MOD-making days of the early nineties, you may recognize the style of layout in MTV Music Generator 2. Essentially a sample layout program, the Music Generator handles your song as a series of channels and time blocks, allowing you to place sampled music at any point you'd like using a fairly simple point-and-click layout. It's not extremely powerful, but fairly easy to use; this interface isn't overwhelming, but it does take some getting used to.
When you first start the Music Generator, you'll see a rather simple menu with the same sort of controls as you'd see on a normal CD player. Using the interface is as easy as moving the pointer arrow to the icon or control you'd like and pressing the X button. These controls allow you to handle playback and review of specific portions of your song, the most common of which are bound to specific buttons on your controller.
A series of icon-based menus allow you to add, remove or alter any of the samples you'd like to use in the song, and additional controls let you adjust the pitch and tone of your composition. Using the video controls, you can add triggers for visual effects, just in case you want to play your song in the 3D visualizer part of the program. The PS2 does seem a little overpowered for tasks like these, especially given that only one part of the program uses any of the 3D effects for which the PS2 was designed.
Although there is a fairly significant load time when you first start using the Music Generator, it only occurs once and doesn't present that much of an annoyance. The biggest problem I had was the lack of screen space, due to the Generator's relatively small resolution. Some of the buttons and iconography are very hard to recognize, and that isn't helped any by the blurry backgrounds.
Graphics
At first glance, I didn't think I'd need to write anything about this game's graphics. Sadly, though, their quality (or lack thereof) demands a bit of soapbox ranting. Why would you bother transitioning a game like the Music Generator to the PS2 if you didn't also want to take advantage of its graphics power? This title runs at an abysmally low resolution, somewhere lower than 640x480, even though the PS2 can go well above that. The display is blurry and unrefined, and none of the additional skins (displays that change the look and layout of the controls) make the situation any better.
Audio
Of course, this is where MTV Music Generator 2 shines. Not necessarily an audiophile's dream, the Generator does a great job of helping you slap together your own music, and with a little talent your own homemade track can sound pretty good. Taking advantage of the advanced features of the PS2, you can even attach a sampler add-on (like a controller) to add your own clips and samples to the track you're working on. With the 8mb capacity of the PS2 memory card, you can actually store quite a lot of stuff.
Originality/Cool Features
This CD comes with full-length videos from many different artists, among them Gorillaz. If you've never seen or heard Gorillaz, sitting through their video for 'Clint Eastwood' is quite a treat. Also, much to my chagrin, this version of the Music Generator appears to take itself just a little too seriously. The first Music Generator had a commercial where they compared the software to a professional mixing pad. Making fun of their own software, they were careful to point out that a PlayStation isn't going to replace a several thousand-dollar piece of audio hardware. That sense of humor seems to be missing from the ad/intro material from MTV Music Generator 2, and it really is a shame, given how much character it gave the first game.
Bottom Line
For what it does, the MTV Music Generator 2 is definitely a good program. It improves on the original, and offers you all the necessary features to do the hardcore MOD work started years ago on home PCs. Not necessarily the best learning tool nor pretty to look at, the Generator is a title most gamers will probably want to leave at the store. However, if you're a serious fan of music and all the design that goes into it, this may be one of the better PS2 titles you could buy.
Download MTV Music Generator 2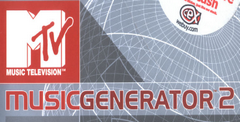 System requirements:
PC compatible
Operating systems: Windows 10/Windows 8/Windows 7/2000/Vista/WinXP
Playstation 2 Screenshots
Other Games by Codemasters