NBA Jam 2000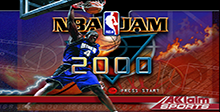 Click the "Install Game" button to initiate the free file download and get compact download launcher. Locate the executable file in your local folder and begin the launcher to install your desired game.
People say:
7
There's lots of good and bad to NBA Jam 2000, but not much ugly. It's a good-looking game that moves smoothly. One of my favorite parts is announcer Kevin Harlan, who has a no-holds-barred style of commentary, whipping out zingers at every turn. Several different shot animations, some player-specific, are nice to see on fallaway jumpers and three pointers. The free-throw meter is intuitive and challenges the Shaqs of the world. In game statistics display not only the current game stats for players, but season stats as well. There are some big flaws, though. It's simply too easy to get into the paint. You can spin, you can juke or you can just dribble into position for a great shot. Dunks are way too frequent, and if you get to the hoop you'll often find yourself going airborne to throw it down with authority. It's also too easy to steal the ball when playing defense. A simple double team makes it difficult for the dribbler to hold onto the ball. When it comes down to it, the best reason to buy this game is because it's actually two games in one. You can play two-on-two jam-style and when you get bored you can scare up a franchise with draft picks and offseason moves. A bonus points system is implemented for creating players, trading and free-agent signing. A pleasant surprise.
5
Uh, If I were Shaq I'd be highly annoyed at the way they made me look in Jam Mode-ouch. Overall the two-gamesin-one idea doesn't work that well. Both Sim and Jam Mode are mediocre at best. Sim Mode is the better although it doesn't play a whole lot different than last year's game. Jam Mode fails to get me fired up either, especially since playing NBA Showtime. As a N64 basketball game, Jam 2000 falls well below Live 2000 in the pecking order.
2
This game is so bad it hurts. The Sim Mode is totally weak--the players look and animate like crap, and the gameplay is completely unbalanced and devoid of any "fun" aspects whatsoever. The lam Mode is even worse. NBA Showtime runs circles around this turd. The N64 isn't exactly the sports gamer's dream system, but even still, there are FAR better hoops games than this. I wouldn't take this dud if you offered it to me for free.
6
It's too bad that some of the best visuals this side of NBA 2K for the Dreamcast get lost in bogged-down gameplay. This game is slow, with shot animations taking entirely too long to feel responsive. The overall effect kills any intensity the game might have had. Also, players from both teams tend to get jumbled together when rebounding or driving the lane. I hate not being able to see what's going on. Ignore the screenshots, and wait for Kobe 2...
Download NBA Jam 2000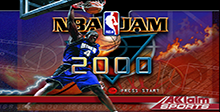 System requirements:
PC compatible
Operating systems: Windows 10/Windows 8/Windows 7/2000/Vista/WinXP
Game Reviews
What would a New Year be without a basketball game?
Just what is the point of sports sims? A new version of whichever series you're looking at is released each year onto the unsuspecting public Surely not everyone can be so gullible as to keep buying the same game - sometimes more than once a year - just for a different set of names on the team screen?
Well, it's surprising to see it, but NBA Jam 2000 actually does break from this formula a little. The main reason for this is because NBA Jam comes from arcade roots instead of the primordial pool of the serious sports sim. This doesn't mean that there's a single original thought in the game, but it does mean that you can revel in the delights of two-on-two action. No, this isn't some kind of dodgy porn industry term, but is possibly the most fun you can have with a basketball game.
Where's the Ball?
When you play normal basketball games, or indeed the Simulation mode on offer in this one, you get ten people on the court. This quickly becomes confusing as you can't see all the players all the time, making tactical plays difficult. This is where Jam mode shines; with only four people on the court, you can plan tactics much more easily and focus on your target, the hoop. Better still, in jam mode, unlike simulation, you can't switch between players. This may sound like a serious limitation, but what it actually means is that you truly do feel (ike a part of the team, backing up plays by your buddy.
There is one major drawback to this, though - you only get arrows at the corner of the screen showing your position when out of view. It would've been so simple to show the position of everyone in jam mode because there are only four people playing.
Graphically speaking, the players look great and if you're a basketball fan you should be able to recognise all your favourites. The courts and the crowds aren't anything to shout about but the animations are superb. Double-tap the Z trigger and your player will show off by dribbling the ball between his feet and around his body!
Slam Dank
The animations on over-the-top slam dunks are great too, but the game does slow down a little when playing them. This is a shame, because the speed otherwise is a great improvement over its slower predecessor. This boost in speed does have its problems, though. This is most noticeable in Simulation mode, where steals and tactical plays can be near-impossible to carry out at times. This doesn't really matter in the long run, because the Jam mode is where most time will be spent playing and where speed is important.
One fun thing about NBA Jam 2000 is the running commentary, which despite the endlessly repetive phrases never fails to amuse! If anything, commentary would be better suited to a wrestling game. Brutally shove an opponent to the ground and a Michael Buffer style voice will shout "Mothers cover your childrens' eyes!"
NBA Jam 2000 does try to offer some more original modes of play, with a three point line and penalty shot contests, but these quickly become dull. The best thing about this game is the Jam mode and you can't help but feeling that if Acclaim had spent all their time on this, they could've come up with something truly great.
Nintendo 64/N64 Screenshots
Similar Games
Viewing games 1 to 4