NCAA Basketball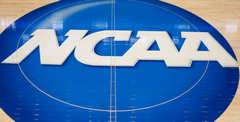 Click the "Install Game" button to initiate the free file download and get compact download launcher. Locate the executable file in your local folder and begin the launcher to install your desired game.
Nintendo's NCAA Basketball breaks the b-ball mold. It starts fresh with a new look, style of play, and approach to video basketball. The results are stunning.
Educated Basketball
NCAA packs five top National Collegiate Athletic Association conferences: the Atlantic Coast Conference, the Big East, the Big Eight, the Southeastern Conference, and the Southwestern Conference. Obviously, several high-profile conferences and independents are missing, but the 44-team selection is good. The squads are represented by authentic logos and jersey colors.
Collegiate sports regulations require fake player names. However, the real '90-'91 season statistics combine with your skills to determine a play's outcome! For example, a poor foul shooter in real life must contend with a faster moving and more difficult free throw interface in the video game. Your performance is tallied over the course of each contest, but you can't save your new stats, or customize teams.
In Your Face!
Abandoning the run-of-the-mill, side-view, hoops game formula, NCAA's camera looks over the ball handler's shoulder as he dribbles up the court. If you turn, the screen turns! The view rotates and zooms to follow the ball's flight during a pass. The breathtaking visual perspective sports sharp character details; crisp, non-choppy animation; and expertly shaded court features. Perfection would include a crowd rendition and an instant replay. Still, you'll gobble up the graphics, and ask for seconds!
NCAA's excellent, arcade-quality action gives you a thorough workout. Precise controls enable you to toggle between players, shoot, pass, jump, block, and steal. A useful passing icon indicates a target player's position and the proximity of opposing defenders. In the paint, you get five showboatin' dunks. A ref's voice calls 'em as he sees 'em, but he doesn't always see 'em, just like in the real thing. The b-ball sound effects and theme songs are good, but better crowd noise and more music is needed.
ProTip: When you're all alone under an opponent's basket, stop and pop just as he starts to foul.
NCAA does a good job of capturing on court strategy. This game's seven-formation, on-the-fiy play calling is a first for 16-bit basketball games. The single button interface hampers instant selection, but it's still an innovative, game improving idea. At the top-notch coach's screen, you can pull fatigued players and go to your bench, crash the boards, call for a fast break, examine the stats, and call time-outs. Missing, however, is a full court press. Also, you can't command your team to foul in the waning moments of the game. You must do it manually.
Pause the game, and then call your play.
Spin and drive the lane while an immobilized opponent attempts to steal.
March Madness
You can play NCAA against the computer or a friend. The one-player, 18-game Season mode culminates with passwords in the invitation only NCAA tournament. HAL America Inc., the actual developers of NCAA, consulted each team's coach to gather realistic computer strategies. Although entering the Big Dance is a thrill, definitely fire up NCAA in two-player mode and take advantage of the difficulty, the time limit, and the team selection options.
Dunk through the back of the backboard.
HAL went back to the drawing boards to create NCAA Basketball, and the game's a fine example of graphics, sports realism, and game play working together to form a great game. NCAA Basketball makes almost all the right moves.
Download NCAA Basketball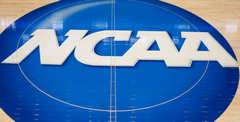 System requirements:
PC compatible
Operating systems: Windows 10/Windows 8/Windows 7/2000/Vista/WinXP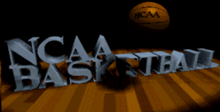 System requirements:
PC compatible
Operating systems: Windows 10/Windows 8/Windows 7/2000/Vista/WinXP
Pentium II (or equivalent) 266MHz (500MHz recommended), RAM: 64MB (128MB recommended), DirectX v8.0a or later must be installed
Game Reviews
And when it's time to hoop it up around campus, Mindscape's dribbling your way with Final Four '97. The arcade-style action is backed by offensive and defensive plays with the intention of achieving a fun, realistic style of gameplay. The 3D players sport strong, real-life details and motion-captured movements, and a 3D camera enables you to scope out the court. On the sound side, the action is paced by collegiate crowd sounds, songs, and cheers. As more details emerge, we'll fill you in, but college-hoops junkies will be delighted to finally find another outlet besides College Slam.
Overview
I'd really like to get understand a little more about the game development process, I suppose, so maybe I could know why so many PC sports games are seemingly developed for console game players like Sega or Nintendo. It's that spinning field of view that gets to me. Then again, I don't know anyone who really likes the camera spinning around the arena on console sets, either. So what I'm trying to do while I get to the point is be fair to GTE's NCAA Basketball by saying that I don't know of any good sports PC games that take place in cramped little arenas. The only arena game I've ever liked was on 16-bit Sega; in fact, I still play that game: EA's NHL '95.
Nonetheless, GTE has done a very nice job on an arena game despite the limitations of PCs, and if your niece or nephew is screaming for a PC basketball game this Christmas, this would be a decent choice. Unfortunately for those of us who like a little bit of football in our basketball, though, NCAA Basketball is not the kind of game where you can just get the ball, zigzag to the hoop and jam -- it actually requires a combination of skill and luck to make it in this game, and I knew I didn't really have what it took when I was Number 1 ranked Arkansas and I lost to my basketball-anemic alma mater, San Diego State -- ranked dead last at number 64. It wasn't pretty, and no, it wasn't my first game.
Gameplay / Interface
This game is not easy. There are a few reasons. One is the fact that on anything smaller than a 17" monitor, ten guys on the court is at least four too many, Dr. Naismith be damned. It could also be due to the fact that -- even on bench-warmer mode -- those guys are fast, and unless they're contending with a hangover from last night's frat party or they got a pre-game blow to the chops from Coach Knight, for them, the arena isn't spinning. In fact, gameplay was so fast on my P5-100 that I wondered if something was wrong. It was super-fast on all three machines I tried it on, though, so I guess it's just meant for non-epileptic kids or for late-night study breaks when you need to wake up.
The controls, either through joystick or keyboard, are intuitive and customizable, but I couldn't really figure out whether my players' not responding to my commands was based on their ranking, or was a flaw in the gameplay. How many times did I want to shout at my players: "Jump! I said jump, you stupid punk! You get your ass in the air or I'll send you back to daddy's farm and you can shuck corn and slop pigs for the rest of your life!" Well, whatever it is, it's frustrating. And it happened to the Razorbacks as well as, when, in a fit of overconfidence and school spirit, I decided to shoot for my lowly Aztecs. Sometimes I wondered, though, whether I was yelling at the wrong punk, and my highlighted player was actually jumping somewhere off screen or behind a bunch of taller guys.
That off-screen area does seem to come into play, so to speak. It's particularly frustrating when you're trying to inbound the ball after the opponent just dunked on you -- occasionally you have to just count on someone being there, just off-screen, when you hit the pass button because the five second clock is ticking. And there's no such thing as a planned fast break, because if you can't see the guy 15 feet away you're trying to inbound the ball to, you're certainly not going to see that guard breaking for the football pass at midcourt.
I'm sure several of these items could be helped if you got good enough. Set it up so that you control more of the details (I kept it on computer-assisted passing). Maybe that's incentive enough for people to buy this game -- if you just get too good too fast and most games can't keep your attention, this is one that will keep you busy for a long time before your Aztecs beat Arkansas on "All-American" mode.
Graphics and Audio
The sound and video effects are, without a doubt, the coolest part of this game. Though you have to hit return through five or six screens before you get to play, if you appreciate what it takes to create decent multimedia sequences, it's worth it. The video is almost television quality, mimicking a dramatic pre-game intro and CBS' "At the Half" show. The audio is not annoying, even at its worst. At its best, it's amazing. Effects are accurate, and the music, play-by-play, and crowd noise are very well done and overlay cleanly. It's a far cry from the most annoying audio I've ever heard -- the five or six Robin Leach-esque screams you have to endure while playing Destruction Derby.
System Requirements
DOS and Windows 95 compatible, 486/DX2-66, SVGA card, 8 MB RAM, 2X CD-ROM drive, 100% SoundBlaster compatible sound card, mouse
Recommended: Pentium, 4X CD-ROM drive, 16 MB RAM, joystick
Bottom Line
Overall, I think I could grow to like this game a lot; it's definitely a high-skill game you won't easily grow out of. It does have a few downfalls that can't be fixed by a large screen -- occasional lack of player responsiveness, rotating field of view -- but if you've got the right equipment and don't take drugs, you probably won't be bothered by the game's worst features. If you're a patient coach, you have good speakers, a 21" monitor, and lots of practice time, you'll rock.
Manufacturer: HAL
Machine: SUPER NES
Difficulty: AVERAGE
Available: June 1992
Theme: Sports
Not Just Another Sports Cart!
NCAA Basketball by HAL America will blow your mind! This game utilizes some of the most incredible scaling and rotation ever seen on a home game. The Mode 7 effects must be seen to be believed! Pick your competitors from any number of NCAA teams of the different conferences. Then, take to the courts and destroy your opponent with your killer shooting and defense. You can even substitute players! NCAA Basketball is definitely one sports cart to keep an eye out for in stores. Get ready to play video basketball the way it was meant to be played. Try not to get dizzy!!
Basketball games have leaped into a new dimension! NCAA Basketball has all the thrills and spills of an actual game with the addition of some fantastic Mode 7 effects! The court scales and rotates with every move you make! You have a choice of five divisions with nine games in each division. Head onto the court and shoot some hoops. As your players become tired, you can substitute in better players.
People say:
8
This game provides owners of the Super NES with an absolutely incredible, in-your-face basketball simulation that not only takes full advantage of the system's Mode 7 scaling and rotation, but also puts up a decent game of b-ball to boot! A laid back approach that always remains realistic makes this cart a blast in my book!
8
There soon will be a bunch of new basketball games for the S-NES. Which one to buy? I recommend this one because of its unique first person perspective. It won't be for everyone as purists will still want a top notch overhead game. Still, for a new view to an old sport you ought to give this one a try. You won't be disappointed!
8
This is probably the most realistic B-ball game that I've ever played. The new first person perspective in unbelievable and puts you right into the game. The graphics are a little choppy, but for the overall effect HAL did great. I have a feeling that HAL will be for Super NES what EA is for Genesis when it comes to sports titles.
8
This is innovation in the making! I'll bet that if Hal America makes a sequel to this, it will be ever better! The graphics are a little choppy, but the all-new perspective incorporating full-field scaling is very impressive. If you are really into basketball, but don't feel like you are on the court with most games, check this out!
One of the most ambitious sports projects for 1992 is Hal America's NCAA Basketball. Hal has licensed the NCAA (that's "National Collegiate Athletic Association" for you cave dwellers) for their SNES basketball game. It's never been done for ANY video game system yet. Since college basketball players are amateurs, they can't enter into licensing agreements. They aren't allowed to be paid for being the pseudo-celebrities that they are. So their names and likenesses won't be in NCAA Basketball.
Hal has included five real NCAA conferences (the Big East, the Atlantic Coast conference, the Southeast Conference, the Southwest Conference and the Big Eight) and actual 1991 player and team statistics. The players' names are fictional, but the teams are real. Creating a college sports game is ambitious, but the way the game plays is the real selling feature of NCAA Basketball. The entire game is presented from a first-person perspective. You'll get an accurate view of the court as your player brings the ball up. When you pass, the angle shifts to the new ballhandler.
Basketball games have typically not been too exciting, but Hal America has the perfect solution; NCAA Basketball! Not only does this have intense basketball action, but it fully utilizes the scaling and rotation found in the Super NES! For example, when the players run around, the court rotates with you for a really dizzying effect. Also, when the ball is passed, the court scales to keep up with the ball! Hopefully NCAA Basketball will make it out this Spring!
SNES/Super Nintendo/Super Famicom Screenshots