Ninja Gaiden 2: The Dark Sword of Chaos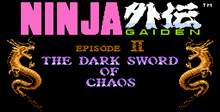 Click the "Install Game" button to initiate the file download and get compact download launcher. Locate the executable file in your local folder and begin the launcher to install your desired game.
a game by
Tecmo
Genre:
Adventure/RPG
Platform:
NES
Editor Rating:

9.1

/

10

, based on

8

reviews
User Rating:

9.0

/

10

-

2

votes
Rate this game:
See also:
Ninja Games
Ninja Gaiden 2 is also included in the cart. NG2 will give you more of the same nail-bitting action the first one did. You'll also have different power-ups and special weapons. With 20 more stages, what more could you ask for?
FIRST IMPRESSION
All three Ninja Gaidens in one Super NES cart! This will keep me up for many nights. Being a big fan of the NES games, I started to drool when they handed me this cart.
BEST FEATURE
The best feature would have to be the fact that all three games are included in one cart. Also, the sound effects have been improved since the original NES version.
WHAT'S MISSING
The graphics! These games must have been ported straight from the NES. I would have really liked it if Tecmo would have improved the graphics as Nintendo did with Super Mario World. Still, it is a great compilation of the three Ninja Gaiden games.
WILL YOU LIKE IT?
The original games aren't available anymore. If you haven't played these before, you will definitely want to look into this. They are still some of the best action carts around.
MANUFACTURER - Tecmo
DIFFICULTY - Hard
THEME - Action
NUMBER OF PLAYERS - 1
Download Ninja Gaiden 2: The Dark Sword of Chaos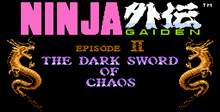 System requirements:
PC compatible
Operating systems: Windows 10/Windows 8/Windows 7/2000/Vista/WinXP
P-200, 32 MB RAM
Game Reviews
Nintendo / Tecmo
Type: Action
Levels: 7
Difficulty: Avg.
The sequel to the smash hit of '89, finally hits the NES! Ninja GaiDen continues the adventures of Ryu Hayabusa as he works to destroy evil and rescue the pretty Irene.
A new master of darkness, Ashtar, has resurrected the dead armies of Jaquio and plans to take over the world with the new Sword of Chaos. New intermissions, characters and storylines compliment action familiar to Ninja GaiDen fans.
People say:
9
Ninja GaiDen 2 lives up to its predecessor in game play and surpasses it in graphics and intermissions. Part two has more levels, different environments and all new shadow Ninjas. Although some power-ups are missing, the game is great from beginning to end!
9
Probably the best sequel ever made with near-perfect graphics, challenging game play and intermissions which entice you to always go round further. Other than the difficult game play in higher levels, Ninja GaiDen 2 is as good as an action game can get!
9
Unbelievable! This has got to be the best looking Nintendo game ever made! The backgrounds are spectacular and the cinema displays are absolutely amazing! Excellent game play make this super sequel one of the best new games of the year! A truly AWESOME challenge!
8
There's no denying the fact that Ninja GaiDen 2 is a superb game. It outdoes the original in nearly every department. It's addictive and the intermission and story are terrific. Using the same Bosses that were in the first game is a let-down, but it's still worth the price of admission.
It's been a year since everyone's favorite ninja, Ryu Hayabusa, defeated the evil demon, Jaquio, and rescued Irene, the beautiful and mysterious CIA agent. Now, evil stirs across the land once again as Ryu, now known as the Ninja Dragon, sets out to battle Lord Ashtar in Ninja Gaiden II. It's Tecmo's sequel to their smash arcade/action hit, Ninja Gaiden. Like the original, this game boasts excellent action sequences and superior graphics, along with special animated story-line sequences that take place between the different levels.
Enter the Ninja Dragon
Prepare for a barrage of obstacles and opponents as you make your way through the seven acts and their sub-acts (22 levels total!). Battle through city, streets, across mountain tops, past boiling pits of lava, and even on top of a speeding train. Survive the different perils that await you in each grueling level by fighting off solders, birds of prey, and, in some acts, elements of nature.
ProTips:
You'll find yourself in the middle of a wicked thunder storm. Move only when the lightning flashes and you can see where you're going-otherwise, you'll find yourself in deep trouble! To protect yourself press Pause when there's no lightning. Nothing can hit you but the storm continues. When the lightning flashes again, hit Pause and move on.
The wind and snow in Act 2-2 blows you around and puts a damper on your agility. When you make long jumps across cliffs, don't jump into the wind.
Ninja Magic
Hack the red dragon crystal balls and grab the different power-up items and weapons to increase your strength and Ninjutsu skills. Red and blue ninja power increases your overall power. The Scroll of the Dragon Spirit increases your maximum power levels. Medicine heals you and revitalizes you for your battles. Grab ghost ninja clones. They'll back you up and battle side by side with you.
As your powers increase, use the special Ninjutsu skills to make yourself a formidable foe. The deadly Throwing Stars are the base Ninjutsu weapon. When you're stronger, try the Art of the Fire Wheel and burn your enemies to a crisp. Use the power of your Dragon Sword to transform electrical energy into Fire Dragon Balls which you can hurl at your foes. Your strongest Ninjutsu skill is the Invincible Fire Wheel. When you call on the magic, blazing flames appear and whirl around your body, frying your enemies and making you invincible for several seconds.
Remember, this item won't work when you have other items in your possession.
Beat the Boss
At the end of each level, you must fight and defeat a special boss. As you progress through the game, the bosses become harder and harder to beat. Each villain has either a special power or a weapon that decreases your physical strength by as much as three units with just one hit, so watch out!
In Act 2-3 dodge spikers that Baron Spider hurls at you. The best way to beat the Baron is to climb to the top of the wall on the right of the screen and then when the Baron jumps off his ledge, follow him down and hit him as many times as possible before he jumps back up. Repeat this strategy until you defeat him. And, by the way watch out for snow flurries!

Beat Naga Sotuva, the under-world water dragon, by climbing up one side of the waterfall while his claw snipes at you from the other side. Use your special climbing ability by holding down the A button and pushing either Left or Right on the controller (depending on which direction you're facing). Once you're up on top of the waterfall, you've got a clean shot at Naga Sotuva.
The End?
Will Ryu meet up with Irene again? Who is the mysterious Robert T.S.? Where is Ashtar, and how is Ryu going to stop him? Ninja Gaiden II features the same top notch action found in Ninja Gaiden (there is a Continue option this time!), as well as classy graphics and fun movie-style animation to keep the story line flowing. Here's your chance to prove once again that you're not just another ninja!
The battles of Ryu continue in the excellent extension of the original that sends our Ninja hero on a quest to solve another mystery. This time around you'll find all-new power-ups, fighting on trains, and conflicts with deadly Bosses! Great!
Number of levels: 7
Theme: Action
Difficulty: Average
Number of players: 1
Available: June '90
Ninja GaiDen Returns in The Dark Sworn of Chaos!!
Undoubtedly one of the most ground-breaking NES games on 1989 was Tecmo's Ninja GaiDen. The combination of excellent graphics and action, coupled with unique "cinema" displays that told a story as each level was completed, proved to be a powerful combination.
Now the master Ninja Ryu Hayabusa has returned in an incredible new sequel that takes the Ninja GaiDen experience to all new heights!
While many elements of Ninja GaiDen 2: The Dark Sword of Chaos will be familiar to GaiDen fans, there are some new techniques that have been added. Special option Ninjas that follow your every move and mock your attacks can be collected and a whole new cast of monstrous characters, pledging loyalty to the evil Ashtar, stand between you and the lovely Irene Lew. Expect help from a mysterious stranger and other surprises!
COLLECT SHADOW NINJAS TO INCREASE RYU'S ATTACKS
One of the most noticeable differences between Dark Sword and the original Ninja GaiDen is the new shadow Ninjas that can be collected! Up to two additional fighters will be added, increasing Ryu's attacking abilities and following your every move!
A NEW STORY
Ryu is up against an all new adversary with evil motives even more dangerous than those of Jaquio! As the action unfolds, the Tecmo cinema displays unleash the plot with great graphics and music!
NINJA BOSSES
The first guardian of Ashtar's evil secret attacks from the left to the right. Jump on the walls to avoid his rushes!
The second Boss throws spiders when he's on the higher platform. Attack when he's on the ground!
This leader uses a rocket pack to avoid Ryu's attacks. Use your shadows to jump and knock him down the slash!
Will Ryu Ever Defeat This Evil?!
While the second installment of the Ninja GaiDen saga is outstanding in nearly every respect, rumors are already flying about a follow-up to part two! According to knowledgeable sources, however, it does appear that Ryu Hayabusa will return for one final confrontation! Where will the story go from here? Well, at the explosive conclusion of Ninja GaiDen 2, there are still several puzzling questions. The new master of evil, Ashtar, mysteriously disappeared during his encounter with Ryu! Will he bring darkness upon the land and stand between Irene and Ryu again? Or will there be a new monster for Ryu to battle? No matter what the wizards of Tecmo finally create, we can all rest assured that Ninja GaiDen is a verifiable classic!
Ryu is back to solve a new mystery with his throwing stars and knife blades. All-new power-ups, great scrolling backgrounds, and detailed intermissions are combined to take this Ninja Gaiden one step further than before.
This blockbuster sequel to the current number one Nintendo game of 1989 continues the adventures of the master Ninja, Ryu. All new levels of play, power-ups, and an explosive story that's loaded with twists and turns guarantee a fun-filled 1990 from Tecmo!
Set for release in Japan around Christmas time, and due in the U.S. in 1990, Tecmo introduces the fantastic sequel to the award-winning Nintendo mega-hit! In the second chapter of the Ninja Gai Den story, Ryu must confront an all new cast of creatures while solving a puzzling mystery. This game is packed with hidden surprises, special options, and much more!
NES/Famicom/Dendy Screenshots