Olympic Soccer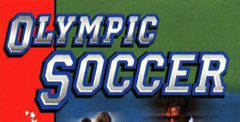 a game by
U.S. Gold
Genre:
Sports
Platform:

Playstation

Editor Rating:

6

/

10

, based on

2

reviews
Rate this game:
Thirty-two international teams kick and fight their way to the gold medal in Olympic Soccer, a fast, fluid ball blazer that offers both realistic simulation and arcade action.
Just Kickin' It
For features, the three modes of gameplay include an officially licensed Olympic tournament, and you can manipulate certain game conditions like the field type, weather, and stadium. You can also easily change formations and player assignments according to each country's strength. The outstanding controls score with sliding tackles, diving headers, bicycle kicks, and combination moves like the give-and-go.
The polygonal players look good from afar, but look far from good during the close-ups, where faceless referees give yellow cards to indistinct mle violators. The crowd looks more like a spray-painted wall, and sometimes the ball actually ricochets off them in a manner reminiscent of indoor soccer.
A British announcer dominates the audio with quick quips and well-timed humorous comments. Techno music pulses during the options screens, but the crowd noise and chants aren't as prominent as they should be, especially for an Olympic competition.
This or That
Olympic Soccer is a smooth, fun soccer game that keeps you happily gunning for goals. But there's already so much solid competition on the field (Goal Storm, VR Soccer, FIFA) that you may want to rent them all before finally choosing a season-ticket plan.
ProTips:
When going in for a goal, don't get too close, or the goalie will run up and grab the hall. Instead, kick the ball from the outside and move in to possibly score off the deflection.
Bring the hall down the sideline. When you're close to the goal, kick it in the center area for a quick kick or header.
On penalty kicks, aim your shot just inside the pole. The goalie has to really stretch to defend it.
Game Reviews
No other sport evokes the same national competitive spirit as soccer I does worldwide. When two countries go head-to-head in a soccer game, fans from both sides paint faces, make banners and chant at the top of their lungs.
However, when it's an Olympic gold medal at stake--in addition to national pride--the atmosphere becomes even more intense.
Making a game that duplicates that intense spirit, as well as provide realistic gameplay, is no simple feat--but U.S. Gold is up to the challenge with Olympic Soccer, the last of the company's three official 1996 Centennial Olympic Games sports titles.
Olympic Soccer incorporates the same 3-D graphics engine used in Olympic Soccer Games. The resulting look is one that may remind some gamers of VR Soccer. As these early shots show, the game offers a wide range of camera views.
During play, a small cursor appears underneath the active player to help guide movement. This game also boasts a detailed Radar Screen, with small country flag icons denoting where each player is.
While some of the game's other features have yet to be revealed by U.S. Gold, it is known that this title will support four-player simultaneous play. The game will also provide Olympic Tournament Play, as well as the standard Arcade and Exhibition Modes.
MANUFACTURER - U.S. Gold
THEME - Sport
NUMBER OF PLAYERS - 1-4
Similar Games
Viewing games 1 to 8