Oppaimon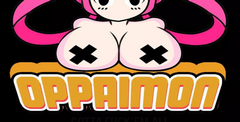 Download Oppaimon if you need to catch them all and have sex with them! That is right, this is a lewd parody of a Pokémon game and you have never seen a XXX Pokémon game like this. Fight, train, and have sex with all the characters that you can find in this lewd RPG.
Oppaimon is a Pokémon based eroge game. It joins the list of Pokemon based erotic games like Pokemon Ecchi Version.
Story
You just turned 18 and you have become a legal adult. Now, you are free to explore the lands of Fuckto where you can discover, seduce and have sex with Oppaimons. Can you capture them? Can you train them? Can you use them to fight other Oppaimons? Can you seduce them? How many sexual positions can you try when you have sex with them?
Gameplay
The major goal of the game is to capture all the Oppaimons and have sex with their trainers. You can beat trainers of each gym and collect money which can be used to purchase items like Oppaiballs and energy shots. After beating them, you can take part in sexual actions like cumplay, foreplay, squirting etc.
You get limited attack move points and health points. You can't make attacks without the attack points. You have several types of attacks that are named for sexual innuendoes. You attempt to knock out other enemies with your Oppaimon. There are also some minigames that you can play. You can select Oppaimon characters of your own. Your Oppaimon gains XP and levels up after some time. You can use more than one Oppaimon for some battles. The game features various towns, areas, stores, hotels and gyms with varying enemies.
The game is glitchy and there are a lot of bugs. The game freezes numerous times. Sometimes, you'll try to save and you'll have problems saving the game. Also, you may get issues trying to run the game in some screen resolutions.
Character Customization
You can customize some things about your game character to fulfill your fantasies. You can customize the hair, ear, eyeball, skin color, and other features of your in-game character. The customization options are pretty limited for now, but the developers promise to add more development features. You can only play as a female but in future updates, you'll be able to play as a male.
Pokémon Elements
Oppaimon borrows a lot of elements from Pokémon games but renaming them. For example, Pokeballs are called Oppaiballs in the game. Instead of unlocking and collecting Pokémons, you collect Oppaimons.
Game Updates
The game isn't complete. The developers release monthly updates. Their plan to have a total of 181 Oppaimons in the game with more gyms, special sex scenes, and more regions. The game modes will be improved, the dialogue will be improved and the story will be expanded. The developers are also planning to make the game fully 3D.
6
Oppaimon is a good Pokémon based eroge game. But the game is plagued with several bugs. If you can, you should wait untill the bugs in the game are fixed before you try it out. But if you still want to play the game, you can do so and you will gain some satisfaction from it.
Pros
Erotic game based on Pokémon
Enjoyable gameplay
Good art design
Regular updates
Cons
Too many bugs
Limited customization options
Limited dialogue
Download Oppaimon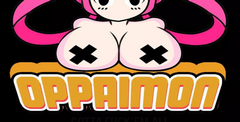 System requirements:
PC compatible
Operating systems: Windows 10/Windows 8/Windows 7/2000/Vista/WinXP
See Also
Viewing games 1 to 15