Pacific Fighters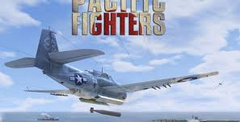 | | |
| --- | --- |
| a game by | 1C:Maddox Games |
| Platform: | PC |
| Rate this game: | |
| See also: | Flying Games |
Well, It Was never going to be a platform game, was it? For Oleg Maddox, creator of the frankly stupidly popular IL-2 flight sim series, with the war over Europe's skies well and truly chronicled, there was only ever going to be one place left to turn.
Pacific Fighters pretty much does what it says on the tin - though it's a tin that's never been opened much in terms of flight sims. "At the moment there is only one real competitor for us," says Maddox during a trip to sunny Manchester, promoting the game ahead of its October release and referring to Microsoft's Combat Flight Sim series. "It's good that we have competition because if we didn't we'd stay at the same level, only adding new aircraft each time, for example. Companies that we've seen going this way always go down after some time. My principle is to keep raising the level - and to try and not make things worse than they were before," he laughs. Would he prefer more competition? "No! One competitor is enough," he grins. "Especially when it's as big as Microsoft!"
Come Sail Away
Maddox's demonstration centres around the main hook for this new title - the aircraft carriers. An impromptu carrier landing competition fin which yours truly makes it looks like child's play while everyone else ends up swimming with the fishes) shows off the complexity of the new weather and environmental systems. As the waves crash against the side of the ship's hull, the carrier bucks and rolls with uncanny precision. While there aren't any actual carrier controls in the game ("This is a flight sim," Maddox growls rather disdainfully when asked why), small touches such as taxiing around the deck, folding the planes' wings up to make room for parking and landing guidance all help the mood.
As does the totally enhanced graphics engine. While it's not fair to say that Pacific Fighters is a complete departure from IL-2, the added visual effects -rolling waves along beaches, sun reflections of the sea, lagoons and coral reefs, ships creating spray and leaving a wake as they sail - do enough to make things a worthwhile investment for existing IL-2 owners.
Orient Expressed
As has become the norm with Maddox's titles, the choice of planes ranges from the familiar to the never before seen. "For years we've never seen more than about three per cent of the Japanese aircraft in games. We've never seen the Seafire or the seaplanes flyable for instance," he explains. "The Japanese authorities have made many, many blueprints available to us that have never been published in the west." To further aid the research, Maddox and his team even travelled to Japan to look at one of the only surviving Mitsubishi Zero cockpits.
Despite all that, Pacific Fighters will be for many simply an interim pleasure, until the long-awaited Rowan's Battle of Britain project arrives some time next year. Maddox graciously granted us a sneaky peek at some of SOS's object models while we were there and, frankly, if you think the screenshots on this page look good, you ain't seen nothing yet. Maybe there's life in the flight sim genre yet.
Download Pacific Fighters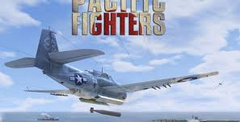 System requirements:
PC compatible
Operating systems: Windows 10/Windows 8/Windows 7/2000/Vista/WinXP
Similar Games
Viewing games 1 to 9