Pete Sampras Tennis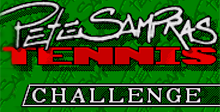 Play singles, doubles, knockout tournaments or go on a world tour, it's all here in this tennis sim. You can choose to play as the (then) world seed 1, Pete Sampras himself or from 29 other players.
Pete Sampras Tennis offers four modes of tennis: Challenge (one singles or doubles match), Tournament (four to eight players with byes), World Tour, where you'll play in 33 cities around the globe, and Tutorial, which explains all of the game's controls.
Pete Sampras Tennis also includes three court types (grass, hard and clay), 32 different computer players with individual skills and appearances, instant replay, and a continue option via passwords. Over 4,000 frames of animation will show dives, backhands, serves, runs, volleys and forehands, and an umpire will call the game as a crowd looks on.
Download Pete Sampras Tennis
Sega Genesis/Mega Drive Screenshots