Pretty Fighter X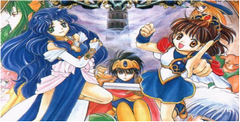 Are you a pervert? Do you enjoy games with scantily clad women spanking each other? If you answered yes to these two questions, you may actually enjoy this little import.
Pretty Fighter X is a fighting game consisting of ail women. Play as a stewardess, school teacher or nurse; PC is thrown completely out the window on this title.The graphics of this game look good.The backgrounds are bright and colorful. The characters, too, look stunning, jumping right off the screen in their vibrancy.The game-play, however, seems a bit stiff and the moves are less-than-spectacular and few. From what I saw, the special moves, while humorous (the teacher will send you to the corner of the classroom and the stewardess will spank you) are uninspired and don't add any flair to the game. From such a visually stunning game, one would expect a little fireworks.
Pretty Fighter X may be worth a look. The concept alone will probably draw a small cult following, but it will remain to be seen if this game has US-Appeal.
Download Pretty Fighter X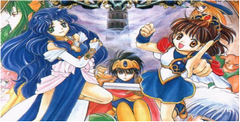 System requirements:
PC compatible
Operating systems: Windows 10/Windows 8/Windows 7/2000/Vista/WinXP