Quantum Error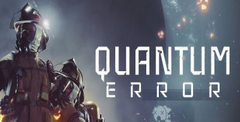 Horror games today seem to continually try and one-up each other on how terrifying, gruesome, and psychologically chilling they can be. The introduction of more powerful game engines gives these concepts more opportunity than ever to compete. Quantum Error appears to be one of these games that showcase the crossroads between horror and technology.
The upcoming game presents a horror-themed first-person shooter that exploits all the shaders, meticulous details, and gore shrouded in a new kind of darkness. We've seen initial trailers and some gameplay. It's safe to say that Quantum Error appears as a benchmark to let the world know that horror has arrived on the next-gen engines.
An Error in the Works
So what do we know about Quantum Error? Honestly, not a whole lot thus far. However, we can deduce what's happening through the information divulged to us and some of the teasers. Quantum Error is a first-person shooter based in space - the perfect setting for a blood-curling horror seem. We see the player exploring a dark space station, leading us to believe the narrative will be some sort of mission of discovery.
But let's have a look at what's generating a buzz about Quantum Error. The visuals look remarkable, with texture details, models, and lighting really coming to life. Perhaps this is why the developers made the switch to Unreal Engine 5 - the power of the software suits their horror-filled vision better.
The dramas of space horror are definitely complimented by the visuals. The teaser shrouded in mystery sparks quite the intrigue. The only thing that's lacking at the moment is insights into gameplay. How will combat pan out? Will any unique mechanics make the game fascinating? We're just not sure yet.
Obviously, the way the game looks sets the idea that there will be tense moments. Jumps scares will probably be rife, and some sort of space creatures maybe your villains. Whatever the case, Quantum Error states that a new wave of visually immersive horror games is here. We very much look forward to playing it on that principle.
Spooky Scary Space Stations
There is no set release date for Quantum Error yet, leading us to believe it could still be a while before release. However, we'll keep one eye open on this developing horror epic. The teasers give us the vibes of Dead Space, and we know what a terrifying yet excellent game that turned out to be. Hopefully, we get a somewhat similar result here - a game that scares but engages.
8
Do we think Quantum Error could set the standard for horror games? Given it's looking mechanically similar to other games, probably not. But the visuals are what's breaking boundaries here. Perhaps them alone could spark the horror genre's transition to the next gen.
Round-Up - Pros & Cons
Pros:
Beautiful visuals that capture a chilling scene
Intriguing concept set in space
Reviving the horror genre for the next-gen consoles
Cons:
No release date for the game
Download Quantum Error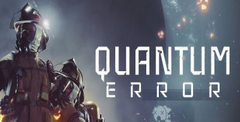 System requirements:
PC compatible
Operating systems: Windows 10/Windows 8/Windows 7/2000/Vista/WinXP
Similar Games
Viewing games 1 to 8