Ravage D.C.X.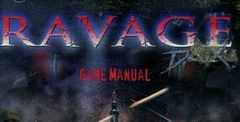 Click the "Install Game" button to initiate the file download and get compact download launcher. Locate the executable file in your local folder and begin the launcher to install your desired game.
a game by
Inscape
Platform:
PC
Editor Rating:

5

/

10

, based on

1

review
User Rating:

8.0

/

10

-

2

votes
Rate this game:
See also:
Bike Games
Overview
If there is one thing worse than game player snobbery, it is game reviewer snobbery. Ravage D.C.X. is unabashedly a "rail" game, in which the player follows a pre-determined path (involving limited freedom of movement) within six worlds and Washington, DC while fighting a seemingly endless array of enemies. There is a short but respectable tradition of such rail games, including Rebel Assault, Hive, and Deadly Tide, and despite impressive video and audio achievements all have been savaged to some degree by snotty reviewers who claim that the lack of complete freedom to control where one goes (of the type found in the burgeoning array of 3D first-person shooters) ruins the gameplay. Well, I am hereby announcing that I actually love rail games, and I firmly do not believe that their gameplay is any less challenging or provocative than games with more freedom of movement. Instead, rail games are in some ways a purer form of arcade shooter, where the premium is placed not on strategy or ability to navigate and find secret passageways, but rather on skill in targeting and destroying small and fast-moving adversaries whizzing by as one pursues one's objectives. Such games can be relatively simple to progress through at the easiest level but also tend to be incredibly tough at the highest level of difficulty.
Rainbow Studios was responsible for developing Hive and Deadly Tide (for different distributors) before creating Ravage D.C.X. for Inscape. It thus seems only natural to benchmark this latest offering in light of the best of the preceding efforts, which in this reviewer's judgment was clearly Deadly Tide.
The game storyline is an awfully familiar one. After a top-secret government research program named Project Vortex opened up the barriers separating "dimensions," an exploitative race named the Necron invaded and conquered the earth, reconditioning humans to become their slaves. You play the role of PFC Eugene Jenkins, a resistance fighter stationed in the sewers of Washington, DC in a Project Vortex lab. Your mission is to destroy the Necron's vortex generators on a number of captured worlds, thereby cutting off reinforcements and supply lines between Earth and the Necron home world.
Gameplay/Controls
The gameplay in Ravage D.C.X. is highly intuitive, with a simple point-and-click interface controlling shooting and the occasional panning movement permitted. One may use a joystick/game pad or a mouse, but here is a major design defect in the game (I was so shocked to find it that I called Inscape and they confirmed it): one cannot choose which of the two control devices is used in the game. If one has a joystick activated through Windows 95, one has to use it, even though a mouse seems more suited to this type of game. Furthermore, there is an explicit admission in the documentation that digital game pads do not handle the gameplay well (instead analog devices are recommended); thus with my Gravis Game Pad I found there was literally no way I could play the game. I was finally forced after considerable frustration to deactivate the game pad (through the Windows 95 Control Panel) in order to gain use of the mouse and be able to play the game. This flaw seems virtually inexcusable, given the ease of giving the user a choice.
In terms of weaponry, you can choose from grenades, smart bombs and lasers (rail games seems to consistently have fewer choices here than 3D first-person shooters). The fighting is fast, furious and exciting. It is very nice that one can play the six worlds in any order one chooses (the Washington, DC battle can only be fought after the six worlds are completed), but because there is no sequence to these worlds one feels as if one is playing six completely disconnected games (in contrast, Deadly Tide has fifteen sequential levels, with each building on the story developed in previous ones).
Graphics
At the highest level of detail the graphics in this game are excellent, incorporating dynamic engaging cinematic sequences. Despite this consistent quality, however, I would have to rate the truly incredible graphics in Deadly Tide a full notch higher. Where Ravage D.C.X. stands above all of the other rail shooters is in the diversity of the graphics, as the six worlds involve distinctly contrasting physical environments. preventing the monotony that sometimes emerges with the setting of outer space or undersea games.
The music in the game is lush and appropriate, but it is remarkably similar in spots to that in Deadly Tide; indeed, at a number of points it appears that identical chunks of background music were used. The sound effects are average and quite conventional.
System Requirements
The minimum requirements are Windows 95, Pentium 75 CPU, 4X CD-ROM drive, 8 MB RAM, and video support for 256 colors at 640 by 480 pixels.
Documentation
The game documentation is quite sketchy. The online documentation consists only of a brief "readme" file, accessible from the main game menu oddly enough only through Microsoft Wordpad. The printed documentation is a skimpy game manual that provides only the most rudimentary information needed to install and play the game.
Bottom Line
The biggest concern I have about Ravage D.C.X. is its lack of originality. While it is very well produced and beautiful to look at and listen to, it has not advanced the rail shooter genre in any significant way. So if you only have the budget or stomach for purchasing a single game of this type, I would recommend buying Deadly Tide instead. But if you are a rail shooter addict, as I am, give Ravage D.C.X. a try; I am sure it will not disappoint you.
Download Ravage D.C.X.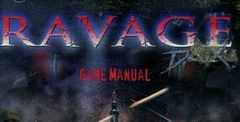 System requirements:
PC compatible
Operating systems: Windows 10/Windows 8/Windows 7/2000/Vista/WinXP
Similar Games
Viewing games 1 to 10