RBI Baseball 2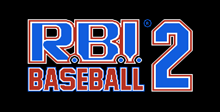 Did you ever want to BE Bo Jackson or Dave Stewart? Here's your chance, baseball fans. If you're the type of game player who wants to control animated versions of your favorite baseball players, Tengen's RBI Baseball 2 is for you!
Unlike any other baseball games available for the Nintendo Entertainment System, RBI 2 features all 26 major league teams, each with a full roster of players. All your favorites are here: Jose Canseco, Dwight Gooden, Will Clark, even Omar Vizquel! You can choose any National League or American League team. You can even play one of the 1989 All-Star squads.
ProTip: RBI II uses the teams and statistics from the 1989 season. This means division winners Oakland, Toronto, Chicago, and San Francisco are the strongest clubs.
RBI -- The Sequel
RBI 2 isn't much different from the original RBI baseball. The graphics are a little better-looking and the players aren't as "roly poly" as they were in the original game. As with the original, you ought to study the stats of all teams before you pick your squad. There's definitely a lot to think about before the game gets underway. Of course, if you're a real fan throw strategy out the window and just go with your favorites.
RBI 2 has one-player and two-player options as well as a password mode to enable you to play a full season (one game against every team in the division). In addition, a Watch mode provides you with the best seat in the house for a computer-controlled matchup.
Traditional Looks
Like most baseball cards, the view in this game is from the batter's box looking out. This perspective eliminates the effect of height on pitches so there's no such thing as a high fastball in RBI 2. Pitchers must rely on mixing the speeds of their pitches and their ability to curve the ball to the left or the right.
The most consistently effective pitch against computer batters is the inside out fast slider.
The most effective way to keep your team out of trouble is to have your pitcher throw nothing but curveballs with the occasional heater mixed in. There are several great forkball pitchers here, but this pitch can be dangerous if it doesn't drop.
Most pitchers can hurl a strong breaking ball for 2 or 3 innings, so switch pitchers about that often. This pitching strategy is particularly effective with teams such as the Oakland A's who have monster pitching staffs.
Forget the bunt; it's very difficult. The defense reacts very quickly and batters can't place bunts.
Playing the Bigs
RBI Baseball 2's great selling points are the American and the National Leagues. The game-play is okay, but the real draw here is the chance to play on and manage a major league team. Is your home team headed for the cellar already? Batter up!
Download RBI Baseball 2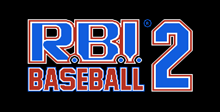 System requirements:
PC compatible
Operating systems: Windows 10/Windows 8/Windows 7/2000/Vista/WinXP
P-200, 32 MB RAM
NES/Famicom/Dendy Screenshots
Similar Games
Viewing games 1 to 4