Riddick Bowe Boxing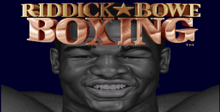 Click the "Install Game" button to initiate the free file download and get compact download launcher. Locate the executable file in your local folder and begin the launcher to install your desired game.
Riddick "Big Daddy" Bowe is currently the undisputed WBC Heavyweight Champ. He's fierce and focused, and so's his SNES boxing game.
Bowe-dacious Boxing
Riddick Bowe Boxing is a well-crafted, good-looking game that brings to life the long, hard road that leads to the championship. You fight via a sharp, waist-up side-view, using a nifty miniature full-ring display. This screen design enables you to mix it up as well as maneuver for typical fighters' strategies, such as cutting off the ring and trapping in the comers. Easy-to-read Damage Windows and Energy Meters monitor the damage being inflicted. However, unlike other games, Damage Windows don't visually reflect injuries.
Bowe sports impressive fighting skills. The offensive repertoire of 10 punches includes Jabs, Hooks, and Uppercuts with either hand. The deft defensive moves are two-hand Blocks (high and low), Circling, Ducking, and Computer Blocks. Computer Blocks are automatically thrown by the CPU, but during a fight you can pick which hand you want to emphasize to counter an opponent's style.
Riddick (the game) looks pretty and sounds good. The character art is colorful, and the fighters move smoothly. The sounds swing with sharp body-shots, thuds, agonized grunts, and clear digitized voices. In fact, the vocals add extra punch: When you and your opponent taunt each other, you drain your respective Energy Meters.
Champ or Chump?
Bowe features three tough-as-nails modes: One Player versus the CPU, Two Player, and Career Mode. The merciless CPU-controlled fighters are relentless, and you have no cheap, unstoppable punches against 'em! You pound on your opponent over 12 Rounds to sap his Energy Meter and set him up for a knockout. The CPU's judges score your performance after each round.
Career Mode is the ultimate Bowe challenge. You must work your way up the rankings, starting at No. 25, and slug it out to reach the ultimate showdown with the Champ. You choose your fighter from a seven-man stable of four built-in fighters and three others you can create.
The build-a-boxer feature is simple to use and it adds intriguing strategy to the game. You design your pugilist's body and endow him with a certain amount of Power, Speed, and Stamina. In fact, every boxer in the game is rated according to those three qualities. Using the ratings to match your boxer against guys you think he can beat is a major strategic decision. After every bout, you retire to a Gym Screen, where you build up Power, Speed, and Stamina according to what you think you need to beat the opposition.
ProTips:
Mastering Computer Blocking is a key defensive technique.
In Career Mode, if your home-grown fighter isn't contending for the Belt after 40 bouts, the game zaps him out of the game.
To save yourself from knockouts, maniacally jam every controller button. Practice a technique that works best for you.
Controlling Your Temper
The climb to the top is fun, but it's murder on your thumbs. You use all six buttons and the control pad to fight. Just when you think you're working with an unstoppable rhythm, the CPU adjusts to your technique! If you're knocked down, you must jam on all the buttons and the control pad to avoid being counted out. At least the crisp controls take a lickin' and keep on clickin'.
Good Riddick
They call boxing the "sweet science," but that's not what's gonna make you lose your teeth in this game. Riddick Bowe is a thumb-blisterin' boxing game that takes fight fans the distance -- for fun, involvement, and effort. If you don't beat this game, you're a pretender, not a contender.
Download Riddick Bowe Boxing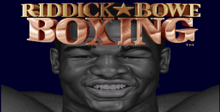 System requirements:
PC compatible
Operating systems: Windows 10/Windows 8/Windows 7/2000/Vista/WinXP
Pentium II (or equivalent) 266MHz (500MHz recommended), RAM: 64MB (128MB recommended), DirectX v8.0a or later must be installed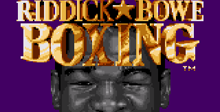 System requirements:
PC compatible
Operating systems: Windows 10/Windows 8/Windows 7/2000/Vista/WinXP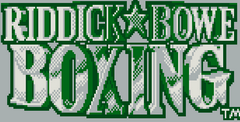 System requirements:
PC compatible
Operating systems: Windows 10/Windows 8/Windows 7/2000/Vista/WinXP
Game Reviews
Get set for hard-hitting boxing action for your GameBoy. Now you can pummel someone on the go with Riddick Bowe Boxing. This violent game gives you a selection of fighters, each with his own set of stats. Then, you fight it out in the squared circle.
In round after round, you'll slug it out with the big boys of boxing. Would you expect a peaceful solution? There can be a total of 12 rounds, but anyone left lying on the floor after a 10 count is considered knocked out.
Riddick Bowe Boxing requires nerves of steel and a face to match. Unless you're punch drunk, you'll like the all out fighting action. You're going to love this boxing cartridge!
Riddick Bowe's having a bad year -- first he loses to Evander Holyfield, now he loses on the Game Gear. The former champ scored on the SNES, but his reputation takes a pounding in this uninvolving game.
Down for the Count
Options are this game's strengths. In the Tournament Mode, you'll battle 25 fictional boxers. Each one is rated in three areas -- Power, Speed, and Stamina -- giving you an interesting mix of skills to draw from. In the Career mode, you create your own fighter, choosing every detail right down to the color of the gloves.
Unfortunately, the fights don't warrant the fuss. Somehow, your fighter moves around and blocks punches, even if you don't press any buttons. The buttons you do press don't respond quickly or accurately enough to make you feel like a champ.
ProTip: Don't get backed into a corner; conversely, get your opponent against the ropes to do major damage.
Bowe Doesn't Know
As in real life, Holyfield wins the battle of Game Gear graphics. Evander's Real Deal Boxing provided a first-person look from behind your gloves, and you had a detailed arena as your background. Bowe gives you a plain side view of the match, with no background. The fighters are certainly detailed enough, revealing all their rippling muscles and aging as they keep fighting, but you're never truly involved. It's especially unfortunate, since great graphics might have made up for the weak sounds. Where are the grunts, groans, and thunderous knockouts?
No Go, Bowe
There's some mild fun here, but fight fans, like Bowe himself after his last loss, can only wonder what might have been.
SNES/Super Nintendo/Super Famicom Screenshots
Other Games by Malibu Games