Robot Wars: Extreme Destruction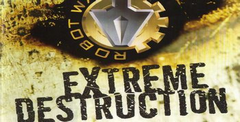 a game by
Crawfish Interactive, and Climax
Genre:
Action
Platforms:

PC,

GBA
User Rating:

7.0

/

10

-

2

votes
Rate this game:
See also:
Robot Wars Games
As you may know, there are in fact just three categories of contestant on Robot Wars. The first is the family outing, where dad comes decked out in his funeral suit and a pair of '80s Ray Bans. Dad's friend Ken is in similar attire, only the suit is a size too small and the shades are from a 99p carousel outside Boots. Sonny is wearing his school uniform and is obviously delighted with his creation, a Fisher Price affair that ends up malfunctioning, on fire, or only going in circles within ten seconds of the start. Ken paws the remote and Sonny quivers his bottom lip while the TV audience howls with laughter.
The second form of contestant is the team of nutters. Here, men with beards talk about voltage regulators and strontium carbonate pickaxes. Their spokesman is eloquent and verbose, the others smile weakly and waggle the aerial. They all have potbellies, T-shirts bearing the name of their local pub, and a remote control so comprehensive that it comes in two sections.
Let Battle Commence
The third and final contestant is the mad loner. That's who you get to play in the second instalment of the BBC's Robot Wars franchise, Extreme Destruction. It's just you and your mechanical roller-skate taking on the house robots and some of the more familiar contraptions from the early evening TV show. Jonathan Pearce lends his autobahn voice to the proceedings and so does the bloke who says: "Cease!" The opening menu allows you to choose between arcade-style action, where you pick a name and start fighting, and the Robot Builder, where you browse a catalogue of parts and piece together a machine from scratch. You can also take your flimsy death machine up against your mate's in the two-player split-screen mode (Xbox owners are spoiled with a four-way split).
Visually the game is rather lacklustre, but considering real-life Robot Wars is all angles and battleship emulsion it's not a sticking point. The sounds are a definite weak area, failing to rumble subs or wake neighbours even at high volume. But the biggest disappointment of all is the controls. On a regular remote the sticks are analogue, allowing fractional movements to be transmitted, but a keyboard is digital and the keys are either on or off. You can't do gentle turns or move at half speed, making some manoeuvres impossible and a joystick essential.
Xbox Marks The Spot
Play the game for any length of time and it's clear it's been aimed at console gamers. There's no network support, with multiple players squeezed onto one monitor. There is no real depth to the game, the emphasis being on instant gratification. Strategy doesn't feature, with fights limited to broadsiding your opponents and clobbering the fire button until their bits fall off. Is that really what you want from $1,000 of hardware?
Download Robot Wars: Extreme Destruction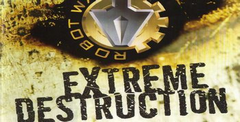 System requirements:
PC compatible
Operating systems: Windows 10/Windows 8/Windows 7/2000/Vista/WinXP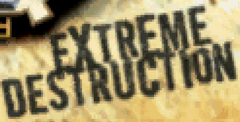 System requirements:
PC compatible
Operating systems: Windows 10/Windows 8/Windows 7/2000/Vista/WinXP
Similar Games
Viewing games 1 to 9