RTL Ski Jumping 2007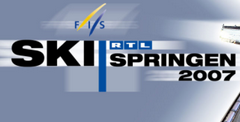 Download RTL Ski Jumping 2007 and soar through the skies in this thrilling winter sports simulation! Hone your skills, compete in events, and break records in this adrenaline-pumping experience. Hit the slopes and play now!
RTL Ski Jumping 2007 is a ski jumping game that was released for the PlayStation 2 and the PC. I played the game on PC, but from what I have seen, both versions (apart from the controls) are pretty much the same thing. It is a rather unusual sport to make a whole game out of, but despite having some trouble with it at first, I ended up having way more fun with this than I thought.
To Be The Best!
As you would expect from a game like this, there is not an actual story in this game. Instead, the point of RTL Ski Jumping 2007 is proving your might on the hills as you try and become the ultimate skiing champion. It might not sound like much, but it is way more addictive than you would think.
41 Hills!
The championship mode that the game offers is quite in-depth, but it is not the kind of place you want to start, that was the mistake I made with the game. You can pick any of the 41 hills that the game has to offer, as well as one of the what I assume, are pro ski jumpers and try to get the hang of the game there as well as set a high score. Setting a high-score in RTL Ski Jumping 2007 is probably the most addictive thing in the game.
I played the game on PC and the way you play the game is with the mouse. You have to get your speed just right, but I found it is the balance while you are in the air that is the real key to getting a high-score. It is very tricky to figure out, but once you do the gameplay becomes quite addictive.
Become A Champion
While you can pick who you want to play as in the other game modes in RTL Ski Jumping 2007. The championship mode sees you needing to create your own ski jumper from scratch and then improve them as you progress through the game. It is typical stuff, but it works well enough.
The only thing is that some of the character models are super weird in this game. They can look like some kind of strange Slenderman looking character which is pretty funny. The sound design in the game is ok, none of the music is going to stick with you, but in the confines of the game it works well enough and I have no complaints about it.
7.5
I have played ski jumping in various sports games before and always thought it was a pretty neat event. Having a whole game based around it like what RTL Ski Jumping 2007 is trying to do is a little bit of a stretch. Still, while I was playing this, I did find myself having a fun time and it is a game that is a bit different and something that is worth playing for an hour or so. I am sure if you are into ski jumping that this is probably one of the best games out there.
Pros:
It is a whole game about ski jumping
I liked trying to best my high-scores
You can create your own ski pro
The championship mode is tough, but fair
Cons:
The controls do take a little while to get the hang of
Some of the character models look very weird
Download RTL Ski Jumping 2007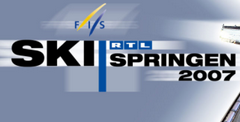 System requirements:
PC compatible
Operating systems: Windows 10/Windows 8/Windows 7/2000/Vista/WinXP
Game Reviews
Are you ready to feel the rush of soaring through the air like an Olympic ski jumper? Look no further than RTL Ski Jumping 2007, the thrilling simulation game that brings the excitement of this winter sport right to your screen. With easy-to-use mouse controls, you can master the art of ski jumping and land with precision like a pro.
But this game isn't just about jumping and landing - it's about immersing yourself in the world of ski jumping. From the career mode that lets you create and develop your own athlete, to the technique analysis that helps you improve your skills with each jump, RTL Ski Jumping 2007 offers a comprehensive experience of this adrenaline-fueled sport.
Soaring Career
The game's career mode is where RTL Ski Jumping 2007 truly shines. Players can create their own custom athlete and begin jumping through the ranks, beginning their journey in the amateur league.
As is to be expected, each successful competition will land the player prize money and experience points. These can be used to acquire better coaches, training equipment, and even to further perfect your technique. After each competition, the player is given a detailed breakdown of their performance. This analysis will be key to determining the areas that need improvement – and also to boast with your friends about your skills.
Quzzical Entertainment
RTL Ski Jumping 2007 suffers from an issue that's not present in games like New International Track and Field or Hyper Sports 2002 Winter, and that is the fact that you can only partake in ski jumping events. After a while, you might feel the need for some gameplay variety, and that's where the game's Quiz Mode comes in.
With hundreds of questions available – all related to skiing, of course – the Quiz Mode serves as an informative and entertaining diversion from the central gameplay mode. If you're seriously interested in the real-life sport of ski jumping, then this quiz might be an invaluable tool to get started on the basics.
Winter Wonderland
When it comes to visuals, the sad truth is that no one will be blown away by what RTL Ski Jumping 2007 has to offer. Still, that doesn't mean that the visuals are terrible by any measure. Compared to the previous year's entry, the game looks considerably more polished.
There are also two new camera modes available, allowing the player to really immerse themselves into the action. The mouse controls are still a blast to play with, allowing players of any skill level to quickly pick up and even master the game.
8
An amazing sim game that addresses a rather niche sport, RTL Ski Jumping 2007 is sure to please fans of ski jumping that are looking for a realistic and entertaining gaming experience.
Pros
Simple mouse controls make the game easy to pick up and play
Career mode allows for character development and progression
Technique analysis after each jump helps improve skills and offers a sense of accomplishment
Cons
Limited improvements from the previous version of the game
The quiz game may not be appealing to all players and may feel like a filler feature
Ski jumping is one of the most exciting and breathtaking winter sports, and RTL Ski Jumping 2007 captures the thrill and excitement of this sport in an immersive gaming experience. Developed by 49Games and published by RTL Playtainment, the game offers a variety of modes, challenging gameplay, and realistic graphics and sound effects. In this review, we will delve into the key features of RTL Ski Jumping 2007 and evaluate its strengths and weaknesses.
Gameplay and Modes
RTL Ski Jumping 2007 offers several modes, including quick jump, training, world cup, team cup, and multiplayer. In quick jump mode, players can jump off the ramp and compete against the computer or friends. The training mode allows players to practice their jumps and improve their techniques. The world cup and team cup modes simulate the official competitions, where players can compete against the best jumpers from around the world. The multiplayer mode enables players to compete online and challenge other ski jumpers.
The gameplay in RTL Ski Jumping 2007 is challenging and requires precision and skill. Players must time their jumps perfectly and adjust their posture to land safely and earn points. The game offers various challenges, such as wind and weather conditions, which add to the realism and difficulty. The controls are intuitive, and the game provides helpful tips and feedback to guide players through the learning process.
Graphics and Sound Effects
RTL Ski Jumping 2007 features realistic graphics and sound effects that enhance the overall gaming experience. The game includes detailed and lifelike depictions of the ski jumpers, the stadiums, and the surrounding landscapes. The animations are smooth and fluid, and the camera angles provide a dynamic view of the action. The sound effects, such as the wind, the crowd cheering, and the announcer's commentary, create an immersive atmosphere that adds to the excitement and tension.
Going fast forward in time, we could find that RTL Ski Jumping 2007 has a lot in common with Ski Jumping Pro VR, a similar game in the ski jumping genre, but it offers a unique and immersive virtual reality experience. Developed by Kalypso Media Digital and published by Deep Silver, the game features realistic physics, motion controls, and VR support. The game offers various modes, such as quick jump, career, and multiplayer, and allows players to customize their ski jumpers and equipment. The graphics and sound effects are impressive, and the game provides an authentic and immersive atmosphere.
Review: 8/10
RTL Ski Jumping 2007 is an excellent winter sports game that offers a thrilling and immersive experience. The game's variety of modes and challenges, realistic graphics and sound effects, and intuitive controls make it a must-play for ski jumping fans.
8
However, the game's high level of difficulty, limited customization options, and lack of career or progression modes may be drawbacks for some players.
Pros:
RTL Ski Jumping 2007 offers a variety of modes and challenges that provide hours of gameplay
The game features realistic graphics and sound effects that enhance the immersion and realism
The controls are intuitive and easy to learn, and the game provides helpful tips and feedback to assist players
The multiplayer mode allows players to compete online and challenge other ski jumpers from around the world
Cons:
The game may be too challenging for some players, especially those who are new to the sport
The lack of customization options for the ski jumpers and stadiums may limit the game's replayability
The game does not feature any career or progression modes, which may make it less appealing to some players
Playstation 2 Screenshots
See Also
Viewing games 1 to 8