Simon the Sorcerer II: The Lion, the Wizard and the Wardrobe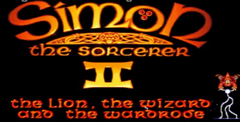 a game by
Adventuresoft Ltd.
Platform:

PC

User Rating:

10.0

/

10

-

1

vote
Rate this game:
See also:
Point-and-Click Quests
The original Simon The Sorcerer, released in the middle of last year, came as a real surprise to everyone. Not only was it a damn fine point-and-click adventure game that borrowed heavily (or "pinched mercilessly" as some more cynical reviewer might suggest) from games such as LucasArts' Monkey Island, it was also -shock, horror - British. The eventual introduction of a cd-rom version a month or so ago. starring the combined voice talents of Chris Barrie and Roger Blake (he of Spitting Image fame) also ensured that everyone sat up and took a bloody good look at it.
Now that the sequel is almost upon us, it would be safe to say that Adventuresoft has an awful lot to prove. Although the original was a super game, it was far from perfect and fell victim to a number of niggly, little problems which should have been sorted out. There was nothing particularly major, but the interface could have been better and lack of any scrolling locations made it seem a bit primitive compared with the likes of Day Of The Tentacle or Sam And Max. Wi new Simon The Sorcerer though, it would seem that a good few of these niggles have been sorted out and. dare I say it. improved upon. There is now a totally new user interface, which, this time, is completely icon-based as opposed to the old-fashioned text-based thing, and the graphics have been enhanced enormously. All the locations now scroll across a number of superbly drawn screens and the animation has also received tremendous embellishment.
So what's the story?
If there was one thing that made the original Simon stand out from much of the other British stuff it was the fact that the script was bloody brilliant. Not only were the characters wonderfully developed, but there was also enough truly "Brit" humour to make this a game that could really raise a titter. Thankfully Simon II seems to share this quality and all the characters have been developed much further this time around. Simon is now considerably older than before... having hit puberty with a vengeance and come successfully out the other end, he is now a fully-grown teenage yobbo with long hair. Doc Martens and typically grungy plaid shirt. Although out of the sorcery business for some time, the story tells of how Sordid (the mean and yucky bad guy from the first game) has been inadvertently released from Hell (where he was banished to at the climax of the first game) and is now fully intent on wreaking his revenge on poor old Si. Enlisting the aid of the delectable Runt, the devilish duo cause mayhem in their domain, thereby forcing Simon to yet again step through the mystical wardrobe transportation device and sort things out, whilst simultaneously getting mercilessly harangued and bullied by Runt and his ghost-like master.
Aside from the bad guys, it would appear that many of the old characters are present, including the irritating Swampling who has now opened a Swampburger and Mudshake joint, Calypso who seems to have opened some kind of magic emporium, and we're also reliably informed that there's a possibility of the woodworms returning in some kind of "special guest" capacity. To those of you who haven't played the original this information will be of little interest... who the hell is Calypso anyway?
When's It coming out then?
As long as everything goes according to plan we should see a simultaneous release of both the floppy and cd versions (the cd will again feature Chris Barrie and Roger Blake) before the end of the year. All speech for the talkie version has been recorded already and it's now just a case of the team banging everything together in order to get the thing out on time.
Download Simon the Sorcerer II: The Lion, the Wizard and the Wardrobe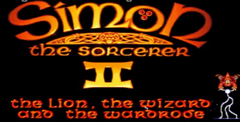 System requirements:
PC compatible
Operating systems: Windows 10/Windows 8/Windows 7/2000/Vista/WinXP
Similar Games
Viewing games 1 to 8