Smackdown! Shut Your Mouth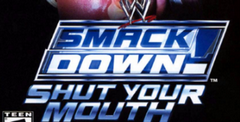 Click the "Install Game" button to initiate the free file download and get compact download launcher. Locate the executable file in your local folder and begin the launcher to install your desired game.
Sports gamers have been used to yearly updates for a long time Madden, NFL 2K whatever, Tony Hawk 5000.... Well wrestling fans, you better warm up to the idea. This years update of SmackDown! is almost here.
Before you get the idea that Shut Your Mouth is just another yearly rehash, let the team at developer Yukes put your fears to rest. Every area of the game has been tremendously improved, they tell us. And that doesnt just mean they added more wrestlers (though they did that, too over 55 WWE Superstars make appearances in SYW).
Most important to fans everywhere is the story mode, which has undergone the most tweaks and changes. Season mode was an area that was heavily criticized in last years Bring It, and we listened to consumers and changed this whole mode, the team at Vukes explains. This year, Season begins with the draft between Raw and SmackDown! from last spring, and includes the re-emergence of the nWo. As you might expect, the goal is to become WWE Heavyweight Champion, but the path wont be the same for every wrestler. You select the Superstar you want to take through a season, and it will be up to you to play out your own story, as you will be faced with many choices, the team explains.
Depending on who you select, you may start right at the bottom having to fight your way through all wrestlers and belts in order to reach the Holy Grail. This depth provides a lot of replay value as the storylines always change based on your selected wrestler and the choices you make. Along the way youll unlock new costume parts you can use to create your own wrestlers.
The gameplays been refined, too. We re-worked the system to ensure that there are counters for grapples and strikes, says Yukes, and have added a selection of cool counters so that the moves dont get repetitive. It is important that you get the timing right or you leave yourself exposed even more. One wrong move and next thing youll see are the lights of the arena as The Undertaker chokeslams your sorry ass (and you deserved it).
As you hit the mat with a resounding thud, youll hear the voices of WWE sideline commentators Jerry The King Lawler, Jim Ross, Tazz and Michael Cole. We have completely changed the way the play-by-play system works to remove the flow problems and at times odd commentary we had in Just Bring It, says Yukes. The comments hit at all the right points in a match to ensure it supports all the action going on. All the action wont only be in the ring, either. Fight in backstage arenas modeled after Madison Square Garden and Pay-Per-View events like Backlash and Unforgiven. These environments, according to Yukes, provide you with the opportunity to take the action out of the ring where everything you see and touch results in a corresponding effect.
Even with these fixes, tweaks and new features for SYM, the team at Yukes already has ideas for next year. We didnt have a chance to get some features in that will be included in upcoming years, they say. Expect some big changes.
Download Smackdown! Shut Your Mouth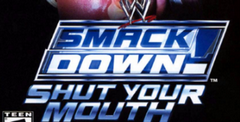 System requirements:
PC compatible
Operating systems: Windows 10/Windows 8/Windows 7/2000/Vista/WinXP
Game Reviews
Say Smackdown! enough times, and you're bound to find a wrestling fan eventually. It's like the chances of tossing a rock out your window, and managing to hit William Shatner in the head with it. Say that wrestling games suck, and not only will you find a legion of fans that will be ready to lynch you, but you'll also have the unenviable task of proving yourself right. I'm of the camp that believes in that utterance. Wrestling games, on the whole, focus on simulating wrestling, instead of allowing you to actually play wrestling. With intricate and arcane control schemes, they seek to allow you to manage a match that, in the words of a friend, 'Lasts for ten minutes, just like wrestling. The only problem is, you're bored by minute three.'?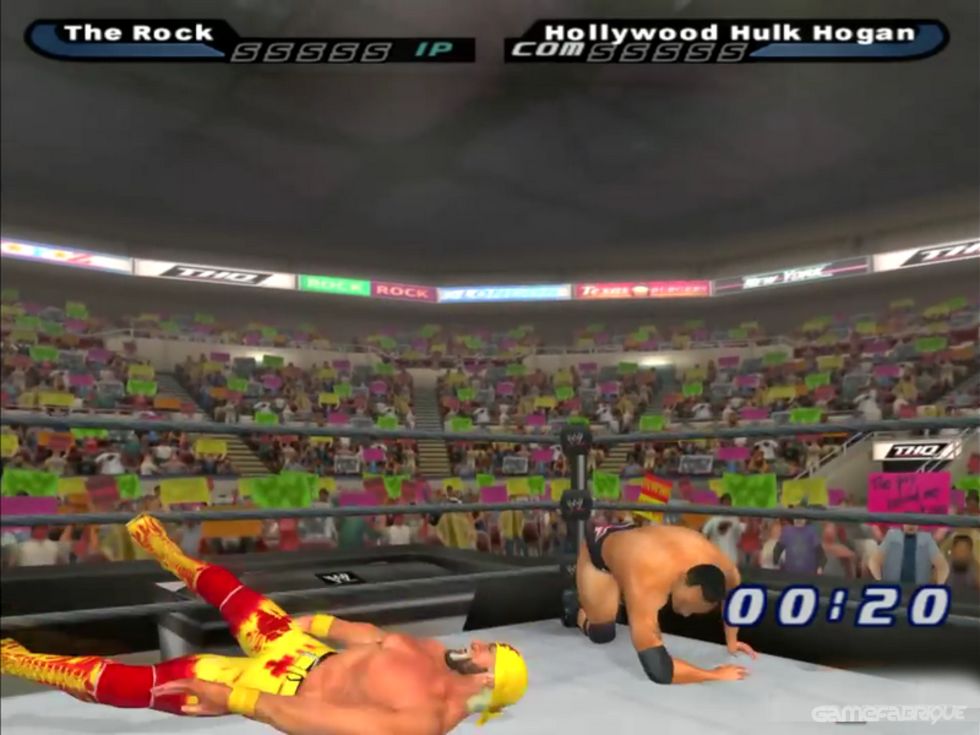 Smackdown! Shut Your Mouth, is not such a game. It's got good graphic, with sense of design that's completely faithful (in most ways, but not all) to it's television predecessor, WWF Smackdown!. Decent audio completely appropriate for the wrestling ring, featuring heavy guitar and cheering fans galore, is similarly present. And thankfully, and this is what I'm most happy about, the controls don't completely suck. With almost the entire WWF cast, and nearly every (if not every) match style available on the WWF show, there's more content in here than I'd care to shake a stick at.
While Smackdown! relies somewhat on the bizarre controls pioneered by previous wrestling titles, it still manages to provide a game that moves quickly and is still easy to learn. The manual is quite informative, and most definitely, given that poor controls are usually the greatest flaw for a wrestling title, these controls can be used to smack the living holy hell out of your opponents.
They're a little tricky, with difficult pin breaks and recoveries, but they can be gotten out of. With a built-in character and move editor, I found that Smackdown! offered a significantly better experience from wrestling games I'd seen previously. So much so, in fact, that as of right now, this is the only wrestling game that I'd actually suggest that you get if you're a fan.
Playstation 2 Screenshots