Sniper Elite 4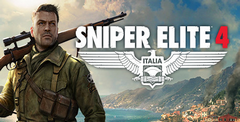 Download Sniper Elite 4 and step into the shoes of elite marksman Karl Fairburne during World War II. Infiltrate enemy lines, complete stealth missions, and take out high-value targets with precise long-range shots. Can you turn the tide of the war and help the Allies to victory? Play now!
One of the most exciting things about war games is being in the middle of the fight. When there are bullets everywhere and explosions, and you have to cover to save your life, everything is thrilling. But there's more than being in the middle of gunfire, and that's what we get to play in Sniper Elite 4. With this new entry in the series, let's see if they changed enough to make it as fresh as it was when it all started.
About the game
In this game, we're transported to the countryside of Italy during the Second World War to play once again as Karl Fairburne. You play as a sniper capable of taking into solo missions that would be impossible for most people.
There are plenty of missions in the game that will have you taking care of different objectives. From assassinations to infiltrations, to completely wiping out waves of soldiers. Using your binoculars you're able to mark the enemies and points of interest in the map, as well as marking up many objectives too.
The emblematic X-Ray kill-cam is back in all its glory, more detailed and better looking than ever before. Calculate your shots, aim right, and count the bullets, you'll need every last one of them on the field.
The strategy is key in this game, make sure to not leave a trace, complete your mission without being discovered, and make it out alive. Going in with a battalion means you have support, but facing an entire mission alone means that you're alone.
A complete game
The description of this game may make it sound like a straightforward single-player game. And even though there's plenty of content in the campaign mode, they even added a multiplayer mode in there. Sure, it's not a battle royale game like Fortnite Battle Royale, and its online is pretty different from that of Call of Duty too.
They actually included missions for four players to complete working together. Sure, you'll have to keep good communication and be careful not to mess it up for your team. And there's also a full-blown vs mode for 12 players with many different modes.
Review
Sniper Elite has a very simple and maybe reused story, but then again that's not really why you'd play this game. It's a great title, with improved mechanics from the last game. The game didn't really complicate itself much, but it did most things right. They improved the stealth mechanics, adding new weapons and tools for the player to get around better in each mission. But they also balanced things up, improving the enemy's AI.
It offers fun, thrilling, and exciting gameplay, and there's tons of great replayability. And if you ever get bored of replaying the same missions, the multiplayer modes are very complete. Definitely a step up in the right direction for the series.
Graphics and visuals: The visuals are improved from the previous games, and they look excellent. The maps are huge, very detailed, and look amazing, and the character animations are great too. They even improved X-Ray Kill Cams, which is one of the most characteristic things in the series.

Gameplay: It plays great, but keep in mind that shooting your rifle is not as straightforward as in many war games. Here there are a lot of elements to take into consideration, the wind, distance, and even how the Sun reflects on your rifle. This complicates things a bit, but it's also one of the best things in the game as they add more realism and a bigger challenge.

Sound: The soundtrack is pretty basic and cheesy, it's your usual war game soundtrack. But the sound effects are the main thing here, as they had to be as realistic as possible to make the whole thing work.
Download Sniper Elite 4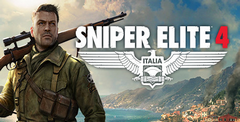 System requirements:
PC compatible
Operating systems: Windows 10/Windows 8/Windows 7/2000/Vista/WinXP
Game Reviews
Released in 2017 for PC, PlayStation 4, and Xbox One, Sniper Elite 4 is a tactical shooter that encourages creativity and stealthiness. Sniper Elite 4 was developed and published by Rebellion Developments, which left fans worried that it would diverge from what made its predecessors successful. Fortunately, the title received overall positive reviews, figuring in the top fifty games of 2017 for multiple media outlets, and pleasing fans as well.
A War Worth Fighting For
Players take the role of British sniper, Karl Fairburne and experience the unfolding of the events of Sniper Elite 3. The game is set in Italy in 1943, which tells a World War 2 story, of fighting against the Nazis. In this particular version, rumors of a special Nazi weapon have surfaced, and when a freighter is sent to investigate it is shot down by that mysterious weapon.
The whole plot is fairly straightforward and simple, but the game revolves mainly around investigating persons of interest and executing with strategical approaches. While the story is pretty self-contained, players are given a lot of exploring options throughout the game. Multiple improvements and expansions were made especially towards level design, making the WW2 scenario come alive.
Give It Your Best Shot
The game has roughly fourteen hours of gameplay, which are filled with a diverse arsenal of weapons, skill-tree, vast customization, and impressive X-Ray cam kills. Those things are all well-developed, but the title truly shines in its award-winning ballistic simulation. Mastering shots, and executing Nazi officers, is extremely fun and delightful because of the challenge presented. Players have to take into account the wind, gravity, and heart rate of Fairburne to land impressive shots.
The game also offers a four-player co-op, and online multiplayer, which are a good addition to the game, but due to its slow-paced nature, playing with friends doesn't have the same excitement as other shooters. Sniper Elite 4, is at its best when it lets players take their time and develop strategies for different levels.
Sniper Elite 4 is the best iteration of the franchise, it barely innovates the controls, but it perfects and expands upon the game's greatest strengths. This game truly backs up the claim of forging your own path, which improves replayability a lot. The caveat is that the game while refreshing, can feel very slow, and targeted towards those who love snipers, and tactical shooters. Rebellion Developments title is nothing like Call of Duty, Battlefield, or any of the other frantic shooters or battle royales that are popular right now.
Verdict
Sniper Elite 4 is a game developed for a specific niche of players. The title's realism and immersion are surely the strongest points. Improvements from older titles have been made all around in level design, realism, AI, animations, and movements. Stealth shooters like Splinter Cell and Hitman might be the closest comparisons, yet they have a much more arcadey feeling and don't really represent what Sniper Elite 4 is about.
8
For those who enjoyed earlier entries of the series, this is the best the game has ever looked or played, and for newcomers who enjoy long-shots, tactical approaches, and stealth this is a good entry point.
PROS:
Ballistic Realism
Huge Sandbox
Diverse Loadouts
Multiplayer Mode
Challenges
CONS:
Ordinary Story
Slow-paced
Weird Save Points
See Also
Viewing games 1 to 4