Super Adventure Island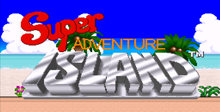 Click the "Install Game" button to initiate the file download and get compact download launcher. Locate the executable file in your local folder and begin the launcher to install your desired game.
a game by
Hudson Soft
Genre:
Adventure/RPG
Platform:
SNES
Editor Rating:

7.3

/

10

, based on

6

reviews,

7

reviews are shown
User Rating:

9.0

/

10

-

2

votes
Rate this game:
See also:
2D Platformer Games
Calling all members of the master Higgins fun club! Hold on to your hats... and loin cloths. The master-meister is back.
The indomitable Higgins has saved the peaceful denizens of Adventure Island more than once when danger threatened in the form of nefarious Witch Doctors and the like. Now the Master's ready to kick-back, enjoy a few island coolers, and spend the rest of his days snuggling with his honey, Jeanie Jungle. Enter Dark Cloak. Higgins' stargazing "a deux" with Jeanie turned into a chilling experience when Dark Cloak gave the Master's main squeeze a heart -- and body -- of stone. Now Higgins has to seek out the Dark one and get his gal pal back.
A New Adventure
The name of the game may be essentially the same, but in this adventure for the feisty Higgins by Hudson Soft you're gonna' notice quite a few changes: First off, graphics and super sound. Bigger sprites, gorgeous colors, and vertically and horizontally scrolling arcade-style action give this island adventure a different look and feel from its precursors. Higgins still runs, jumps, and rides a skateboard, but he doesn't ride any dinosaurs. His weapons of choice in this island encounter are an Axe or a Boomerang -- and this time around he doesn't have to break any eggs to find them. They're right out in the open. Higgins grabs up to four of each weapon to power them up to Fire Weapons.
Adventure Island I the perfect climate for growing tropical fruit, including Kiwis, and Pineapples. This is fortunate because Higgins needs to grab snacks to keep his energy meter powered up. As he leaps across the island his energy drops. When it hits zero he's a goner.
ProTip: Fire your weapon all around the star at the end of each round to make hidden fruit appear. This also works in random areas of other levels -- for example, in the branches of the tree and underwater.
Island Hopping
Higgins' journey across Adventure Island takes him across some familiar, and not-so-familiar territory -- five rounds, each with four areas and a big, bad boss battle at the end. In addition to romping across the familiar island paradise, Higgins journeys through a cavern, swims underwater after he's swallowed by a whale, shivers across a frozen mountain- top, rides a mine car inside of a mine, and even climbs a tree.
To defeat Kraken at the end of Round 2 you'll need the Boomerang -- preferably fully powered. Just swim to the lower left-hand comer of the screen, swim along the lower edge, and fire Boomerangs at him. He'll fry in about five seconds!
Each level also features a hidden Star Bonus Round where Higgins can jump to claim prizes, and, if he completes the bonus round perfectly, earn a 1-Up. And speaking of 1-Ups, you'll earn one every 50,000 points -- and you're gonna' need them all. Two continues with tree lives per game aren't gonna' take you very far on this island vacation!
The first Star Bonus Round is just to the right of this pillar in Round 1-2.
The second Star Bonus Round is found on this platform over the water in Round 2-2.
Before you enter a bonus round grab all of the fruit near the bonus round location. When you return from the bonus round all of the fruit in the area regenerates!
Island Vacation
Graphics and sound make this 16-bit island paradise a feast for the eyes as well as a challenging game. Despite a few minor flaws -- the gameplay seems a little sluggish because Higgins just doesn't move as crisply as his smaller self in the 8-bit games -- fans of the original classic game and its sequels will find this island adventure's a real trip!
Download Super Adventure Island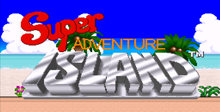 System requirements:
PC compatible
Operating systems: Windows 10/Windows 8/Windows 7/2000/Vista/WinXP
Pentium II (or equivalent) 266MHz (500MHz recommended), RAM: 64MB (128MB recommended), DirectX v8.0a or later must be installed
Game Reviews
Manufacturer: Hudson Soft
Machine: SNES
Master Higgins is back in his wildest and greatest adventure of all! He leaps into action to defeat an army of guardian animals and monsters that protect the evil wizard, Dark Cloak! Join Master Higgins as he reaches new heights of excitement on his high flying skateboard. Speed through underground caves in a crazy mine car ride! Go from dangerous tropical shores to the belly of a whale - all in search of his final battle with the wicked sorcerer.
Secret Bonus Rounds restore power and award points to our high jumping hero!
Terrible traps and gigantic villains await your next move!
Right before Master Higgins was getting ready to marry his bride, an evil being decided to crash the party, kidnap the observing children and steal Master Higgin's future wife! Would he ever stand for that? No way! Introducing New Adventure Island, Master Higgins must face all new perils on this dangerous island. Pick up more weapons than ever before and prepare yourself for the adventure of a lifetime.
People say:
7
While this new Adventure Island entry does possess many of the most familiar elements of the previous titles, it still remains a worthy successor to the previous 8-Bit games. This card has crisper graphics and fluid animation throughout, combining with the proven play concepts that have made Adventure Island great.
8
A few more great games like this and the Turbo will really take off. Other than the new SNES cart, this is easily the best version of Adventure Island yet. The graphics are well done, the colors are bright and bold and the game play is exceptional. I can easily recommend this to all the Turbo users.
7
This is the action game that Turbo owners have been waiting for. The graphics are vivid and colorful and the animation is very good. The game controls are good and there is plenty of action. The music and sounds are cool. This card makes a great Turbo Express game for those who want action on the go!
7
Another Adventure Island game? Geez! It would appear that the Adventure Island world is growing faster than ever in this large quest for Master Higgins. Like the other games in the Adventure Island series, New Adventure Island is a rock-steady game that gamers will enjoy. This will keep Higgins fans happy for awhile.
He Adventure Continues In 16-Bit
Master Higgins is back and is ready to brave an all new adventure. Hudson is porting over their successful Adventure Island series to the Super Famicom. The game will feature the same basic elements of the NES versions and almost identical game play. The obvious enhancements will be in the audio and visual departments. The graphics are extremely colorful and the animations are hilarious. The enemies each attack and die in a different way. The familiar power-ups like hammers and skateboards are there as well as a few new surprises. The backgrounds are drawn in pristine detail and feature parallax scrolling. The music is filled with sampled instruments and the drums really rock. This one's still a long way off but it looks like it'll be worth the wait for Adventure Island fans.
Super Adventure Island is one of the hottest carts available for the Super NES. The graphics are colorful and full of great animation, and the music is some of the best on the Super NES. The U.S. National Video Game Team is here to help you get through this great cart and give you the secrets and techniques to play like a pro. You are Master Higgins and the evil Witch Doctor has once again taken your sweetheart from you. You must go after her and brave 20 levels of wilderness and adventure. We have included special maps and strategies to help you get through the toughest spots in the game. Soak it all in and then go after your main squeeze.
Hudson is bring the third installment of the Adventure Island series to the Super NES. Fantastic animation and soundtrack combined with great game play make this a cart to watch for.
Master Higgins and his latest love are enjoying a quiet time when all of a sudden the evil Witch Doctor appears, grabs her, and takes her away. You now must search throughout the entire kingdom to rescue her!
Set up in a new 16-bit format, this adventure proves to be the bet one yet with all new graphics, cool sounds, an upbeat soundtrack and great game play. You start off with nothing but your skills of running and jumping. Along the way, look out for weapons such as the stone hammer or the boomerang. Use these to take out the worms in shells, lizards on balloons, floating walruses, headhunters, walking candles and many others. Collect multiple weapons to increase their power and to upgrade to the killer fireball. Watch the yellow time bar at the top of the screen as when that runs out you will die. Collect the pieces of fruit that you find as they will increase the time limit. The other cool items like the skateboard and the hidden bonus rooms are back in this adventure and looking for them adds to this great adventure.
SNES/Super Nintendo/Super Famicom Screenshots
Other Games by Hudson Soft