Viewing games 1 to 12 (of 12 games)

See also:
Contra - Hard Corps

Hard Corps plays fast and furiously and is just as beautiful as any other Genesis game ever created.

Demolition Man

Based on the Sylvester Stallone/Wesley Snipes movie. This is where the "non-stop action" description comes into play.
Shooting platformer. You play an inglorious cop in the Enhanced Special Weapons and Tactics (ESWAT) force.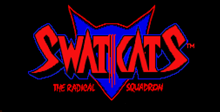 Only one game about the SWAT Kats has been made. It was produced by Hudson Soft and released on August 1995 for the SNES. It is a 2D Action Platformer which features a character select screen where the player can choose between T-Bone or Razor, a l..