Tactical Manager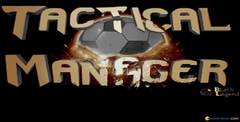 Click the "Install Game" button to initiate the file download and get compact download launcher. Locate the executable file in your local folder and begin the launcher to install your desired game.
a game by
Black Legend
Platform:
PC
User Rating:

8.7

/

10

-

3

votes
Rate this game:
See also:
Soccer Games
There really are an awful lot of football games appearing at the moment. And, heaven help us, there are even more on the way. I blame Nick Hornby myself. The Italia gos-inspired football popularity boom was more or less dying down until his book came out a couple of years ago. Then suddenly it was very trendy to be into football again, and now you've got the bbc running evenings of football programmes, "poets" reading elegies to a one-two on the edge of the box, new operas based on the controversial refereeing decisions of the last European championships and ballet dancers shattering their ankles because they can't control a brise vole in aluminium studs. You can't walk into a pub without some pretentious twerp quoting large segments of the various writings of Nick Hornby at you - it's worse than being stuck in a corner with a Monty Python fan. Sometimes I long for the days when people were embarrassed to say they liked football; they Dreferred to carve their poems into the doors of railway carriages least it was quieter. Of course A the flip side was B that the football simulations at the time were utterly abysmal. Every cloud, and f all that... where was I? The game, the game.
The game (at last)
It's a management game which allows for up to 46 human-controlled players at once. The logistical difficulties of getting everyone into the same room for the game on a regular basis seems just a little daunting to me, but at least the facility's there if you want it.
At the start of the game you'll find that you're in a position somewhere between that presented to you by Championship Manager and Premier Manager. Championship Manager, the undisputed office favourite, gives you the complete free dom to choose any team you want to manage, even if you want to start your career right at the top by ousting Alex Ferguson or Kenny Dalglish. Premier Manager, despite its name, insists you start at the very bottom with a Vauxhall Conference side, and stay there for the rest of your natural life (sort of). Tactical Manager reaches a compromise between the two: everything is based upon ratings and your managerial rating when you start the game is three. This means that you can start with any club whose team has a rating of three or less. Only the Premier League and the First Division are included in this rating, so in practice this means you'll start in the First Division, since teams are rated from one to eight, and you'll only find teams rated at three in the First Division. It's not as bad as it might be, because this includes teams like Derby and Wolves, although the likes of Crystal Palace are rated at a mighty four. Only Manchester United, Blackburn and one or two others get a rating of eight.
What do points make?
This rating system is the hub of the game. Unlike most football management games, the emphasis is more on the performance and success of the manager than on the team. A team in this is basically the tool with which you achieve personal success, and failure means you get the boot. Obviously, that applies to all management games to a certain extent - if your team spends all season creating records in the "Goals Against" column and you get relegated, you can be pretty sure you'll be down the dole office fairly shortly afterwards. But Tactical Manager goes even further. If you do well, you' re awarded "win" bonuses multiplied by the team rating. If you win five games in a row (not as easy as it sounds when you think about it) you get an "extra ratings" point, which theoretically allows you to apply for a job with a team rated at four. Win a trophy and you get another point; get promoted and you're awarded two ratings points, and so on. Eventually, you might have earned enough points to enable you to apply for a job with a far better team.
I've always found a problem with approaches like this. In Premier Manager, for example, which runs on a similar but less blatant system, you find that by the time you manage to achieve enough points to be offered a job with a better team, your own team has obviously had enough success to already be one of those better teams. The team you're offered generally isn't that much better - sometimes it isn't even as good any more as the one you already have. Add to this the fact that you no longer want to abandon your current team for this other, supposedly better (but by now, possibly inferior) team because you've also become attached to the one you've carefully put together. I can see similar situations arising in Tactical Manager.
Transfers
One thing I do like about the game is the transfer system. You have access to a fair degree of information about the player you're considering buying, and an allknowing scout looking over your shoulder telling you things like "It's a backward step" when you want to buy Chris Waddle or Teddy Sheringham, and stopping you from doing so, the bastard. It's a trifle annoying, and anyhow, I prefer to make my own decisions if I'm the manager. But the bit I do enjoy is where you can try to entice a player that is still in contract away from his club with offers of a house, a bmw or a life-time's supply of amphetamines.
Eeek! Real footballers!
Perhaps the main selling point of the game, though, is the digitised footage of real footballers running about on a real pitch, which pops up in a small window onscreen as you play. This sounds good in theory, but it's a bit naff in practice. There isn't enough footage (it's all taken from one game) and what's there is often wildly inappropriate to the running commentary. An "inspired shot" by Paul Kitson appears as a hopeless, bouncing-ball sequence that looks more like a backpass, and there are only two different "goal" sequences. It very quickly becomes repetitive and you soon find yourself switching the thing off to make the matches run a bit quicker.
Wee downies
Generally, Tactical Manager is a pretty good game, but I don't think it's as well-presented or as easy to use as Championship Manager. Picking players and moving them around becomes very finicky, and sometimes you find that when you start the game you have a different team to the one you thought you'd chosen. It doesn't help that the team screen doesn't appear before the start of a match. The other problem is with the player assignments: it's all very well being able to choose who takes your penalties (Tommy Johnson, in my case), but it's a bit of a pisser if someone else does it in the match (especially when they miss -yes, Julian Joachim, I mean you).
Uppies
In its favour, however, there's quite a good sense of being involved in a "proper" season. This is thanks to the regular and seemingly endless news bulletins which flash up on screen throughout the game, detailing the trials and tribulations of other players and clubs - what Paul Warhurst was doing with the power cable attached to his anal hair still baffles me. My only doubt is the number of "star footballers" who are placed on the transfer list - teams seem less likely to hang on to their big names than they do in real life.
Another positive point is the facility to edit players at the lowest level, meaning that you don't have to cough up for a new game every season: a phone call to Kompart will get you a passcode which allows you to re-name players and give them ratings and the like. Then there's the data disks: it's the only game to provide teams for Serie a and b, the Bundeslige and the top two Scottish divisions, which will all be available as data disks (but still only as stand-alone games). Tactical Manager is also the only game I've seen where you can save your best games on to disk with which to bore the arses off your friends at a later date. This means that you don't have to do it verbally any more, but will reduce the conversations around here by about 95 per cent.
Player Positions
Mach player has an assigned position, along with a selectable role. There are five outfield positions: DEF, DEF-MID, MID, MID-ATT and ATT. These can be further refined by the role you give the player - players with dual-named positions have more roles available to them; a defensive player could be moved to sweeper, but players capable of playing in defence or midfield could be sweeper, defender or midfielder, and so on. Basically, it's a very roundabout way of doing what Championship Manager does so simply with its graphical representation of the team tactics screen.
There are additional refinements available in the player's role screen though, which do add something new. You can look at players' ratings and decide yourself who takes free-kicks, long throws, penalties and corners. You can also tag someone as a midfield playmaker or ballwinnner, make someone an attacking fullback, a deep-lying midfielder or even assign your official "goal hanger". Again, it's not the best-presented system, but it is quite a nice touch.
Player Ratings
Tactical Manager has a wide variety of Ui areas in which players are rated. It includes shooting, vision, control, heading, passing, defensive abilities (tackling and marking) and general areas like stamina, fitness, vision and speed. Mental abilities are taken into account too: experience, attitude, influence on other players, reliability and morale are all calculated for each player. To work out an overall rating of a player, these figures are simply added together. A total of around 100 denotes an average player; 110 signifies a particularly good player; and 120 or more is an elite, world-class individual whose feet probably hover a fraction of an inch above the ground wherever he goes, and whose drink and drugs problem will no doubt end his career within months.
Among the special ratings is one which shows how prone the player is to injury (presumably this rises automatically if Dean Saunders or John Fashanu are his opponents). Another shows how keen on bad behaviour a player is; it doesn't specify whether this is restricted to on-field behaviour or to extracurricular activities like urinating on fellow airline passengers or beating up pizzas in night clubs while drunk. The final one is the Gascoigne factor, indicating how prone the player is to lunatic tackles likely to endanger not only the life of the tacklee, but also that of nearby match stewards and anyone in the first ten rows of the crowd.
Download Tactical Manager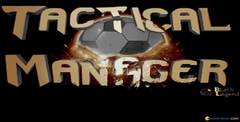 System requirements:
PC compatible
Operating systems: Windows 10/Windows 8/Windows 7/2000/Vista/WinXP
Similar Games
Viewing games 1 to 8