The Temple Of Elemental Evil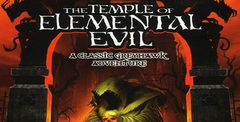 a game by
Troika Games L.L.C.
Platform:

PC

User Rating:

8.0

/

10

-

1

vote
Rate this game:
Zuggtmoy. Spugnoir. Ostler Gundigoot. Hezrou. No, we haven't trapped our gentlemen's parts in the cooling fan again. Those far-fetched words merely herald the arrival of another traditional fantasy RPG. Except this one has some pedigree behind it, coming as it does from Troika Games, creators of last year's well-received steampunk epic Arcanum and, more recently, the forthcoming Half-Life 2-powered Vampire: The Masquerade - Bloodlines.
Based on a Greyhawk module from table-top behemoth Dungeons & Dragons, The Temple Of Elemental Evil introduces the latest refinement of the D&D rules, now up to version 3.5. To those who couldn't give a flying cleric about that news, this shouldn't matter much because, like Baldur's Gate et al. these can generally be ignored in favour of straightforward action. Though aficionados who want to get busy with statistics should still be in their element and hopefully the new rule-set should provide a slightly new slant when converted over to the PC.
Battles are resolutely turn-based, acting at a slower strategic pace and allowing for greater tactical depth. To help, a new interface known as the radial menu has been introduced, which fans out contextual options around a central point with a right click of the mouse button.
Fan-Based Incident
The story revolves around goings-on at the game's doom-mongering subtitle, the (deep voice) Temple Of Elemental Evil (thunder and lightning). Erected near the L town of Homlett in the land of Flanaess, in the sh're °f Nulb, which was once headquarters for a malignant cult. Getting too big and evil for their boots they were soon ousted in a mighty war and the temple was knocked down. Switch to the present day and, what do you know, sinister events are starting to occur about the ruins. It's enough to send you off on an epic quest for valour, treasure and to save the free world.
Taking that challenge means the chance to pick up to five different player characters for your party. Each member is customisable, created by the standard rolling of a virtual dice to receive stats, picking a class and choosing an alignment. We're promised different paths throughout the game based on these initial choices and ones made while playing. In addition, you're allowed a few companions and pets to help you out. They won't be under direct control but they should assist in battle. In fact, we managed to spot one such party wandering about with a chicken. It didn't last long.
Grey Is The New Black
While different endings are enough to tempt replayability, for the true die hard there's also the Ironman mode. In essence, it lumps you with a one-choice pick of stats and the bare minimum of save games. One for the hardy student or unemployed we imagine.
From the look of things, The Temple Of Elemental Evil bears more than a passing similarity to Black Isle's classic output. Not too difficult to understand considering the developers come from the same stock. However, with Black Isle straying away from the D&D universe right now, as long as this gets the story and script right, it shows plenty of promise in fulfilling its role as a stalwart swords and sorcery RPG.
Download The Temple Of Elemental Evil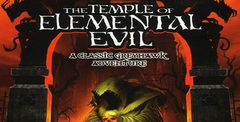 System requirements:
PC compatible
Operating systems: Windows 10/Windows 8/Windows 7/2000/Vista/WinXP
Similar Games
Viewing games 1 to 7