Total Club Manager 2003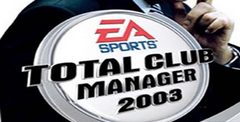 Click the "Install Game" button to initiate the free file download and get compact download launcher. Locate the executable file in your local folder and begin the launcher to install your desired game.
The trouble with getting a new management game in to review is that you're so used to Champ Manager that simply negotiating the interface is enough to make your brain hurt. It's like operating an unfamiliar TV remote control, in the dark, with your toes. Of course, we wouldn't do anything as vulgar as refer to the manual, primarily because we weren't supplied with one. Cue several hours of tooth-grinding frustration simply attempting to get a match underway, never mind tackling the minutiae of running a professional football club.
Astonishingly though, it is actually worth the trauma, as beneath the traditional EA Sports gloss lies a game of surprising depth and playability. Developed in Germany by Germans, this is essentially an anglicised version of a game called Fussballmanager 2002, given an EA Sports makeover and with the FIFA 2002 engine bolted on. Some of the surrounding screenshots may show highly detailed 3D action, but your best bet is to pretend that they're not there, as the game actually works better as a straightforward textbased Champ Man rip-off. Clearly, EA would never have been brave enough to release it as such, but the employment of the FIFA engine simply cheapens the experience, and bears little relation to what is an extremely complex simulation.
Hotdog, Jumping Frog
In fact, it's almost too complex, although thankfully the majority of tasks can be delegated, so you needn't bother selling ad hoardings or setting hotdog prices. In fact, everything can be delegated, including picking the best possible team, or the fittest, or even youngest team, which tends to take something away from the art of management. Perversely, it works though, and the game introduces a lot of new ideas, with players 'levelling up' in an RPG fashion - albeit thankfully without spells or beards - and acquiring new skills, such as dribbling or heading. You can also holler instructions to your players from the touchline - as in the forthcoming FourFourTwo - and even adopt a variety of postures, from smiling serenely to marching up and down the touchline in a rage. At one stage I was even sent to the stands for kicking the ball away when it went out for a throw-in (all this in the text mode, remember).
Prawn Cocktail
Half-time team talks can also raise the morale of players, who are more humanised than in previous games. Following the Alex Ferguson mould, players who get married and have kids tend to be more settled, and less likely to be spotted rolling out of a pub in the early hours.
Developed by some of the team responsible for the execrable On The Ball, the incongruous coupling of bizarre gimmicks - you can build a girls' boarding school next to the stadium - and hardcore numbercrunching shouldn't really work, but somehow it comes together to provide a mildly compelling experience (if you ignore the graphics mode). Champ Man won't exactly be running scared, but until version 4 hits the shelves, this is a contender.
Download Total Club Manager 2003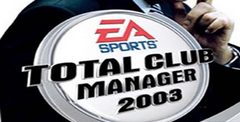 System requirements:
PC compatible
Operating systems: Windows 10/Windows 8/Windows 7/2000/Vista/WinXP
Similar Games
Viewing games 1 to 10