Pro Evolution Soccer 3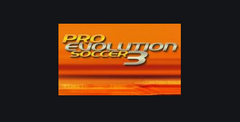 Download Pro Evolution Soccer 3 and immerse yourself in the beautiful game! Master the pitch, create custom strategies, and compete with players around the world. Kick off your soccer journey and play now!
Now then. Regular readers may have noticed that we're always banging on about Pro Evolution Soccer. We literally won't shut up about it, except when we're actually playing it. which is all the time. Countless games have come and gone, sparkled briefly only to be dropped like hot shit in favour of the next big thing. Not so PES, which has outlasted the lot, managing to reduce grown men to foul-mouthed apes on a daily basis. We simply can't get enough of it. And it's not even a PC game, meaning that we often have to scuffle with the staff of sister-mag CVG in order to get hold of a PS2 to play it.
Not any more. Pro Evolution is coming to the PC, which if nothing else will at least make for more civilised behaviour in the office. Not that I care. I work from home. If I want to play PES, it involves little more than getting up, walking into the next room and bedding in on the sofa for an hour. Or two. Or four. This minor inconvenience has now been removed from my life, as I am now but a mouse-click away from the wonderful world of Pro Evolution Soccer 3. Which is a very good thing. It's also a very bad thing, as the temptation to spend all night playing football rather than writing this review may prove too much.
This Is Football
So what's so life-sappingly good about the game? Well, it's probably easier to examine what's bad about it. Gameplaywise. almost nothing. Japan may not have a long history of football, but it seems that the Konami development team has scientifically studied the sport and somehow magicked it on to a shiny disc. They've managed to perfectly distil the excitement, passion, subtlety and frustration of the world's favourite sport. Reviewing the game is almost like reviewing the sport, so closely does it mirror its real-life counterpart. As such, it's utterly enthralling.
Ultimately, the realism comes down to the movement of the ball and the players - well there's nothing else really, is there? First up, the ball physics are near perfect. Gravity appears to be based on that experienced on Earth, and the bounce is that of a well-pumped leather sphere. It's the latter aspect that makes for many of the game's more heartstopping moments, with the ball pinging around the penalty area for some truly breathless goalmouth scrambles.
Footballer's Lives
As for the players, it's no exaggeration to say that the animation is among the best in any game, sports or otherwise. Simply put, the players move like footballers. Not just any generic footballers though, but the actual footballers that they represent. Allied to each player's 30 different stats and 17 special skills, this is as close as you'll get without actually being one of the players. It works phenomenally well, and the players' individual attributes shape the way you approach each match.
In the England squad, for instance, Beckham is bereft of pace but blessed with pinpoint passing, Heskey is a lumbering oaf who occasionally gets on the end of things, Owen is nippy and Dyer is more than capable of roasting the best of them. In terms of gameplay then, PES3 is unsurpassed. There is also a wealth of tactical options - such as on-the-fly strategy changes and man marking - many of which you could easily never use.
Name Game
The only criticism that can be levelled at the game is in the periphery. Due to absurd legal reasons, club names cannot be used, meaning that ludicrous approximations are used instead, with Everton appeanng as Merseyside Blues for instance. Certain player names are also bastardised, but the good news is that with the game debuting on PC, it is surely only a matter of time before somebody releases a patch rectifying everything.
It's worth pointing out that PES3 is simply a straight PS2 conversion, with no concession to PC gamers in terms of LAN or online play. In fact the only tangible difference is the increased resolution, which is in itself like having your eyes cleaned. As a PS2 game, it is of course designed for a PS2 pad, and while it's just about playable with a Sidewinder, you're not getting the full experience. So get yourself a PS2 pad adapter.
The fact that the game almost effortlessly overcomes these drawbacks is testament to the exquisite gameplay though, and PES3 is as close to football as any game has ever come. If you have any interest in the sport, or just in games, you can't allow yourself to miss this game.
Download Pro Evolution Soccer 3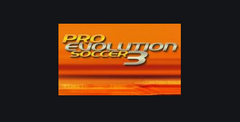 System requirements:
PC compatible
Operating systems: Windows 10/Windows 8/Windows 7/2000/Vista/WinXP
See Also
Viewing games 1 to 11