Triple Play 2002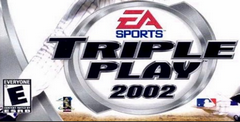 Click the "Install Game" button to initiate the free file download and get compact download launcher. Locate the executable file in your local folder and begin the launcher to install your desired game.
Overview
Well, it baseball season again and that means the release of a number of baseball games including EA Sports series Triple Play. This year's version, Triple Play 2002, has stronger competition then it's had in the past, which has been the trend for a number of their different sports series. Unfortunately for EA, where they once dominated the market, other developers have slipped in using similar strategies that built the EA empire only taking it to the next level, adding their own innovations. This is the story for Triple Play 2002 as they have a decent game but Acclaim's All-Star Baseball 2003, for instance, blows them away in a number of areas.
Triple Play 2002 continues the successful baseball series from EA Sports with an average performance. This average performance can be noticed in a number of areas, as the game feels very similar to last year's version especially in their graphical representation and gameplay. Unfortunately doing what brought you success last year won't directly translate into success this year and other developers will incorporate those formulas and add their own. All-Star Baseball 2003 for instance not only has more modes of play including the popular franchise mode but the graphical rendering of the players in particular are far beyond what's represented in Triple Play 2002. Triple Play 2002 isn't a direct copy from the previous year however as the graphics have been tweaked and the commentating has been improved, adding Bob Costas and Harold Reynolds.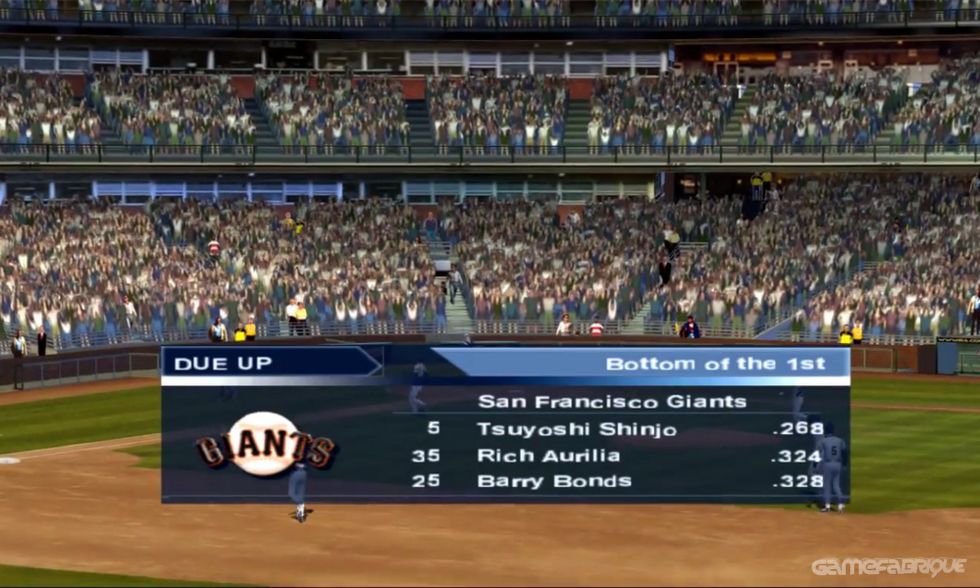 Gameplay, Controls, Interface
Triple Play 2002 offers four main modes of play. As always, a single game option is available in addition to a playoff mode, season mode, and the Home Run Derby option. As stated earlier, a franchise or career mode is missing which is disappointing since the feature adds significant value to a game. Especially for those baseball fans that enjoy more then just fielding and batting, the lack of the feature drastically shortens the longevity of the game. Another thing to keep in mind that may actually be a goal for EA Sports however is to make the entire game easier for younger audiences as opposed to twenty and thirty year olds that understand baseball at a higher level. That would fall in line more with the missing franchise mode in addition to the lack of in depth control included in other games. Other points like a batting scheme that is one of the friendliest on the market also show a push toward younger audiences, as multiple homeruns in an inning is fairly common after you have a few games under your belt.
The options that are available perform adequately especially for those who don't want to be distracted by numerous features that, although create a more realistic experience, can also create a fair amount of overhead. The single play mode for instance is similar to the quick play option available on most sports games except different teams are selectable instead of having them selected for you. You can also select to be either the home or away team but if neither is picked, the computer will control both teams and you can be a spectator instead of a player. Another straightforward option is the Home Run Derby. Here either the tournament or one-on-one selection can be chosen but the same gameplay is used for both. Basically, you slug as many homers as possible before registering the maximum number of outs allowed which is between one and ten. Outs are given simply when the ball hit isn't a homerun. Anything else, grounder, pop up, or foul is an out. The only difference is in tournament mode where you'll advance to the next level if you beat your opponent as the one-on-one is over after one round.
The last two modes are more involved and help give some depth to the game. Unfortunately the playoff mode which is obviously the same functionally as the playoff series in the season mode doesn't add much value as another gameplay option. The season mode however does a decent job of creating a playable season and offers some options to help tailor it to specific interests. For instance, although a 162 game season is available, some may find it overwhelming to play through all those games. To accommodate that, shorter seasons are available including 15, 30, or 60 games. You can also set the difficulty using three settings, set the playoff length by selecting the number of games played through the three playoff rounds, change the number of innings played each game, turn off errors, and elect to enter a draft. If you're only interested in the playoffs however, that mode can be selected with similar options as the season mode. In addition, the eight teams that will be involved in the playoffs can be selected and you'll be ready to begin with the same structure as found at the end of the season mode.
As far as actually playing the game, the control structure used is simple and intuitive. For batting and base running, the left analog stick moves the batting cursor, the X button will swing, circle will bunt, the d-pad will cause the base runner to steal, and if rapidly tapped, and the X button will cause a sprint. For pitching and fielding, the pitch cursor is controlled using the left analog stick, a pitch type is selected using either the X, circle, square, or triangle button, and an auto throw command uses the X button throwing to either the most appropriate base, cut off man, or pitcher. Other control is also included like when the pitch is thrown, the ball can be moved from it's known location using the left analog stick and throwing to a specific base is accomplished using the x button and d-pad. Besides the basic control, the pitcher can perform other functions like pitchouts and pickoffs while dives, jumps, and even wall climbing can be done by the infielders. Although the batting is probably too easy as homeruns are repeatedly hit, the rest of the control structure works well and functions better than other games available.
Graphics
The graphics are a mixed bag as some of the best looking stadiums, even giving a sense of their size, are in represented but the players don't have the same quality. Player recognition requires some imagination and the body structures appear slightly out of proportion. Especially when batting, the player's shoulders are either to small or their heads are too big. Whatever it is, it doesn't look right and on top of that, the player's faces aren't near to the quality of some of Triple Play 2002's competitors. This is one area where they're about to fall behind the curve and will start to lose customers if it isn't improved by the next release.
Audio
Although most of the audio is average, one part that was improved over last year is the commentating. Gone is Buck Martinez as his replacements are Bob Costas and Harold Reynolds. In addition to the new recruits, the play calling and commentary have also noticeably improved as Bob Costas brings to Triple Play 2002 what has kept him at NBC so long. Besides that, the rest of the effects are at least average with some successfully thrown in to bring the baseball experience home, like vendors heard selling popcorn in the stands.
Bottom Line
Triple Play 2002 offers a decent game with solid a control structure but falls short in a number of key areas. With other games offering more modes of play, better graphics, and more in-depth gameplay, those that do their homework before buying will think twice when its compared to the rest of the market. Triple Play 2002 does present a well designed game compared to what was released two years ago, but unless you are a die hard EA Sports fan you may want to look at the other baseball games on the market first.
Download Triple Play 2002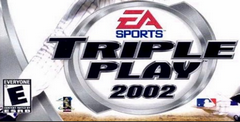 System requirements:
PC compatible
Operating systems: Windows 10/Windows 8/Windows 7/2000/Vista/WinXP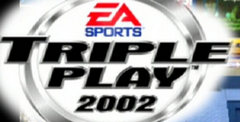 System requirements:
PC compatible
Operating systems: Windows 10/Windows 8/Windows 7/2000/Vista/WinXP
Game Reviews
Some baseball games try to impress with mountains of stats, every conceivable option, and details most could give a crap about. On the other side, EA's Triple Play shoots for a flashy presentation and friendly, arcade playability. It's worked so far, so why mess with a good thing? Most of the changes in this year's edition are purely cosmetic and don't necessarily affect gameplay. They include more accurate player bodies and faces, additional camera angles (there's a ton already), plus play-by-play and color commentary by Bob Costas and Harold Reynolds (that'll be cool).
Playstation 2 Screenshots