True Golf: Wicked 18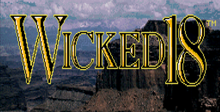 Click the "Install Game" button to initiate the free file download and get compact download launcher. Locate the executable file in your local folder and begin the launcher to install your desired game.
Wicked 18 should come with a warning label: Not for the golf purist. How could it be, since the 18 holes are spread across the Grand Canyon? With hanging rock formations that dangle from the sky and unreachable pyramid greens, Wicked 18 is like no other golf game around.
ProTip: Use the Advice Map and the overhead view to aim your shots. On this course, a hole isn't always what it appears to be.
The game presents a course that is lovely to look at. The crisp details of each hole, the hazards, and scenic beauty rival anything at Augusta National. But watch out, because the Wicked 18 course is just that -- wicked. It's the most challenging and unconventional golf course on the market, which is the real charm of this game.
Although you get only the one course, you do have the option of playing four types of games -- Stroke, Match, Skins, and Tournament. If you find one hole especially difficult, iron out your problems in the Practice Mode.
When trying to loft tough chip shots, hit the bottom of the ball on the Contact Selector to add back- spin on the shot. This gives the ball air and makes it stop quickly upon landing.
On Approach Shots to greens surrounded by water, use an extra club length to make sure you'll clear the hazard.
Hitting the ball is relatively easy, however. A change of clubs and a slight adjustment in your stance can mean the difference between a great shot and landing in one of the many hazards. Wicked 18 puts you in control of each shot with an effective Power Scale and Contact Selector. Master these two facets of your swing and you'll be ready to turn pro.
If you're bored with the conventional golf games on the market and you want great graphics and a challenging course, then Wicked 18 should be a stop on your golf tour.
Download True Golf: Wicked 18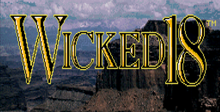 System requirements:
PC compatible
Operating systems: Windows 10/Windows 8/Windows 7/2000/Vista/WinXP
Pentium II (or equivalent) 266MHz (500MHz recommended), RAM: 64MB (128MB recommended), DirectX v8.0a or later must be installed
Game Reviews
Think you're good enough that you've mastered all the golf games out there? Think again! Bullet-Proof Software's latest creation is a golf game that will not only test your skill, but your endurance as well. Wicked 18 is just that. Eighteen holes of shear madness. No golf course has ever had obstacles this tough. Trees, rocks, and the ever dreaded sandtrap can be found. Wicked 18 surpasses most golf games by simply making it fun to play. The challenge level is there, but it doesn't get frustrating.
Wicked 18 is a wonderful game of golf. If it's nasty traps, and colorful graphics you are looking for, this game is for you. Bullet-Proof has done it again.
# of players: 1-player
Difficulty: Moderate
Theme: Sports
Available: 1993
Wicked 18 is a 3-D golf game that puts all other golf games to rest. This cart captures the contour of every fairway and green. On your main screen be sure to take advantage of the hole layout, wind direction and speed, distance from the pin and lie indicator. Plus, the advice from your caddy is very useful when trying to make par. Along with the great graphics, there are a ton of play options that will keep you busy for hours. On every green, you can use a 3-D grid to see how the hole will break. Choose between tournament, stroke, skins or match play. Or, if you prefer, practice each hole individually to work on making par and becoming a golf legend.
People say:
8
I will start off by saying that I'm not really fond of these types of games. Yet, Wicked 18 kept me entertained. The graphics are very well done in my opinion, plus there was a lot of strategy involved. Once you get to learn the controls, it's a lot of fun, but it takes time to get into the game. Wicked 18 is good for golf fans, but most people will probably pass it up. I like Wicked 18. This should be tried at least once.
8
Although there aren't too many golf simulations out there, I find Wicked 18 to be the best of the bunch for many reasons. There are many Play Options to keep you busy. The huge variety in the course layout is cool with its large lakes and floating pillars in the course. What other golf sim has the green on top of a huge mountain? Not many. Multiple players can even join in for a competitive match.
4
Somebody's got to wake me up on this one. This is a major snore! It takes too long to get going on a game just so I could adjust the view angle, pick my club, set my feet, adjust swing power and choose what part of the ball to hit. This is way too slow and tedious for me. The game's difficulty was as hard as it was for me to keep my interest.
7
Golf isn't exactly my favorite sport, but this cart does have some game play to offer fans of this spot. The graphics aren't as great as some of the famous computer versions, but the options and strategy are all present to make it fun for golf enthusiasts. This game may not win you over to golf, but if you're into this type of sport, this is a good cart to give you some at home practice on this expensive sport.
This is the second golf game that will be available for the Super NES. T&E golf is a three dimensional golf simulation that has a variety of new features and enhancements. The course is drawn with extreme detail and there are many obstacles such as sand traps and water hazards to avoid. The game play is very complex and tends to be a little slow moving. There isn't much of a musical score and the only background effect is the occasional chirp of a bird. The game lacks any outstanding features and doesn't utilize any of the advanced hardware features of the Super NES. For the die hard golf fan only.
SNES/Super Nintendo/Super Famicom Screenshots
Similar Games
Viewing games 1 to 7