Ultimate Basketball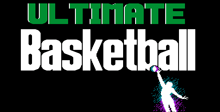 Click the "Install Game" button to initiate the free file download and get compact download launcher. Locate the executable file in your local folder and begin the launcher to install your desired game.
Type: Sport
Release: Nov 1990
Difficulty: Avg.
Lace up your hightops and get ready for some fast action! This basketball game offers a wide variety of options - 1 player, 2 player cooperative or vs. for either one game or a full 7 team tournament. With substitutions, close-up controllable slam dunks, spectacular 3 point shots, decreasing player stamina and a ref who just loves to call fouls, Ultimate Basketball provides NES owners a new look at the game of basketball.
People say:
8
American Sammy's addition to the competitive sport genre is a slam dunk! Basketball is pulled off very well, with lots of action moving back and forth on the court, with just the right amount of technique thrown in for some good strategy. A very good sports game for the NES!
8
There have been some good basketball games on market but all lacked one or two important features. Ultimate Basketball easily lives up to its name as it includes almost everything. I especially like the substitutions and the stamina meter. It plays fast and is fun!
7
Ultimate B-ball is definitely one of the better basketball games the NES. The game is very similar to Pat Riley on Genesis, web graphics and cool close-ups when slam dunking enhance this extremely well playing basketball game.
9
This game certainly has some great new features for you round ball hoopsters. Interactive "close-up" scenes are a welcome feature to an often done sport. Fouls and fast action dominate here and the only thing missing other than the shot clock is the joker in the courtline seat!
Download Ultimate Basketball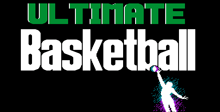 System requirements:
PC compatible
Operating systems: Windows 10/Windows 8/Windows 7/2000/Vista/WinXP
P-200, 32 MB RAM
Game Reviews
Lace up your high-tops and get ready for some fast paced slam-dunk action. American Sammy has put together a nice basketball game using large characters while still maintaining smooth scrolling of the court and decent player control. The game simulates the actual sport very well and with two good players playing against each other the action can be fast and furious. Going up head-to-head with the computer offers a real challenge to even the best of players.
There are certain challenges that designers of the ultimate basketball videogame must face. For one thing, they have to find a way to simultaneously move all ten ballplayers, each with his own objective.
Since the average videogame player can control only one or maybe two ballplayers at the same time, the remaining eight must be programmed to do something that appears to contribute to the team effort.
Ultimate Basketball isn't really the ultimate basketball videogame, but it is a realistic basketball game. Unlike other basketball games for Nintendo, it puts a full ten players on the court, and the action resembles what you might find in a pick-up game. Also, it requires some real basketball skills, such as good shooting, good defense, and accurate passing.
This is an important point, because in most basketball games for Nintendo, good shooting doesn't matter very much. Whether you shoot the ball from half-court or from directly under the basket, your chances of scoring are about the same. But Ultimate Basketball rewards you for taking good shots, and it takes the defensive pressure into account, too.
For instance, if you're trailing by several buckets, try getting the ball into the hands of a good shooter so he can launch a few three-point-ers. To see who the sharpshooters are, check your players' shooting abilities on the roster screen.
The close-up screens that appear during slam dunks, three-point attempts, and foul shots add color to the game. On the whole, these close-ups are exciting. But it's disappointing that the defensive player during slam dunks has no opportunity to block the shot. The dunker either stuffs it through or gets called for traveling.
The stamina meter on the roster screen adds a measure of strategy to the game. As the players grow weary, their shooting percentages and speed drop off. You need to monitor your starting five and be ready to send in fresh players, particularly in the second half.
As with some other basketball videogames, Ultimate Basketball puts too much emphasis on touch fouls and stealing the ball. You'll be harassed on offense by both defenders and referees, which can get frustrating. Before long, you may find yourself abandoning the fast break and switching your strategy to simply getting the ball across the center line.
It's ultimate Basketball!
Trash all those other basketball cartridges! ULTIMATE BASKETBALL captures all the thrills and intensity of a real full-court basketball game. You are in command; leading the court, making the plays, and scoring the points.
Want close ups? Go for the slam or a 3-pointer and let the full-screen animation blow you away!
When your men start to drag, you can substitute some fresh blood.
It's all jam packed into one NES cartridge, pro-basketball at your fingertips!
Rather take part in the Olympics than watch it on TV? If you answered "yes", then Capcorn's got the perfect solution! Gold Medal Challenge offers 18 different summer events on your NES. Be forewarned: stamina, strategy, and very, very strong button- pushing fingers are a must if you wish to have any chance of winning a medal, much less the gold!
Ready...
The 18 events fall into three categories: track and field, swimming, and indoor events. Track and field includes the 100-, 200- and 300- Meter Relays, 4x100 Relay, 110- Meter Hurdles, Long, Triple and High Jumps, Javelin Throw, Shot Put, and the Marathon. Swimming events feature al 00-Meter race in Freestyle, Breaststroke, Backstroke and Butterfly, and a 200-Meter Medley combining all swim styles. Indoor events are comprised of Weightlifting and Vaulting. One to eight players may choose among 12 different countries to represent eight countries in the tournament. The computer fills in any openings on the roster and updates each country's medal standings after each event. Most events are divided into heats of two competitors who move simultaneously on a split screen.
...Set...
Track events are extremely grueling, because your success is directly related to how fast you push the buttons. You must adopt the strategy of real-life runners who pace themselves, know how to prolong their energy and know when to go all out. These factors are crucial in the longer events, especially the 4x100 Relays and Marathon.
ProTip: To ensure a huge boost off the line, rev up to top speed before the start gun.
Swimming events are dependent upon establishing a rhythm that optimizes the balance between energy and oxygen expenditure. Speed is determined by the number of strokes, the distance you ride out each stroke, and the number of times you disrupt your strokes to take a breath. Experiment to discover each style's unique rhythm for optimum speed.
It isn't necessary to have the maximum six breath units. Once you've established your rhythm, stay between one to four units.
The remaining events include rapid button-pushing, but are more dependent upon your reflexes. Jumps and throws require achieving maximum speed and hitting the optimum angle of launch. Vaulting requires split-second timing to execute an assortment of combinations using the buttons and direction pad for flips and turns. Coordination is the name of the game for these events.
The best overall angle for the Jumps, Javelin Throw and Shot Put is 45 degrees.
The top priority in Vaulting should always be a solid landing!
...Go!
Gold Medal Challenge is an excellent sports game with a well-balanced mixture of button-pressing arcade action, intelligent strategizing, and deft coordination. The graphics are bright, distinct, and colorful, and on-screen movements are extremely responsive to the controls. The computer opponents are tough and demand your best if you want to win a medal. The one to eight player options makes this one of the best multi-player games for the NES. It's often just as fun cheering on your buddies as competing yourself! Gold Medal Challenge gets a well-deserved a gold for fun and entertainment!
In 1987, Konami released the now classic, Double Dribble, the first basketball game for the NES. Double Dribble was a monster hit, but how could it not be? It was the only basketball game available for the NES and it had the fast action and hot graphics b-ball fans craved. Now comes Ultimate Basketball, a game that definitely borrows many of the better qualities from Double Dribble, but adds a few new twists of its own. Like Double Dribble, Ultimate Basketball has a one or two player option, but it also has a two-player cooperative mode for an extra challenge.
D-FENCE!!! D-FENCE!!!
The biggest knock on DD was its lack of defense. The offense was great, plenty of slam dunk close ups and fast breaks up the court. But basketball without defense is like playing a game of "Around the World." Ultimate Basketball adds that missing ingredient. By playing solid defense, you can make your opponent take low percentage shots or keep him from shooting entirely. You can block slam dunk attempts, or steal the ball.
You Can't Tell a Player Without a Scorecard
There are seven teams in the Ultimate Basketball League: NY, Dallas, Houston, Los Angeles, Detroit, Chicago, and San Diego. Each team has a full roster of 12 players, and each player is rated for defensive ability, shooting ability, and speed. There's also a stamina bar for each player, overusing your players can wear them out. The numerical ratings play a big part in your team's performance. High defensive ratings enable you to steal the ball more easily, high shooting ratings make more of your outside jumpers swish through the net, and top speed numbers help you outrun your opponent.
ProTip: Dallas is an outstanding shooting team. They have the best chance of successfully hitting three-point shots.
Yo, Ref... Get Your Eyes Checked!
A big factor in the outcome of a game are the zebras -- and I don't mean the four-legged variety. The referees in Ultimate Basketball are the blindest bunch of guys ever to wear the white and black. I could swear I once saw a Seeing Eye dog behind the visitor's bench.
The seemingly arbitrary calls of the referees are usually just annoying. At their worst, however, they severely hurt the game-play of Ultimate Basketball. Refs call just a few fouls: traveling, back pass (back court violation), time violations (for not inbounding the ball in time, not passing the half court line in time, or not shooting the ball in time), pushing, charging, and blocking. The randomness of the calls only involve the latter three.
During the game, your opponent (computer or human) will probably go after your player with the ball in basketball video games. If you run into him, you'll be called for charging or pushing. In real basketball, a defensive player must be in a set position, with both feet planted on the floor, for an offensive player to be called for charging. In Ultimate Basketball, a defender may cut in front of you, and you'll get nabbed for charging. Sometimes you'll feel as if the opposition has the refs on its payroll.
Avoid charging calls against your team by passing the ball to your teammates. You can only be called for charging it you move.
Swatting and Stealing
The key to success with Ultimate Basketball is playing great defense and hitting a lot of three-point shots. You'll need the three- pointers to make up for the advantages the computer has over you. And you'll need great defense to keep those advantages from becoming a major factor.
The computer has the ability to intercept your inbound pass and turn it into a quick two points. The computer usually does this right under your basket: Before you can even blink, he's slammed home the basketball. However, if you can get a defender near the basket you can make the computer miss the easy slam dunk.
Make the computer miss a slam dunk attempt by pressing the B button as he goes up for the shot. This technique sometimes works if your defender isn't on the close-up screen.
Another advantage the computer has is an uncanny knack for getting a rebound. It's almost as if it has a built-in homing device. On defense, you should always control a quick player with a good defensive rating. It gives you a better chance of getting to the rebounds before the computer or stealing the ball back if you don't.
Roundball Roundup
Ultimate Basketball's good points far outweigh its problems. Once you get a feel for the frantic pace of this game, you'll find yourself hooked. If you enjoyed Double Dribble, slam dunk a copy of Ultimate Basketball into your NES. It's NES round-ball at its best.
Team Profiles:
Isaiah can finger roll too!
Money Players -- Isaiah Thomas is a superstar point guard with great speed and quick hands. Joe Dumars came to the forefront during last season's playoffs as a devastating outside scorer.
Team Overview -- The Pistons are the 1989 NBA Champions, and deservedly so. The team is extremely balanced with a great starting five and three quality backups on the bench. All Piston starters had scoring averages in double figures last season. Mark Aguirre and John Salley provide scoring and shot blocking off the bench.
Kevin Johnson runs the Phoenix fast break
Money Players -- Kevin Johnson is a speedy, all star guard. He has a quick first step, so he can often drive around a defender. Tom Chambers is a scoring machine at forward.
Team Overview -- The Suns offense is dominated by Chambers and Kevin Johnson. Johnson is an ideal guy to bring the ball up court -- he's a top assist man and a scoring threat, too. Eddie Johnson is one of the best sixth men off the bench in the NBA. Mark West is a top shot blocker.
Dexler snoots for three
Money Players -- Clyde "The Glide" Drexler is the main man on the Trailblazers -- he can dunk with anyone and is an exceptional three-point shooter.
Team Overview -- The Trail-blazers are a well-balanced scoring machine. Any one of the starting five can have a big game on any night. Their balance on offense led them to the NBA Championship last year. This team is good at stealing the ball, but not very good at shot blocking.
Bird shoots a 10-footer
Money Players -- Larry Bird and Kevin McHale lead the scoring for the guys in green. McHale is also a great shot blocker. Newcomer Reggie Lewis provides some speed in the back court.
Team Overview -- The Celtics play a slow paced hart court game, a far cry from the Lakers revved up court running. Come crunch time, Bird and McHale are always there. But this is an aging team, and speed is not their forte.
David Robinsons two-handed jam
Money Players -- David Robinson leads the Spurs in blocked shots, steak, rebounds, and pants per game. Need we say more? Terry Cummings is another quality scorer for the Spurs.
Team Overview -- The Sours offense revolves around Robinson in the middle. He's one of the top centers in the NBA, and you'll see why as you watch him perform his magic. There isn't much help available on the Sours bench, so try not to have any player foul out.
Jordan jams it home
Money Players -- Michael Jordan is THE money player in the NBA and in this game, too. Sure, you could make a case for Magic Johnson, or perhaps even Charles Barkley, but for years Jordan has single-handedly dragged the Bulb into the playoffs. During the 1989 season, a talented teammate, Scottie Pippen finally emerged to tend a hand. Jordan is the league's premier scoring threat. Pippen is an excellent ball stealer and outside scoring threat, as well.
Team Overview -- The Bulls' offense is rather simple to master. Get the ball up court, and get it into Jordan's hands. Pippen is a good alternative, especially if Jordan is triple-covered. Grant is effective within 12 feet of the basket. Limited help on the bench from Stacey King, Hodges, and B.J. Armstrong.
Barkley's gorilla dunk
Money Players -- Charles Barkley is the main man on the Sixers. He's a six-foot, six-inch, 253-pound man-monster who is always among the NBA leaders in rebounding and scoring. Hershey Hawkins is a streaky outside shooter who is unstoppable when he heats up.
Team Overview -- The Sixers fared far better last season than NBA experts expected, which was probably because of the emergence of Hawkins as a scoring threat. Rick Mahom is known as one of the league's top defenders, and combined with Barkley, makes a fearsome frontcourt. Ron Anderson is a good sixth man, but there isn't much help on the Sixer's bench.
Magic Johnson executes a perfect finger roll
Money Players -- Magic Johnson is a sick-footed play-maker, one of the best guards in the biz. He's an excellent ball stealer and great at making the driving lay up. James Worthy is unstoppable when he's hot -- and he gets hot pretty often.
Team Overview -- The Lakers have a balanced starting five, with the bulk of the offensive output produced by Worthy, Johnson, and Byron Scott. Orlando Woolridge is a decent sixth man off the bench, and Vlade Divac is a rebounding/shot blocking monster. The Lakers are great at the fast break on offense.
Hey, hoopsters, Ultimate Basketball, a newborn B-ball title for the NES, is on its way, and it's just itchin' to get some court time on your home system. Pop that baby in, choose your own personalized starting line-up, and head off to the court for some fast paced full-court Ball, complete with zoom-in shots of all your mega-powerful plays. An added bonus: When the going gets really tough and your manpower begins to fizzle, you can take tired players out and replace them with fresh players. With so much B-ball action and so many options packed into one game, you'd be hard pressed to find any other way to get so up close and personal with professional basketball.
Another video game created for Nintendo Entertainment System and released in 1990 by American Sammy.
The game is played just like a usual sports video game. The player may choose from the list of eight available teams and take control of five players on the team on the court. But only one player may be directly controlled at a time. In the Ultimate Basketball game there is choice between a 'championship' mode and a 'single game' mode. What makes the game unlike later sports-based video games is that it doesn't use real professional or college basketball players. The players that may be selected for the player's team are entirely fictional, as well as their statistics.
NES/Famicom/Dendy Screenshots
Other Games by American Sammy