WarBirds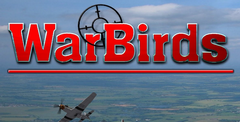 Click the "Install Game" button to initiate the file download and get compact download launcher. Locate the executable file in your local folder and begin the launcher to install your desired game.
a game by
iMagic Online
Platforms:
PC,

Lynx

Editor Rating:

9

/

10

, based on

2

reviews
User Rating:

10.0

/

10

-

2

votes
Rate this game:
See also:
WW2 Games
Power to the Lynx! Air power, that is. The tiny Lynx accomplished a gargantuan task that neither the NES, the Genesis, nor the TurboGrafx-16 could successfully pull off— create an exciting, yet realistic air combat shoot-em-up! In Warbirds, you sit in the cockpit of a World War I biplane behind twin, front-mounted machine guns as you face hordes of death-dealing enemy aircraft!
An Arcade Aviator's Dream
Warbirds' extremely detailed graphics are astounding and realistic flight simulation will knock you out. As with most flight games, you look straight ahead from the cockpit, but Warbirds takes this perspective to another level by also allowing you to see behind, left, right, and above your cockpit. Zoom by your opponent on the right, and follow him as he passes by your right wing, your tail, and beyond! The Lynx's highly detailed scaling capabilities are maxed out here, creating a realistic sense of depth and field perception that extends to the enemy planes, clouds, mountain ranges, and the horizon.
Gameplay is extremely true-to-life, allowing you to perform barrel-rolls, corkscrews, and power dives at will! The laws of physics firmly apply so don't expect to pull out of outrageous nose dives, initiate impossibly quick turns, or bank at 90 degree angles without stalling.
Fly six different missions from the easy "Milk Run" to the challenging "Swarm" where three enemy aces attack you simultaneously! For real fun, you can Comlynx up to three friends, where each player views the action from his own flying perspective.
A Super Fly!
Warbirds is one of the most impressive Lynx games to date, and it really allows the Lynx to strut its stuff. Gameplay is smooth and easy to learn, and the different game scenarios keep the challenge fresh. Warbirds is sure to get you flying high!
ProTips:
Dive into the clouds to lose your opponents.
Always approach an enemy from the rear, since their guns are front-mounted.
Your plane can climb higher than any of your opponents; therefore, make the enemy sitting ducks by flying high and attacking them in a circling power dive.
Turn off your engine to make the tightest turns possible.
Download WarBirds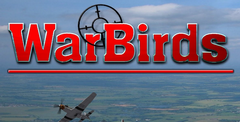 System requirements:
PC compatible
Operating systems: Windows 10/Windows 8/Windows 7/2000/Vista/WinXP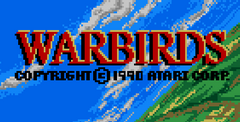 System requirements:
PC compatible
Operating systems: Windows 10/Windows 8/Windows 7/2000/Vista/WinXP
Game Reviews
Overview
Remember all those war stories Grandpa told you about when you were a kid? Remember that Japanese Zero or the German ME109 on his six and how he amazingly ended up shooting it down, which allowed him to single-handedly turn the tide of World War II? Now you can make him prove it by giving him WarBirds. Or better yet, show him how it would've been done by doing it yourself—if you're really that good. WarBirds is an online-only World War II flight simulator that has one up on all other flight simulators out there: you will always fly with and against real people!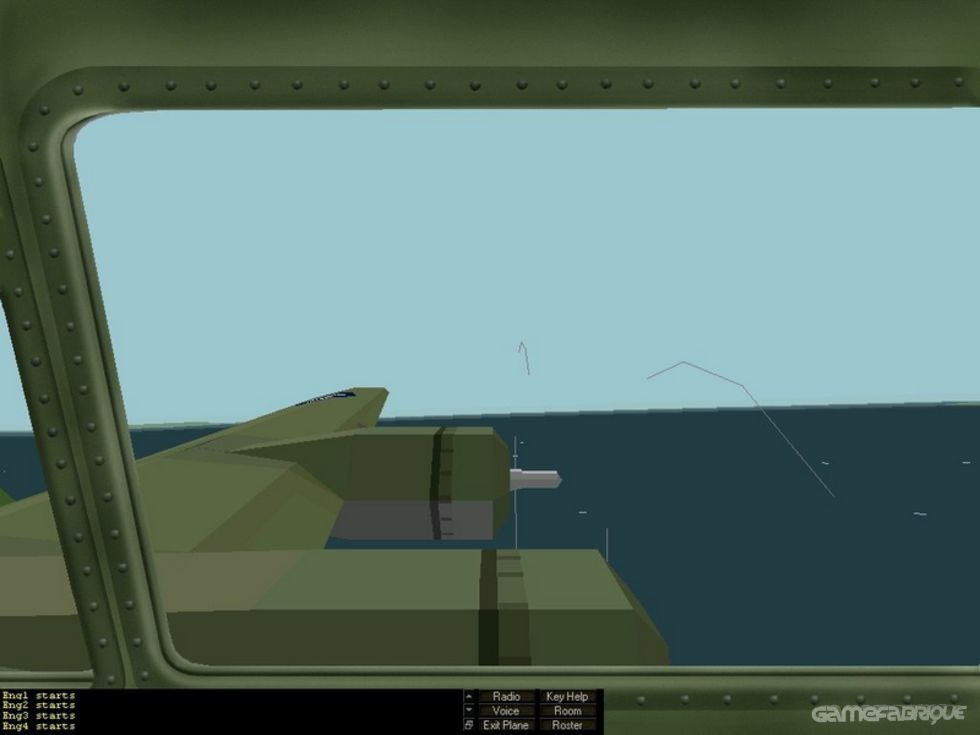 Gameplay, Controls, Interface
The game takes place between four warring countries (Red, Gold, Green, and Purple). There are a total of 50 different, historically accurate planes including fighters, bombers and dive-bombers, each with up to four ordnance configurations. Some planes have bombardier sights and gunner positions available that can be controlled either by you or by others online. The flight model for each plane is very realistic in terms of speed, weight, and maneuverability (or lack of each). While flying, you will need to watch your gauges to make sure you aren't too low on fuel or ammo, that your gear is up, or that your engine isn't running too hot. If you start pulling too many Gs, you'll start to black out or red out. While this is a very realistic effect, I found this particular feature to be a little too sensitive. The gameplay is absolutely incredible and is unlike most other games in that everyone you come into contact with is a real live person—there are no computer opponents (except in offline mode which is target or flying practice). Obviously this makes the game really interesting, as you never know who is going to do what or when. This aspect can also make the game extremely frustrating to the new recruit, as everyone is put on the same field of play. Learning to fly isn't that difficult; in fact, the game pretty much assumes you already know the basics. The difficulty comes in trying to outmaneuver your opponents, line up ships in your bomb sights, or send a salvo of rockets right into that hangar down there.
The controls are numerous, but not too hard to learn. They do, however, take a lot longer to master. I saw one website on the subject that said it could take up to about 40 hours to get the controls configured just right. Don't let this scare you; the default setup is probably okay for most people and as you play more, you'll then start to mess with your settings accordingly. A good flight stick can be your best friend here as this game can require you to be extremely precise when it comes to leading your target or landing on a carrier, which isn't easy with the keyboard (not that it's very easy in the first place).
The menu interface can be a little confusing at first, as certain items aren't really explained very well. Checking through the help, checking web pages, or asking others online can be helpful in this (and all other) departments. If that isn't helpful enough or if you need some flight training, you can check out the training area and/or email iMagic Online's trainers for additional support
Graphics
There are two versions of this game—3D and 2D. I played the 3D version using an Orchid Righteous 3D card and the computer consistently locked up at first. I later found out this was due to the game not automatically defaulting to my 3D driver and also using a faulty 3D video driver. iMagic Online's website was helpful in figuring this out and helping me to get the right drivers. Once I got the game set up properly and obtained the right updated driver, I no longer ran into any locking problems at all. After jumping that hurdle, I was treated to graphics that are very nice and detailed, from the emblems on each fighter to the palm tree you just narrowly avoided crashing into due to the blinding smoke coming from your fiery, dead engine. The cockpits are beautifully rendered and are quite accurate with the various gauges and views. In other words: standard Voodoo 3Dfx graphics. I particularly liked that when I flew to a high altitude I could see the curvature of the earth. I also checked out the 2D version and found that while the graphics weren't utterly exciting compared to those of the 3D version, they certainly weren't terrible either.
Audio
I found the audio in this game to be nicely rendered from the start, from hum of your engine to the difference between your cannons and machine guns to the sound of bullets scuffing up that beautiful paint job. An interesting feature in this game is that you can actually talk with other members online if you have a microphone. I tried this and it was like talking with someone on a cell phone in a mountain pass. Regardless, however, the novelty of it was fun and it does save you from having to type what you want to say.
System Requirements
Windows95 with DirectX 5 installed; Pentium 90MHz (for 2D) or 133MHz (for Direct 3D) processor; 16 MB RAM (32 MB RAM for Direct 3D version); 25 MB base for minimum and an additional 59 MB for complete cockpit 1024 x 768 resolution art; DirectX 5 video card with 1 MB RAM (2 MB required for 1024 x 768); DirectX compatible sound card; 9600 baud (or faster) modem; MS compatible mouse; Power Macintosh compatible
Recommended: Pentium 200 or faster, 32 MB RAM, Windows95 compatible joystick, 3D-accelerator card
Cost Of Play
Since this is an online game, you can download the game itself free from iMagic Online's web site. The game is also available on CD from iMagic Online if you have trouble downloading (which I did), or you may be able to find a copy of it in a gaming magazine. You initially get 5 hours for free after which there are 3 pricing plans available: Silver, which gives you 5 hours for $9.99, Gold, which gives you 13 hours for $19.99, and Platinum, which gives you 20 hours for $29.99. After those hours, it is $1.99 per hour to continue playing.
Documentation
The documentation is basically the help file that comes with the game. It goes over the basics of the game and some game setup information. I found it a bit difficult to navigate through the help for anything other than the real basics of the game. There are also numerous websites out there devoted to this game that can give you more comprehensive help and tips.
Bottom Line
Practice, practice, practice. Did I mention practice? I thought that many other simulations I'd played in the past were difficult. This one makes them all look about as hard as finding sand at the beach. For those of you that may have flown actual planes and have experienced dogfighting, you probably won't find it as difficult. WarBirds will appeal to anyone who likes flight simulators and/or dogfight simulations, and can really humble those of you who think you're the best. It is very important; however, that you make sure you have decent video drivers and that the game is set up to use them; otherwise the game will not be playable for very long. Once beyond these problems, expect hours of addiction, frustration and excitement reliving one of the great wars of the past.