We're Back!: A Dinosaur's Story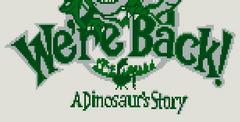 You've sent Sonic and Speedy running and jumping for items while dodging enemies. In We're Back, you do the same thing with dinosaurs.
We're Back suffers in comparison to those earlier classics.
The game play here is basically the same old go-n-throw you've seen before. Your dino isn't much of a hero - he's not supersonic, he often falls short on jumps, and he flings his cereal boxes with little accuracy.
The graphics are disappointing: The backgrounds aren't very new or detailed, and some enemies are ant-size. The peppy music is a plus, though. Young players will get a mild sugar-rush of thrills out of this sweet, but insubstantial game. A more dynamic critter and some passwords would've saved these dinos from extinction.
ProTips:
Dodge flying enemies, because theyfre hard to hit with boxes.
Slam on the brakes to avoid the oncoming spikes.
Download We're Back!: A Dinosaur's Story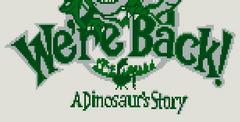 System requirements:
PC compatible
Operating systems: Windows 10/Windows 8/Windows 7/2000/Vista/WinXP